Tapping your phone screen to answer a call may not be possible at all times. If your hands are dirty or wet, touching your screen is not ideal. Thankfully, the Samsung Galaxy phone range has a number of accessibility options to help you out – even if you just want to show off answering calls hands-free as a trick to your friends!
Tip: Technically, you can also answer calls without touching the screen by connecting Bluetooth headsets or speakers and using them to answer – this guide focuses on how to answer calls without the use of additional equipment.
The hands-free methods to answer calls are all listed as accessibility options. To access them, open the Settings app and scroll down to the "Accessibility" options near the bottom. In the Accessibility options, tap on "Answering and ending calls".
In this menu, you will have a number of ways to answer calls that don't require tapping the screen. The exact options vary by handset model and software state. On the Galaxy S7 used for this article, the options are: pressing the home key to answer calls, voice recognition for the words "Accept" or "Reject", or automatic pick up after two seconds, if the phone is connected to a Bluetooth headset. Another potential option, available for example on the S10 series, is waving your hand over the device – this option is only available on OLED-display models.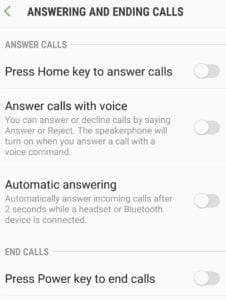 In the "Answering and ending calls" menu, you can also configure the power button to end calls when pressed. This gives you a way to hang up without touching the screen too.
Each of these options has its up- and downsides. Having to press the home or power key still requires you to touch your phone, so is not ideal if your hands are otherwise occupied. Voice recognition may not work well in loud environments with lots of background noise. Automatically answering calls after two seconds when using a Bluetooth headset doesn't give you the opportunity to ignore calls if the timing is not convenient or you don't want to talk to anyone. Having to wave your hand over the device, avoids the need to touch it if your hands are dirty, but isn't helpful if your hands are otherwise occupied, or if the phone is screen down or in a pocket or bag.
You need to consider which option works best for your situation, and switch that option on by tapping it. You can absolutely use multiple options at the same time – just be aware that not all options are compatible. For example, automatic answering isn't compatible with other options as it always accepts calls. When you've activated the options that you like best, you can close your Settings app – the changes take effect immediately.