OMPHOBBY 3D helicopter M2 2020
Best For A Range Of Experience Levels
Blade Nano RC Helicopter S3 RTF
Heli 101 RTF Kit
One of the oldest dreams of humanity has been flight. Thanks to modern technology, we can almost take the ability to fly for granted. But there's something special about being in control rather than just a passenger. If you don't want to spend the time and money on proper flying lessons, then the next best thing is a remote-controlled option.
While a drone or radio-controlled plane may be what some people would look for. A remote-controlled helicopter can be just as much fun while offering different challenges. There are, of course, a broad range of prices and feature sets, from cheap $20 toys to fly around your living room to multi-thousand-dollar scale replicas. Thankfully, there are plenty of middle ground options, ideal for pilots with intermediate experience or first-time flyers with simulator experience. They offer a better flying experience than budget options without being too expensive to repair in the event of a less than optimal landing.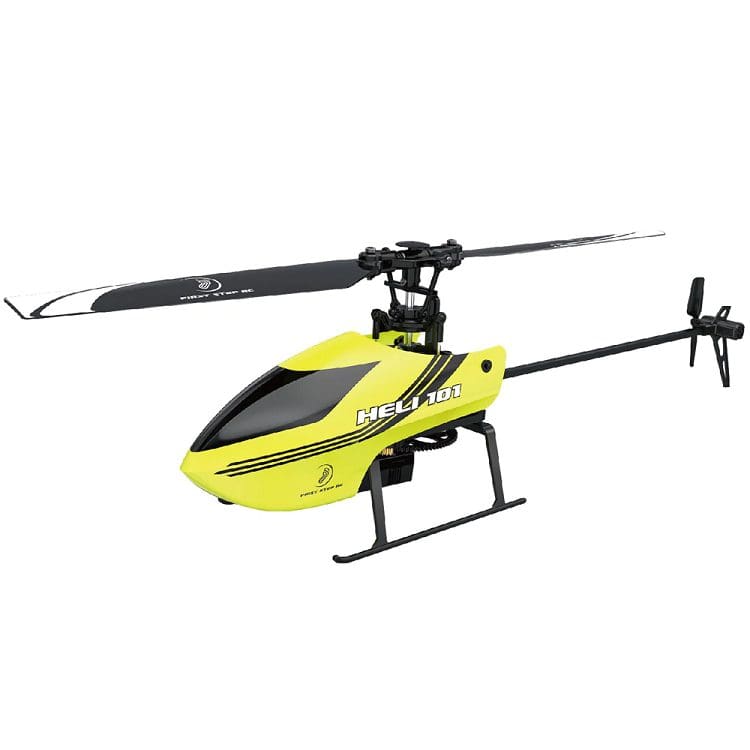 Key Features
Ready To Fly
6 axis gyro
One button take off and landing
Specifications
Weight: 130g
Flight time: 15 minutes
Recharge time: unlisted
The Heli 101 RTF Kit is a ready-to-fly helicopter with a few spare parts. It features a six-axis gyro to keep it stable and has four control channels. This model has several excellent features that make it great for beginners and more experienced pilots. Thanks to its stability, it's straightforward to fly. It also has a massive battery, offering double the flight time of most other remote-control helicopters. However, this also likely means longer charge times.
Helpfully, the battery is also replaceable. You can swap it out if you get some spare batteries to continue the fun for even longer. While it can be flown outside, it is pretty light and will be noticeably affected by all but the lightest breezes. Unlike many competitors, there is no audible low battery notification. The only indication is that the LED in the nose starts blinking. If you happen to miss this, you may end up with your helicopter falling from the sky, so it may be worth setting a timer.
Pros
4 channel
Replaceable battery
Long flight time
Cons
Easily affected by light wind
Overly subtle low battery notification
Blade Nano RC Helicopter S3 RTF
Key Features
SAFE technology
Lightweight polymer and carbon-fiber frame
Panic recovery mode
Specifications
Weight: 32g
Flight time: 4 minutes
Recharge time: unlisted
The Blade Nano RC Helicopter S3 RTF is a remarkably tiny remote control helicopter with a vast feature set. SAFE technology provides three standard flight modes, two with restrictions on the amount the helicopter can tilt and one that lets you have full control, allowing for complete loops and flips if you can control it. There are also fast and slow response modes and a panic recovery mode. If you lose control, press the button, and it will attempt to catch itself safely.
The ultra-low weight, combined with the durable polymer and carbon fiber frame, makes for a reasonably strong flier. The battery life is concise, though it can be swapped out if you get a spare.  The remote included features six channels of control. The helicopter also offers telemetry to compatible remotes.
Pros
6 channel remote
Ready to fly
Can do stunts if you can control them
Cons
Very vulnerable to wind
Short flight time
Blade RC Helicopter 230 S RTF
Key Features
SAFE technology
Ready to fly
Panic recovery mode
Specifications
Weight: 339g
Flight time: 7 minutes
Recharge time: unlisted
The Blade RC Helicopter 230 S RTF is similar to the Nano above, just at a larger scale. It features the same SAFE technology, with three flight modes, offering differing amounts of automatic leveling and support. It also comes with a remote control that can display the telemetry the helicopter returns. The panic recovery mode is an excellent feature for preventing many crashes.
The brushless motors offer plenty of power to the ABS blades, designed to take the punishment of a few crashes. The brightly colored shell, rotors, and tail make it easy to see and keep track of the direction it's facing. Unfortunately, the price is pretty high for beginners who run a greater risk of crashing. Additionally, it doesn't come with any spare parts, so you might want to pick up some just in case you break a rotor blade.
Pros
Brushless motors
ABS blades
Brightly colored
Cons
Fairly expensive for beginners
Doesn't come with any spare parts
OMPHOBBY 3D helicopter M2 2020
Key Features
Fully adjustable parameters
Soft and violent 3D flight modes
Altitude and stability control mode
Specifications
Weight: 315g
Flight time: 9 minutes
Recharge time: Unlisted
The OMPHOBBY 3D helicopter M2 2020 is an iterative improvement on the previous M2. One of the improvements is more forgiving skids made of nylon rather than carbon fiber. It features fully adjustable flight parameters, allowing you to customize the helicopter to your preferences. It has three flight modes, an altitude holding and auto-leveling mode, which can be switched to, a soft 3D mode, and a violent 3D mode.
It comes in a bind and fly and ready to fly variants and can be bought with a left- or right-hand throttle. There are three color variants available, orange, yellow, and purple. While the nominal flight time of 9 minutes is pretty solid, that can drop to as low as four minutes when performing 3D stunts. The price is high, especially for inexperienced pilots. While it does come with a small selection of spare parts, no spare rotors are included.
Pros
Comes in left- and right-hand throttle variants
Comes in three colors
Cons
High price
Doesn't come with spare rotors
Flight time of 4 minutes if you perform extreme 3D manoeuvres
That was our roundup of the best mid-market RC helicopters in 2022. Have you recently bought a mid-market RC helicopter? What sold you on it, and what has your experience been with it so far? Let us know down below.