SK Hynix Gold P31
WD_BLACK SN850
Samsung 870 Evo
If you're trying to build a budget computer or upgrade an old computer on the cheap, one of the single best purchases you can make is an SSD. SSDs offer significantly faster speeds than traditional HDDs and now come at reasonable prices. You'll have to go for a relatively low capacity to keep the budget low. Still, a 500GB SSD is an excellent choice, with strong performers coming in significantly under $100.
While you could try to go for a less well-known brand, you generally won't see much of a saving as most of the cost is for the memory chips, which are only made by a small number of the big players. Technically, you can save some money by going for smaller SSDs. Still, below 500GB, it's a little hard to recommend bothering. As the price difference just isn't that much.
The main thing to consider is compatibility. If your motherboard has an NVMe M.2 slot, you should get an NVMe M.2 SSD over a SATA SSD. A SATA SSD will provide a speed boost over an HDD but is limited by the relatively slow SATA bus. A PCIe 3.0 NVMe SSD will generally be around six times faster than a SATA SSD, which is already twice as fast as an HDD.
There's essentially no price difference between SATA SSDs and NVMe ones, at least with PCIe 3.0. If you've got a newer motherboard that supports PCIe 4.0 NVMe SSDs. You should grab one of those if you can afford it. The price is a little higher, but it offers double the speeds again, making it a worthwhile investment.
Look for the uncommon SATA SSDs using the M.2 format. It can be easy to confuse these with the much faster NVMe SSDs. You can tell because most SATA M.2 drives have two "key" cutouts in the connector pins. In contrast, NVMe drives exclusively have one essential cutout.
Now, if your old computer only supports SATA drives in the 2.5- or 3.5-inch format, you'd have to go for a SATA SSD. These do offer a significant performance boost over HDDs. While sequential read speeds are "only" double that of HDDs, the random read speeds have a massive boost because HDDs are terrible at that type of performance.
To help you find the best SSD for your budget build, we've drawn up our list of the best budget SSDs in 2022.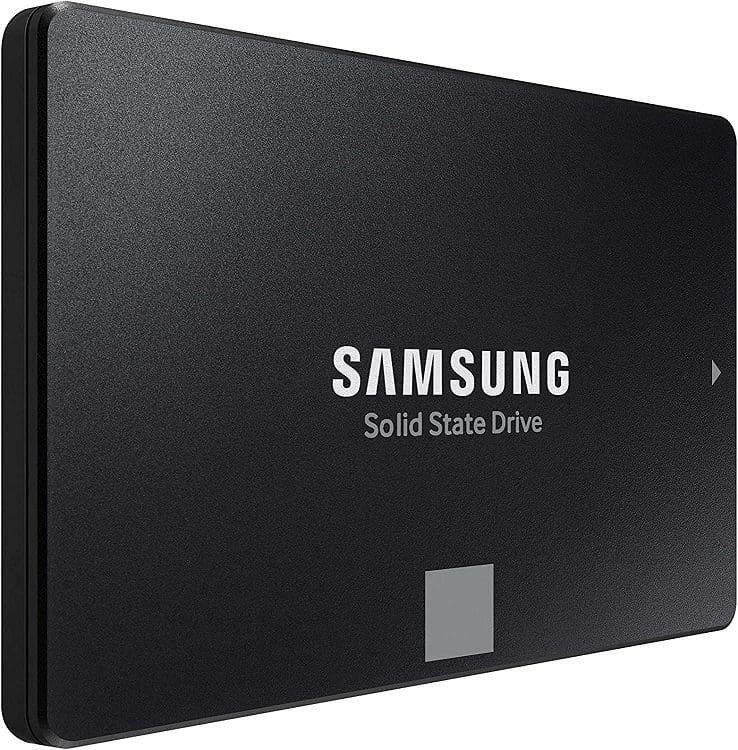 Key Features
SATA III
Read speed: 560MBs
Write speed: 530MBs
Specifications
Capacity range: 250GB – 4TB
DRAM: Yes
Form factor: 2.5 inch
The Samsung 870 Evo is generally one of the best SATA SSDs. While the price and performance differences of SATA SSDs are minimal, the 870 EVO comes with an excellent warranty. It covers you for five years or up to 300 TB written to the 500GB model. That would fill the entire drive 600 times or 164GB daily for five years.
The DRAM cache helps to ensure optimum latency, something which some cheaper drives may drop. Being a SATA drive, it's limited in speed to around 560MBs. The trade-off for the slow speed of an SSD is the excellent compatibility with basically any computer built this century. If you're limited to SATA, then this is a perfect choice.
Pros
Near universal SATA compatibility
Available in smaller and larger capacities
Excellent warranty
Key Features
HMB
Read speed: 3500MBs
Write speed: 3000MBs
Specifications
Capacity range: 250GB – 1TB
DRAM: No
Form factor: M.2
The Samsung 980 is a strong but slightly cheaper M.2 SSD. Like any good M.2 SSD, it is NVMe, not SATA. It runs at PCIe 3.0 speeds for reading speeds of up to 3500MBs and write speeds of up to 3000MBs. The part where it saves money is the DRAM. Traditionally, DRAMless SSDs suffer from increased latency and decreased longevity. However, Samsung bypasses this by using HMB, a halfway house, using the main system RAM for the same purpose. It offers standard longevity and a more minor increase in latency.
HMB is applicable where it's supported. However, it's a very new feature and needs operating system support. That means performance will be lower in older computers, assuming they support M.2 SSDs. HMB also takes a relatively small chunk of system memory. This could be an issue on budget computers with limited Ram. The warranty is solid. It is, in fact, identical to the warranty on the 870 EVO.
Pros
HMB mostly makes up for the lack of DRAM
PCIe 3.0 speeds
Strong warranty
Cons
Increased main RAM usage isn't ideal in budget computers with limited RAM
HMB is not supported on legacy operating systems
Key Features
The best M.2 PCIe 3.0 SSD
Read speed: 3500MBs
Write speed: 3100MBs
Specifications
Capacity range: 500Gb – 2TB
DRAM: Yes
Form Factor: M.2
The SK Hynix Gold P31 is the best PCIe 3.0 M.2 SSD on the market. It offers class-leading speeds while blowing away all competition in power efficiency. Technically the 500GB "only" gives 3100MBs write speeds while the 1TB and 2TB models offer 3200MBs write speeds. The SSD features DRAM for optimum latency.
While you may never have heard of SK Hynix, you've almost certainly used their hardware. Only a handful of companies make the actual NAND memory chips used in SSDs; SK Hynix is one of them. It's also the second largest DRAM manufacturer. Historically it has sold to other companies to rebrand. However, it has started to market its products directly, with all components designed and manufactured in-house. It is slightly more than the 980, but the difference is less than $10.
Pros
Reliable brand despite most people have never heard of it
DRAM
Class-leading energy efficiency
Cons
Slightly more expensive than the 980
Slightly slower write speeds than larger capacity models
Key Features
PCIe 4.0
Read speed: 7000MBs
Write speed: 5300MBs
Specifications
Capacity range: 500GB – 2TB
DRAM: Yes
Form Factor: M.2
The WD_BLACK SN850 is one of the best PCIe 4.0 SSDs. It's also very well priced, fitting in under $80. It features class-leading read speeds of 7000MBs. Despite the drop in write speeds, only a handful of drives can still outperform it there, all for more money.
PCIe 4.0 compatibility is somewhat limited as the protocol is relatively new. While it is backward compatible, this would limit the speed. So ensure you double-check that your motherboard supports PCIe 4.0 before purchasing.
Pros
Class-leading read speeds
DRAM
Cons
There are PCIe 4.0 SSDs that can write faster
In conclusion, that was our roundup of the best budget SSDs in 2022. Have you recently bought a budget SSD? What sold you on it, and what has your experience been with it so far? Let us know down below.