Cardo scala rider PACKTALK
Sena 20S-01 Motorcycle Bluetooth 4.1 Communication System
LEXIN LX-B4FM 4 Riders Motorcycle Intercom, Universal Helmet
Riding a motorcycle isexhilarating. It's fun and it challenges the rider in various ways, too. There are a lot of riders who would prefer riding a bike over driving a car any day. But as much as bike riders are risk takers and love adventure, most of them agree that a helmet is an indispensable safety tool they wouldn't give up.
The great thing is about modern helmets is they not only offer protection, they look stylish and offer a variety of features, including the ability to listen to music while you ride.
In this article, we will explore the world of helmets and see which one wins out hearts.
The Best Bluetooth Motorcycle Helmet Speakers
1

Cardo scala rider PACKTALK (Best overall)
This helmet speaker keeps you connected with your friends at all time. The connectivity level goes top-notch and you never miss your link to the group, which can include up to fifteen members in total. This speaker provides parallel audio streaming, which adds to your riding enjoyment. It is even possible for the rider to connect with it remotely and manage its functions from afar.
What the Reviews Say
The reviewers of this speaker give great opinions about its noise cancelation system. Another major feature that is loved by the reviewers is its battery life, which stays solid even if one uses it for more than ten hours in total. Also, the manufacturer is known for offering great customer support when needed.
The downside of this motorcycle helmet speaker? Most reviewers claimed the user manual is of no use and is quite confusing. Apart from that, a few of the reviewers didn't like the charging port being uncomfortable to use.
Key Features:
Control panels are unique
Intercom works between bikes
Talking and listening happens simultaneously
GPS navigation
Voice recognition technology
Specifications:
Weight: 2.08 ounces
Battery: 1 Lithium Polymer batteries
Dimensions: 3.5 x 1.8 x 1 inches
Pros
– The Bluetooth conferencing works in four ways
– Intercom dongling can connect up to nine bikers together
– The talk-time can reach up to thirteen hours
– Hybrid, as well as corded microphones are used
Cons
– The manual is extremely confusing and doesn't help
2

Sena 20S-01 Motorcycle Bluetooth 4.1 Communication System (Premium pick)
Known to provide amazing structural support to the user, the Sena 20S-01 Motorcycle Bluetooth 4.1 Communication System is loved by bikers all over the world. This speaker is durable and long-lasting. Equipped with state-of-the-art features such as 4.1 Bluetooth and a motion sensor, it is surely a source of great entertainment for the user. The voice commands come with an intuitive control that further adds to the item's appeal
What the Reviews Say
According to reviewers, Sena 20S-01 Motorcycle helmet speaker is a decent option. The feature that has impressed them the most is its strong Bluetooth provided a crystal clear HD audio system that they can connect with eight other buddies at the same time. The noise is controlled quite well, which makes the process of listening and talking easy. Being a double module system, the audio of this helmet never disappoints anyone. Finally, the connection of Bluetooth done with a single shake has further made reviewers a fan of this item.
Key Features:
Motion sensor Bluetooth connectivity
Multitasking; using FM while conversing
0 km string Bluetooth connectivity
Intuitive technology adds to the safety
Specifications:
Weight: 08 ounces
Battery: 1 LR44 battery
Dimensions: 3.7 x 1 x 1.9 inches
Pros
– The sound quality is extremely impressive
– Wind noise gets controlled easily
– Learning curve is quite steep
– Full face covering is available
Cons
– The unit can not endure raining
– A software update may cause certain glitches
3

LEXIN LX-B4FM 4 Riders Motorcycle Intercom, Universal Helmet (Best value)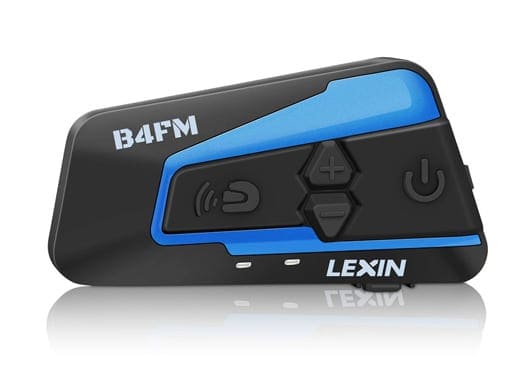 If you look forward to experiencing great sound quality and comfort, LEXIN LX-B4FM 4 Riders Motorcycle Intercom, Universal Helmet speaker is what you need to opt for. This intercom has a hard surface and is easy to use. You're able to access your iPhone SIRI from it and ask as many questions as you want. If you have a Samsung phone, you can utilize the S Voice command system easily. The batteries used in this helmet are strong enough to let you listen to the music for straight fifteen hours.
What the Reviews Say:
Amazon reviewers have given this all the stars but some are concerned that it doesn't provide them with sound as high in volume as they would like to listen to. Many reviewers said they enjoyed listening to audiobooks while riding. According to them, this helmet provides a decent set of features based on its price.
Key Features:
0 Bluetooth capacity
Standby time of 350 hours
Waterproof system for greater durability
Charging done through micro USB chip
Intercom communication methodology
Pros
– Gives excellent cushioning to the head
– Cover the entire face and the back head
– Large buttons are easy to operate the helmet
– The pairing of the helmet with other devices if quite easy
– Works for very long distances effectively
Cons
– The sticky mount tends to come off
4

Tork X-Pro Speakers for Motorcycle Helmet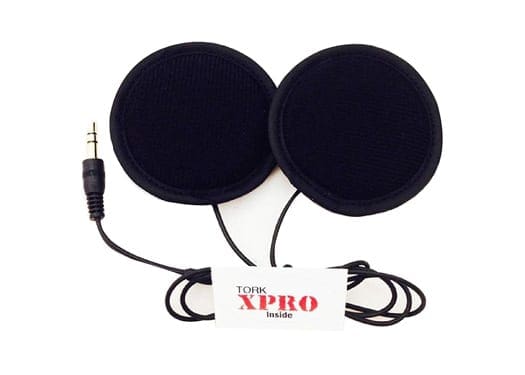 The Tork X-Pro Speakers offer great sound quality, even at high volumes. It provides users with a great range of audio boosts, which makes long journeys a little easier to travel.
It also offers great noise canceling and provides clarity of the music being listened to by the user. These speakers can be connected to an external source of music including an MP3 player or iPhone, as well as Samsung.
What the Reviews Say:
Amazon reviewers are overall pleased with this system but were wary of the fact that it's one of the more expensive options. Many pointed out they got what they paid for, though, and the music quality was outstanding. A few expressed that they had trouble with installation.
Key Features:
Dual speakers
A stereo plays sound
Frequency rage around 22000hz
Warranty of a whole year
Padded wires
Specifications:
Item weight: 3.2 ounces
Dimensions: 0.8 x 8.2 x 5 inches
Pros
– The volume of sound is adequately high
– Amplifiers work quite efficiently
– Provides safety along with entertainment
– Comes with the warranty of a whole year
Cons
– Long software installation processes
– Heavy wind rush may affect the sound quality
5

iASUS XSound 3 High Definition Helmet Speakers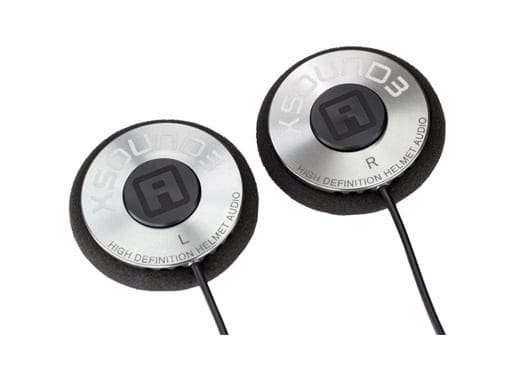 With the iASUS XSound 3 High Definition Helmet Speakers, you can listen to music in the cleanest possible manner, without any kind of interruption from the wind and other noise interference. It features an EAR3 mobile amp system, which is sold separately by the company. The wires that come with this helmet are of varying lengths, which reduces the possibility of creating too much tension.
What the Reviews Say
Reviewers think the iASUS XSound 3 High Definition Helmet Speakers is quite a decent choice of in-helmet speakers. The price is $120 and most agree the level of sound and bass is praised worthy. The troubleshooting process is easy to deal with a problem arises and the company offers great customer service.
Key Features:
Spacing pads with four foams
The extension cable is 3.5 mm long
45mm drivers
Extremely stylish design
Wires are Kevlar-reinforced
Specifications:
Weight: 4 ounces
Dimensions: 5.7 x 5.7 x 1.3 inches
Pros
– Provides great quality sound
– Connects with other devices easily
– Noise cancellation keeps the sound clean
– Line amplifier can be connected externally
Cons
– May not work efficiently post 55mph
6

UClear Wired Drop-in Digital Pulse HD Helmet Speakers
Hi-definition audio is available when riding thanks to the new and upgraded version of UClear HD Helmet Speakers. These speakers offer clean sound.
Plugs included with the speakers allow you to connect with an audio device of your choice. The user gets the advantage of the audio jack that comes in a size of 3.5mm. This is one of the most affordable options available.
What the Reviews Say:
Amazon reviewers consider these speakers basic and claim they work decently. Most reviewers were happy they were easy to install and the software isn't problematic. However, a few reviewers reported the speakers must be really close to their ears to be heard properly and "right" and "left" aren't marked, which can be confusing.
Features:
5mm stereo audio jack
40mm diameter driver
High Fidelity Audio
HD quality sound
Extreme bass
Specifications:
Dimensions: 6.5 x 3 x 1 inches
Weight: 2.88 ounces
Pros
– A cost-effective option
– A decent sound quality
– Loud enough for music lovers
– Covers the whole face
– Shuts down the wind noise
Cons
– Doesn't work well beyond 60mph
– Not a durable option
7

iMC Motorcom Open-Face Helmet Headset – HS-H130P
If bike riding is your passion, but you want to be able to communicate while you ride, the iMC Motorcom Open-Face Helmet Headset is what you need to have in your life. This item makes it possible to talk safely while riding. Users get crisp voice quality and top-notch noise cancellation with these speakers.
These speakers also offer the ability to enjoy music while you ride. These speakers come with a two-year warranty.
What the Reviews Say:
Amazon reviewers were happy with the fact that they no longer have to yell in order to the people while riding the bike. All thanks to the CB intercom system, they can speak in their normal voice, and it will still reach the other person. Along with this, the microphone being extremely flexible provides relief to users because it's comfortable.
Features:
7 Pin Harley audio systems compatibility
Two years warranty
Metal casing speakers
Noise cancellation
Easy installation
Seven pin connector
Specifications:
Weight: 7.2 ounces
Dimensions: 7.9 x 5.5 x 1.5 inches
Pros
– Easily adjustable
– Works for all sizes
– Crystal clear sound and voices
– Effective noise cancellation
Cons
– Not effective while cruising at 80 mph or above
8

Outdoor Tech Chips 2.0 Universal Wireless Bluetooth Helmet
The Outdoor Tech Chips 2.0 Universal Wireless Bluetooth Helmet is one fantastic option that comes with a plethora of features. It can be used as a walkie-talkie and it features a highly effective Bluetooth speaker. The Bluetooth speakers are compatible with a wide range of gadgets and you can connect them with your mp3 player, as well. Thanks to this all-in-one helmet system, now you do not need to carry multiple items like your music player, phone and walkie-talkie – it's all in one place. This is a wireless system so you don't need to worry about attachments and connectivity.
What the Reviews Say:
Amazon reviewers love that this system is wireless. They also love the all-in-one capabilities that mean they can travel lighter. Reviewers are also impressed with the crystal clear voice they hear while talking to a friend on the phone and riding the bike simultaneously. Not having to stop the ride and talk has made their lives easier.
Features:
Long-lasting charging of 10 hours
Sweat-resistant
Glove-friendly
Compatible with CHIPS 2. 0
0 version of Bluetooth
Wireless audio system
Walkie-talkie system
Specifications:
Dimensions: 2 x 4 x 0.5 inches
Weight: 2.24 ounces
Pros
– Works well even if it's snowing or raining
– Can be operated while wearing gloves
– Pairing with other devices is easy
– Crystal clear sound can be heard through Bluetooth
– Comes with a warranty
Cons
– Walkie talkie system is not practically useable
9

Sena (SMH5-UNIV) Bluetooth Headset and Intercom
Another option is the Sena (SMH5-UNIV) Bluetooth Headset and Intercom. As the name suggests, it comes with a Bluetooth device as well as an intercom. The Bluetooth 3.0 system provides users with a crystal clear voice system and the device can be connected to whichever multimedia device one wants to connect it to. Volume control of this device is quite easy as the buttons are large enough and one can operate it with ease.
What the Reviews Say
Amazon reviewers are happy with the quality offered by the Sena (SMH5-UNIV) Bluetooth Headset and Intercom. The fact that they can not only listen to high-volume music but also use GPS simultaneously allows them to multi-task while they ride. Most of the reviewers considered it to be a great investment and think it offers great value for the investment. It's known to be a durable system, which is saying something for $100.
Features:
Long term battery life
High sound quality
Bluetooth 3.0
Can be charged while on trips
Specifications:
Weight: 13.1 ounces
Dimensions: 8.3 x 2.5 x 5.3 inches
Battery: Lithium Metal batteries
Pros
– Long term battery life
– Quite a sturdy Bluetooth service
– Talking while riding is easy
– Intuitive buttons layout
– Survives rainstorms
Cons
– Not feasible for journeys more than 300 miles
10

VR-robot Motorcycle Helmet Bluetooth Headset
If you love to listen to music and want to continue doing so while riding, VR-robot Motorcycle Helmet Bluetooth Headset is what you need to have right now. This system provides users with a wireless music system, which adds to the riding experience. Along with this, the microphone makes it possible for the rider to talk to a friend without stopping. The adjustable microphone keeps the voice of the user crystal clear. The 4.0 Bluetooth, on the other hand, keeps its connection with other devices strong and sturdy.
What the Reviews Say:
According to reviewers, the best part about this system is the wireless ability to listen to music, thanks to the amazing Bluetooth technology. This helps the user drive and stay hands-free without losing control of their system. Additionally, Amazon reviewers love that it comes with a rechargeable battery. Connecting the helmet with an iPhone or a Samsung phone is really easy.
Features:
Bluetooth 4.0
Hands free feature
Hi-Fi earphone
Smart reminder
Rechargeable Li-ion battery
Specifications:
Weight: 1.92 ounces
Dimensions: 7.5 x 4.5 x 1.5 inches
Pros
– GSP keeps a person on track
– Thick speaker drivers
– High volume music system
– Long term battery life
– Works well on slopes
Bluetooth Motorcycle Helmet Speakers Buying Guide
Features to look for in a helmet with speakers
While buying a new helmet, two things are of great importance for consideration: the level of safety provided by it and the clarity of sound. Obviously, one needs to stay safe at all times, so that needs to be the priority. Well-padded helmets that protect the face and back head of the head provide high level protection.
Of course, once you know you've found a safe helmet, you can begin to assess the sound system. Look for a speaker system that offers Bluetooth capabilities and has a strong connectivity level. There also need to be protected against the elements, because as all bikers know it's impossible to accurately predict the weather 100 percent of the time.
Finally, look for a durable helmet. Consider it an investment piece. Eventually, you'll need to replace any helmet you've purchased, but the longer period of time there is between replacements the better.
Differences between the major types of the product
There are a plethora of options available to buyers. Sometimes your decision will be based primarily on budget. There are plenty of basic options out there that offer safety and can also provide you with the ability to enjoy music or communication, but the old adage is true: you get what you pay for. More expensive helmets tend to be higher quality and will offer features like Bluetooth, stereo, noise cancelation, and a microphone.
The most expensive helmets available come stacked in a bundle of amazing features. They provide a strong Bluetooth connection that one can use to connect it with other devices, a stereo system to listen to music as loud as possible, and noise cancelation technology to keep the journey noise-free. But the more you want the more you'll pay.
FAQs:
Do all helmets come with noise cancellation system?
No, but it's one of the most important features available. The better the noise cancelling the less interference you'll get when talking or listening to music. It's possible to enjoy both when riding without noise cancelling, but it's not nearly as pleasant.
How does the dongle system work?
If you are going out for a long ride with a gang of friends, the dongle system will keep you connected with each other. Dongle is usually available for nine to 15 riders and makes it possible for your group to stay in contact with ease when riding together.