Knowing how to update your Opera browser is an easy but important task. By manually updating the browser, you'll know that you're running on the latest version. If there's a new feature to enjoy, you'll see it by updating.
Opera does let you know there's an update waiting to be installed. You'll see a red dot beside the red O. That means there's an update waiting to be installed. But if you would rather do it yourself, here are the steps to follow. There beginner-friendly, and the process doesn't take very long.
How to Check for Updates on Opera Browser – Desktop
Updates can be handy. Maybe they'll fix the issue you've been having that the browser is not loading pages. So the process of checking for updates is worth it. To check if there are updates available, open the Opera browser and click on the red O at the top left. When the new window appears, click on the Update and Recovery options. It's going to be all the way at the bottom.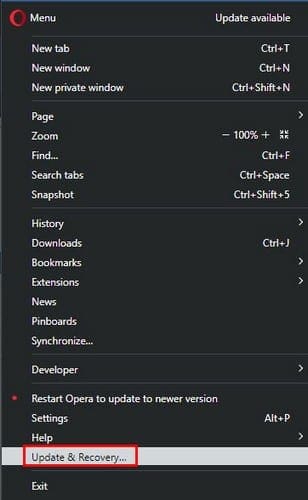 Once you're in that section, Opera will start to check to see if there are any updates to install. If there is something to install, you'll see the version you're currently using and the version you'll be updating to. Hopefully, you won't get any errors while checking for updates.
To install the update, you'll need to restart the browser. But, there's no obligation to do it right away. So, if you can't restart because you're working on something important, it can wait. You can continue with tasks such as configuring autofill or configure custom color schemes.
Android
To see if there's an update waiting for Opera on your Android device, you can check for app updates like you normally would on Google Play.
Conclusion
As you can see, checking for updates on the Opera browser is quick and easy. As I mentioned earlier, Opera will show you any pending updates, but you know what to do if you want to know as soon as possible. How often do you check for updates? Share your thoughts in the comments below, and don't forget to share the article with others on social media.