Generally, people like to stick with what they know. This stays true with software, where you can learn all the ins and outs of your preferred program yet struggle to do complex or even simple tasks in an alternative you're not familiar with. Nevertheless, sometimes it's imperative to change. Commonly in software, the driving force behind this decision to change would be either a new killer feature in a competitor or a significant flaw in your preferred application.
In March 2021, the password manager LastPass changed their free tier to restrict users to either mobile or desktop platforms but not both. This pushed a lot of the free tier users away to other platforms. While it may sound like it would be a pain to switch password managers, Bitwarden offers a helpful import feature that can import your whole password database from a range of other services. The import feature even maintains your folder structure if you've previously configured one.
Tip: Importing your passwords from a previous password manager requires you to download a copy of your database from your previous password manager. Typically, this is in an unencrypted CSV format, though other unencrypted file types are used. The lack of encryption on the file means that you should use and delete the file from your device as soon as possible. Your data is potentially vulnerable to hackers when it's stored in an unencrypted format.
How to Import Your Password Database into Bitwarden
You can only import data into your Bitwarden vault via the Bitwarden web vault. After signing in, switch to the "Tools" tab, then click on "Import data" in the toolbar on the left.
There are two steps to importing your passwords from another password manager. First, you need to select which password manager you used previously. This is used to ensure the format and structure of the imported data are understood correctly.
Tip: Selecting your previous password manager will also show you a set of instructions on how to get the data export from that provider.
Next, you need actually to supply the data you wish to import. You can choose to upload the database export file your previous password manager offers. Alternatively, you can copy and paste the text from that file instead.
Once you've entered the data, click "Import data" to start the import process. This will likely only take a few seconds at most.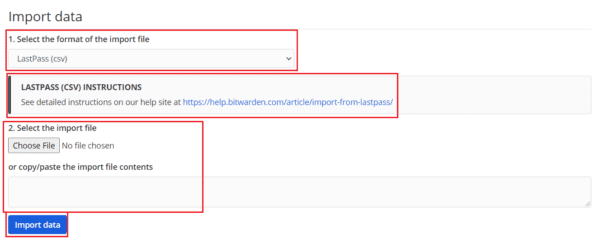 Importing the contents of your previous password manager into Bitwarden can save you a lot of time getting set up. By following the steps in this guide, you can import your password database from the previous password manager into Bitwarden.