If you know what Facebook chat heads are, you already understand what chat bubbles are. They make it easier for you to access any chat that comes your way.  Before, you may have tapped on the notification that appeared at the top of your display. Still, if you accidentally dismissed it, you would have to open the app and go through some extra steps.
You won't have to go through those extra steps to open the app and then the chat by having chat bubbles enabled. The bubble will ensure that you always have instant access to that particular chat. Keep reading to see how you can turn them on/off for WhatsApp and Telegram.
How to Turn on or off Bubble Notification for WhatsApp
To enable the bubble notifications, you will need to go into your Android settings. You can't do it on WhatsApp. Once you're in Settings, go to Apps and notifications, and choose WhatsApp. If it's an app you recently used, you'll find it at the top; tap on the See all X apps if you don't see it.
When you find WhatsApp from the list of apps, tap on the notification option, and the bubble option is going to be at the top. Tap on the Bubble option, and you'll see three options:
All conversations can bubble
Selected conversations can bubble
Nothing can bubble
Choose the one you want to apply and leave Settings. You're good to go. Those are the only steps you need to remember. Follow the same steps to enable the bubble notifications for Telegram and Signal. Still, instead of choosing WhatsApp, you select the app of your choice. You'll find the bubble option in the same place for the other messaging apps. It's that simple. If you ever want to turn the bubble notification off, you'll only need to tap on the Nothing can bubble option.
How to Manage the Bubble Notifications
Once you've enabled the bubble notifications, it's time to see how you can manage them and even make them disappear. When you get your first bubble notifications, they can appear anywhere on your screen.
Tap on the bubble, and the conversation will open so you can see the whole conversation. You'll have a nice big window to chat and even share files from there. Tap on the paperclip option and see everything you can share. You can choose options such as:
Gallery
File
Location
Contact
Music
At the bottom right, you'll also see the Manage option. Tap on it, and you can choose from options such as Dismiss bubble, Don't bubble this conversation, and Telegram settings (if you're using Telegram).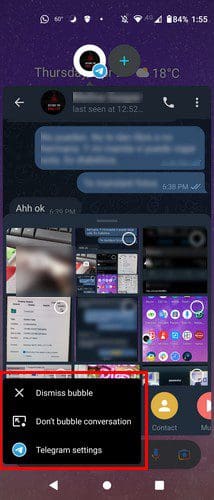 You'll also see a plus symbol on the side of the bubble you're on. This is where you'll see any recent bubbles that you've dismissed. To leave the bubble conversation and not close it, tap anywhere outside the bubble. This will keep the bubble floating on your home screen and not dismiss it.
You'll also see three dots at the top right. If you're using Telegram, these dots will show you options such as:
Mute – This option will have additional options such as Back, Disable sound, Mute for (you can mute for as much as 365 days and 23 hours), Customize – This option will show you options such as message preview, sound, vibrate, importance, turn off or on notifications, Calls, and light.
Video Call
Search
Delete chat
Clear history
Change colors – You can give your conversation a different look. You can choose from colors such as green, blue, purple, green, red, purple, orange, and purple/pink.
To dismiss the bubble tap and drag it to the bottom of your display. Drag it to the X you'll see.
Conclusion
Having to go through a few extra steps to open a chat on your instant messaging app is still an easy task. But if you can save time taking advantage of a built-in feature, why not? The bubble feature will always make your current chat easy to access and dismiss when you're done.
There are also various things you can do from the bubble notification. For example, you can share files and even change the theme of the conversation. How useful do you find the bubble notifications? Do you find them easy to use? Let me know in the comments below, and don't forget to share the article with others on social media.