You may need to rotate your Android device to get a better look at your content. But if you put your device in Landscape mode and nothing happens, you may have forgotten to enable it. Whatever the case is, you can quickly turn it on or off by following a few simple steps.
How to Enable Screen Rotation on Android
Once you're at your Android home screen, swipe down twice from the top of the screen. Swipe left until you come across the Auto-rotate option.
Make sure it's highlighted for it to be on, and the next time you tilt your phone, the video or image you're looking at will adjust. That's all there is to it when you want to enable or disable auto-rotate on your Android phone. But what if you have a tablet?
Enabling or disabling auto-rotate on your Tablet is also easy. To do this, you'll also need to swipe down twice from the top of your display. You should be able to see the Auto-rotate option right after this.
One thing to remember is that the tablet will stay in the mode you take off auto-rotate from. For example, if you have the tablet in landscape mode and then turn off auto-rotate, that's the mode it will permanently stay in until you turn auto-rotate on again. If you have a Samsung phone, you see options you can toggle on or off when you long-press on the Auto-rotate option. For example, you see options such as:
Rotate button on the navigation bar – Allow for manual screen rotation when your phone orientation changes.
Rotate to landscape mode – Home screen, Lock screen, and Voice call screen.
Allow for manual screen rotation when your phone orientation changes
What to Do When Auto-Rotate Doesn't Work
But what can you do if you've enabled auto-rotate and it's not working? The essential tip you can start with is restarting your Android device. You'd be surprised by the number of issues you can fix with a simple restart. There is also another way to enable auto-rotate other than through quick settings.
Open the Settings app on your Android device and go to Display. Look for the auto-rotate option and toggle it on.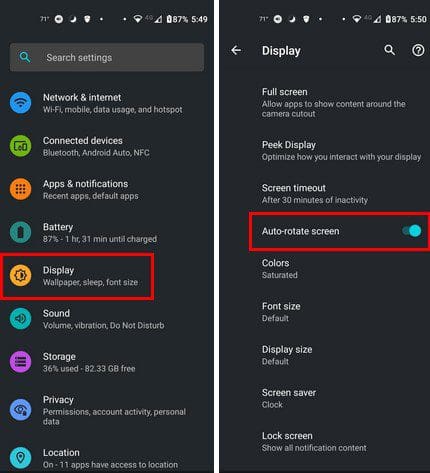 You can also do other things, such as avoid touching the screen when rotating and ensure your phone is up to date. You can check if there are any pending updates by going to:
Settings
System
System updates
If you noticed that you were having this issue right after you installed an app, try uninstalling it. You can get rid of the app by long-pressing on it and dragging it to the top of your display to the uninstall option.
Conclusion
Auto-rotate can improve viewing your pictures and videos since you get a better fitting. The good news is that enabling the auto-rotate is easy and can do quickly. But, when it doesn't work, it can be frustrating, but there are some valuable tips you can try. How useful do you find the auto-rotate option? Share your thoughts in the comments below, and don't forget to share the article with others on social media.