Since you want to protect your privacy, you do things such as add a password or pattern to your Android device. The problem with those types of security measures is that someone can see you while you're drawing your pattern and later access your phone.
Since no one can copy your fingerprint, it's the perfect way to keep your Android device safe. Let's see how it's done.
How to Quickly Add a Fingerprint – Android Pie
To add a new fingerprint to your Android Pie Device:
Go to Settings
Tap on Security & location
Go to Fingerprint
Enter your pin or password for your device
Tap on Add fingerprint
The person whose fingerprint is being added will need to place their finger on the sensor. The on-screen instructions will tell you that you'll need to put your finger in different positions until you get the OK.
Once you get the OK, you're good to go. Don't forget to name the fingerprint as soon as you add it by tapping on the default name it's given (Fingerprint 1).
How to Erase a Fingerprint – Android Pie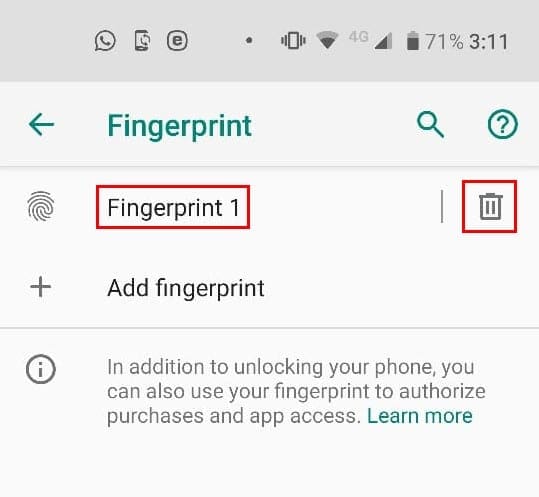 Are you not friends anymore with the person whose fingerprint you added? Don't worry, it happens. To remove that person's fingerprint, follow the same steps you did to add it and tap on the trash can icon to the right of the fingerprint you want to erase.
Conclusion
By using your fingerprint as a security measure, you can access your Android device a lot faster. Another benefit is that you can unlock your phone in a crowded area without worrying about anyone discovering your password. How many people do you think you're going to add?