I've owned multiple iPhone models over the years. I'm really fascinated by the fluidity and overall design of the OS. But there's one thing that I really hate about iOS devices — and that's the charger. It breaks right when I need it most. More specifically, the cable breaks around the USB output.
How Long Should an iPhone Charger Last?
On average, an iPhone charger lasts one year in perfect working condition.  After one year or so, the cable part near the port starts fraying.
In extreme cases, the cable sheath may expose the conductors inside. And that's when using that cable becomes dangerous.
Don't wait until your charger becomes unusable or potentially dangerous to use. Go to an official Apple Store or an Apple authorized reseller and buy a new charger.
Of course, there are also users who relied on the same charger for years on end without any issues. How long your iPhone charger lasts also depends on how you use it.
What Breaks Your iPhone Charger?
Your iPhone charger may break quicker or last longer depending on how much you use it. If you charge your iOS device two or even three times a day, the charger itself and the cable will wear out faster.
If you often bend the cable, the wire inside also gets bent back and forth. This will weaken and break the cable much faster.
Then, you need to store the charger in a well-ventilated place. Don't place it on the window sill in direct sunlight. Don't let it in the car to bake in the sun. Don't place it near heat sources or areas where there's water moisture in the air.
If your electric service often undergoes spikes, this could quickly break the charger. And you'll start seeing black marks on the charging pins.
How to Take Care of Your iPhone Charger so That It Lasts Longer
To Coil It or Not to Coil It
Take good care of your charger when storing it, and especially when you're traveling. When you wrap the cable around the charger tightly, the wires inside get bent. And the risk of the wires breaking and splitting increases. Use a cord winder instead.
Don't Stretch the Cable
Avoid stretching the cable. And please don't let the iPhone hang down from the charger. Make sure it lies flat and straight and there's no tension in the cable when charging your device.
Be Gentle
When you insert the charging end, don't just press it into the phone. Also, when you remove it, don't yank on the cable. This will damage the charging pins.
These tiny details can make a big difference in increasing your charger's lifespan.
My iPhone Charger Cable is Useless. Now What?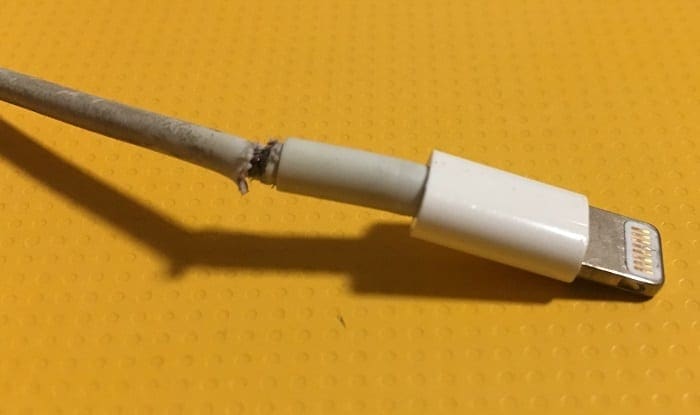 As stated at the beginning of this post, it's always best to purchase an original iPhone charger and cable to replace the broken pieces. But you can also go for a third-party charger.
Buy a Third-Party iPhone Charger
iPhone chargers are sleek and stylish but they tend to break easily. That's why many users prefer to purchase a third-party charger to replace the broken one.
If you're planning to do the same, make sure the charger is Apple certified. Don't purchase counterfeit or uncertified chargers. Such devices could permanently damage your iPhone.
Apart from that, counterfeit chargers often get very hot, and you might not be able to sync your data. And some won't even fit properly into your iPhone. Or even worse, some may shortcircuit and melt on your desk.
Spring enforced cables tend to be more reliable and enjoy a longer lifespan compared to regular cables. So, do buy a charger with a spring enforced cable.
Conclusion
If you want to extend your iPhone charger's lifespan, use your device properly and with respect. That sentence pretty much sums up all the pieces of advice we gave you in this guide.