The Google Play Store is full of all kinds of apps for you to play with. The most popular apps are, of course, the free ones. But, you'll come across an app that has the features you're looking for, but you have to pay for it.
Since you need the app, you pay for it. If this is something you regularly do, wouldn't it be great if you got rewards for something you have to do anyway? That's where Play Points comes in. You get rewarded with points every time you buy an app. But what are these points good for? Do they last forever?
What Are Google Play Points Good For?
Simply put, Google Play Points are rewards you get every time you buy an app. When those points add up, you can use them for in-app purchases, discounts, or if you prefer, you can get credit. You can get points every time you buy things such as Movies, Subscriptions, Books, and more.
Signing up is easy since you only need to open the Play Store app and tap on the lined menu, followed by the Play points option. You'll need to be over 13 and live in Taiwan, U.S, Hong Kong, Japan, and Korea (more countries to come soon).
Google Play Points has four levels that go from Bronze to Platinum. The more you buy on Google Play, the faster you'll level up. Google is even working on the possibility that you can trade those points for things such as gems, characters, and more.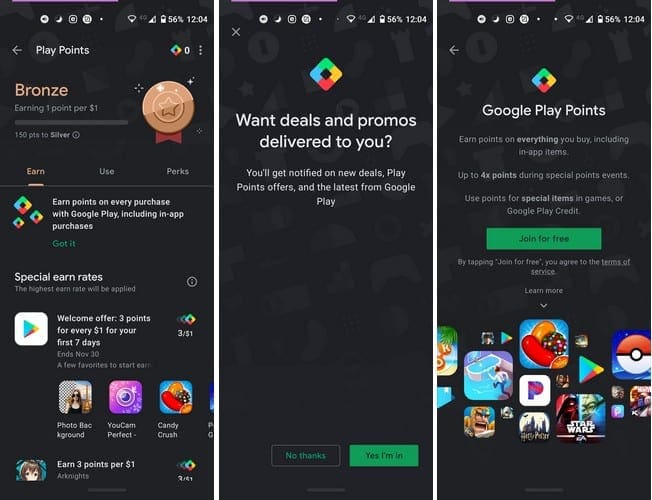 Google Play Points is free, so you don't have to worry about any monthly fees. When you first sign up, you get three points for every dollar you spend, but the offer is only good for the first week after signing up.
Levels
You'll start off at the Bronze level. To level up to the Silver level, you need to have 150 points. While at the Bronze level, you can get four points for every dollar with weekly events. You also get two points with book and movie rentals in monthly events.
The Silver level is similar in points. With the difference, you get three points with book and movie rentals during monthly events. There are Silver level prizes during the week that can reach up to 50 points.
The Gold Level gives you 1.2 points for every dollar and 4 points on rentals, one more than the Silver level. The rest is similar to the other levels. The weekly Gold level prizes are much bigger since they can range up to 200 points.
The Maximum level is Platinum. Here you get 1.4 points with every dollar spent and five points on rentals in monthly events, Weekly prices go as high as 500 points, and you also get premium support. All levels offer 4 points per dollar in games in weekly events.
How Long Do Google Points Last?
The good news is that you don't have to rush to use them since they are good for a whole year from your last purchase. Make sure you don't forget you have those points, or else you'll lose them.
The levels aren't permanent either. You need to have a certain amount of points to stay on a level. When you use your points, the amount needed to stay at that level goes down, and if it keeps going down, you can go from Silver to Bronze in a flash.
The Bronze level requires that you have from 0 to 149 points. The Silver level requires 150 to 599 and the Gold level from 600  to 2,999. The ultimate level, Platinum, requires that you have at least 3,000 points to stay at that level.
Keep in mind that any previous purchases will not be added. So if you made a huge purchase the day before and then you joined Google Play Points, that's not going to be added to your account. It's frustrating, but the points will only be added after you've signed up and not before. You can also get points if you install specific apps, and if you buy an app and then return it, you'll lose those points.
How to Check Google Play Points
So you've made some purchases and want to see how many points you have. To see how many you have, open the Play Store and tap on the lined menu option. Tap on Play Points and then on the Use option.
Conclusion
Whether it's for work or pleasure, it makes sense that you get rewarded for all that money you spend on apps. Even if you don't buy a lot on Google Play, it's a good idea to sign up since those purchases (been though there not a lot) will add up.