This troubleshooting guide focuses on the "Disk full" error on Google Chrome. The error indicates you ran out of storage space and the browser could not download the file.
In most cases, this error correctly pinpoints the root cause of the download failure. But there are cases when Chrome erroneously says the disk is full. This guide covers both these situations.
What To Do if Chrome Says the Disk is Full
Delete Files From Your PC
Check if you're indeed running out of storage space. If this is the case, delete some of the files stored on your computer to free up some space. You can start with the video files. As you already know, video files take up more space than any other type of files.
Then, empty your Recycle Bin. Simply deleting your files won't help. Your computer automatically sends them to the Recycle Bin. In other words, those files are not really removed from your computer. You need to empty the Recycle Bin to permanently delete them.
Open the Recycle Bin, click on Recycle Bin Tools and select Empty Recycle Bin.
Run Disk Cleanup
You can run the Disk Cleanup tool to free up more space on your computer.
Type 'disk cleanup' in the Windows search bar.
Then launch the app and select the drive you want to scan.
Select the files you want to remove. Make sure to check the Temporary files checkbox as well.
Hit OK. Restart your computer.
Clear the Browser Cache
If you have enough free space on your disk, try clearing your browser cache. Maybe some of the temporary files stored there are interfering with Chrome.
Click on the menu and select Settings.
Then click on History twice.
Select Clear browsing data.
Then select the time range and the files you want to delete. Hit the Clear data button.
Refresh Chrome and try to download the problematic file again.
Disable the Extensions
Maybe one of your extensions is blocking the download. To check if this the root cause of this download error, disable all your extensions. Try to download that file again.
Click on the browser menu. Select More tools and click on Extensions. Use the slider to turn off the extensions.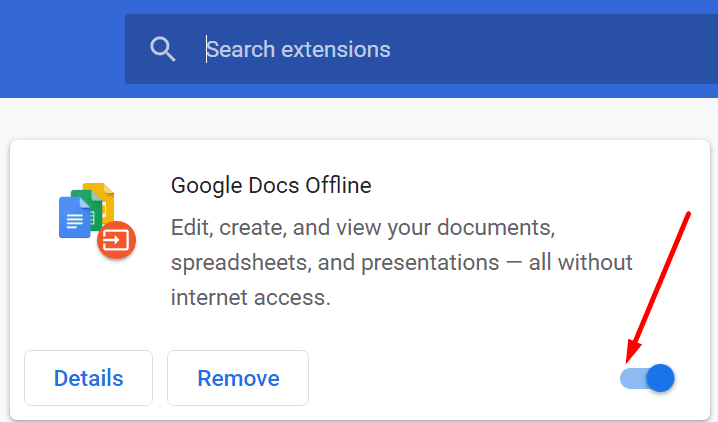 If there are any extensions that you don't remember installing, remove them from your browser.
Reset or Reinstall Chrome
If the error persists, try resetting Chrome. Go to Settings and type 'reset' in the search bar. Click on Reset settings to their original defaults.
If nothing ironed out this error, use a different browser to complete the download.