Many users noticed the NotePad++ Search Results window does not always show up.
Not being able to quickly access the search results can be very annoying. This forces users to manually look up the information or sequence they're interested in.
Of course, it's best to avoid such time-consuming tasks. That's why we created this guide and we'll show you how you can bring back your search results in NotePad++.
Notepad++ Won't Display Search Results
What causes this problem? If the Search Results window is not visible, this is because it could be located outside your screen or the Find window is completely transparent.
1. Check your transparency settings
If you set the Transparency settings to Always, the search results will go permanently transparent or invisible.
To fix that, you need to minimize all the windows on your desktop, launch Notepad++ and hit the Restore button.
This should make the window smaller. Go to transparency settings and enable transparency only on losing focus.
2. Use the menu
Opening the search results directly from the menu is another handy workaround that you can use.
To do that, you can either hit the F7 key or click on the Search menu and select the Search Results window.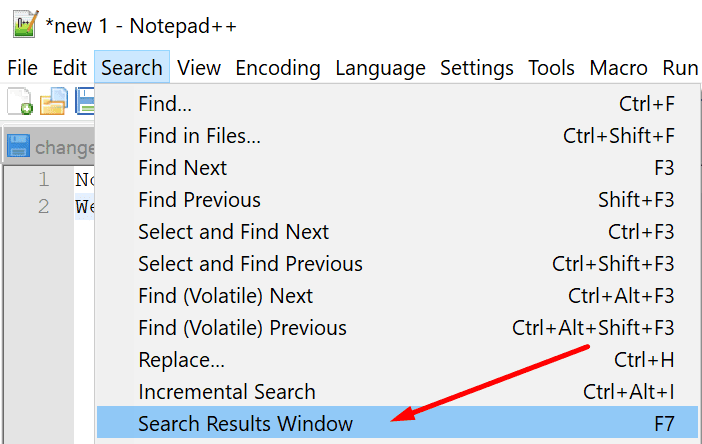 3. Delete the Notepad++\config.xml from %appdata%
Deleting the Notepad++ configuration file from the AppData folder could fix this issue.
Click on the Windows search bar and type %appdata%
Select the Notepad++ folder
Select the config file and delete it
Close Notepad++ and open it again
Important note: Don't delete the whole folder, remove only the config file.
4. Delete the visibility line
Keep in mind that deleting the config file could lead to losing other settings as well.
If you don't want that to happen, you can delete only the visibility line in the config file.
Open the config file using an XML editor or text editor
Locate and delete the following line:

<PluginDlg pluginName="dummy" id="0″ curr="4″ prev="3″ isVisible="yes" />
This should dock the Find results window back to the bottom of your Notepad++ window.
5. Switch the focus and use your mouse
If deleting the config file did not work, try changing the focus of the search.
Start by searching any pattern you want — this helps you switch the focus on the missing Search Results window
Press Alt + Space, M to move the window
Move your mouse randomly on the screen until the Search Results window appears on the screen
Select the window and position it where you want, and then press Enter.
If nothing worked and you can't see the search results, try uninstalling and reinstalling Notepad++.