Microsoft Teams may sometimes fail to update your status displaying instead "Status Unknown". This may happen even when you're actively participating in video meetings or chats. If your employer relies on your status to check your availability, this status issue could get into trouble. In this guide, we'll explore why Teams sometimes says your status is unknown and how you can fix this issue.
Fix: Teams Is Showing "Status Unknown"
Sign Out of Your Account
If this issue is caused by some temporary random glitches, you should be able to fix it by logging out of your account. Your device will reconnect to Microsoft's servers next time you log in.
Exit all Microsoft apps and log out of Teams. Close the app.
Then navigate to www.account.microsoft.com, select your MS account, and hit the Sign out button.
Wait one minute and then log back in.
Launch Microsoft Teams again and check if the status issue is gone.
Or go to your Office 365 page, navigate to Account Profile, and click the "Sign Out Everywhere" link. This action will log you out from all your devices.
Use Teams on the Web
Other users managed to bypass this issue by logging into the web version of Teams. If your status is unknown, try to change it from your browser. On the other hand, if the status of other users is showing as unknown, check if Teams for Web is displaying the correct status.
Check Your Network Connection
Your network connection may be the culprit for this problem. Use a mobile hotspot or a cable connection and check if you can update your Teams status. Additionally, disconnect all the other devices using the connection.
If the issue persists, unplug your router, wait two minutes and then plug the power cable back in and try again. Don't forget to update your router firmware as well.
Update Your OS and Office Version
Next on the list, make sure to install the latest OS updates on your computer or mobile device. If you're running Windows 10, go to Settings, select System & Update, click on Windows Update and check for updates.
If you also use Office, check if there's a newer Office version available and install it on your device. Don't forget to reboot your device after you install all the updates.
Launch any Office app, go to File, select Account, and then click on Update options. Use the drop-down menu and select Update now.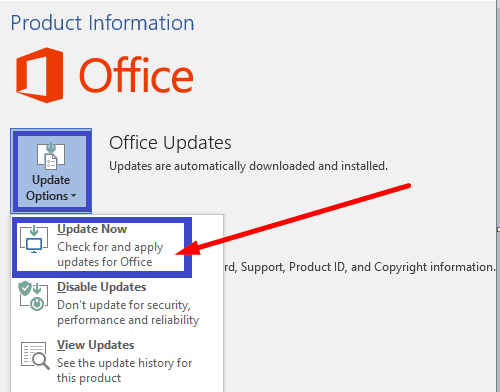 Reinstall Teams
A number of users solved this problem by reinstalling the app. So, go to Control Panel, click on Uninstall a program, and select Teams. Hit the Uninstall button and restart your computer.
After you do that, download a fresh copy of Teams and check if the status problem persists. In this manner, you can be sure you installed the latest app version. If you also use the mobile version of Teams, update the app on all your devices.
Conclusion
If your Microsoft Teams status is unknown, make sure everything is up-to-date, including your OS, Teams desktop app, and Office version. Then, power cycle your router and use Teams on the Web. Did you find other ways to troubleshoot this problem? Do let us know in the comments below.