Today I had an unusual problem when I tried to unzip a file using Microsoft Windows. I attempted to copy the file out of the ZIP file to my desktop and received an error:
An unexpected error is keeping you from copying the file. If you continue to receive this error, you can use the error code to search for help with this problem.
Error 0x80004005: Unspecified error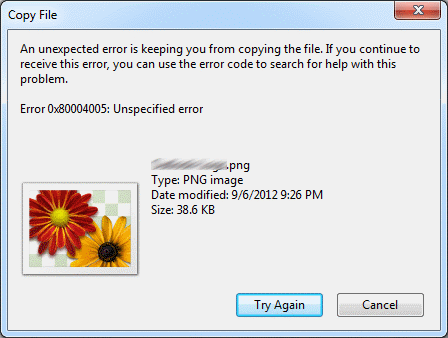 This problem was an easy fix. Here's how it's done.
This error usually occurs when a zip file is encrypted with a password. Windows cannot detect that it is an encrypted file.
The solution is to use an archive utility like WinZip or WinRAR to extract the file. You'll also need the password that was set on the file to extract it. Open the zip file in WinZip or WinRAR and you will be prompted for the password. The file should then copy successfully.
If you choose WinZip, you may not want to try to download it from the official WinZip website since it has become so spammy. I get my copy from OldVersion.
---
FAQ
What if I don't know the password to the file?
You'll have to talk to the person who zipped the file originally. They set a password on it. Otherwise, you will need to try to use password recovery software to try to open it.