Do you need to ride bicycles for sports, commuting, exercise, or leisure? Are you puzzled seeing so many bike ride-tracking apps on App Store and Google Play? Stop surfing the web; install the perfect biking apps by checking out this ultimate list of the best biking apps today!
Biking is fun and adventurous sport. However, it's strenuous exercise. While riding your cycle at high speed and focusing on the route, you can rely on your mobile for other essential tasks like the ones outlined below:
Show the route on a graphical map
Log your training
Track heart rate, blood pressure, oxygen saturation, etc.
Record the bike riding session
Remind you of upcoming servicing schedules
To achieve the above, you must install one of the best biking apps on your smartphone.
However, choosing the best apps for bicycles could be challenging because you need to install the apps one by one, try them for some time, and figure out if any one app is suitable.
Or, you can just read this article until the end to explore some of the hand-picked apps suitable for biking. The following sections also outline the major features of the biking apps so that you can choose the most suitable app by just going through the article and thereby saving time by not installing tons of biking apps.
1. Strava
You can turn your Android mobile or iPhone into a high-performance bike computer by installing Strava. It reads, tracks, and collects biking-related data from an array of wearable smart gadgets like smartwatches, head units for cycling, GPS watches GPS trackers, and so on.
Strava is suitable if you're a professional bicycle sports person, biking hobbyist, or commuter biker. You just select the performance metrics to track, and the app starts recording as soon as you pedal your bike.
This bike ride-tracking app's major features are as outlined below:
Recording rides, runs, hikes, and many other sports
It helps you discover new routes in your locality or in a neighboring town that you're visiting
You can build a community of supporters and followers who will celebrate with you
Visualize training data to collect insights and improve skills on successive runs
Syncs with other relevant apps and gears
It offers in-app purchases within the range of $11.99 to $79.99.
2. SuperCycle
SuperCycle is another best app for biking. It uses various mobile communication technologies, like Bluetooth, GPS, etc., to connect with your biking accessories and gear. Then, it monitors, records, and shows real-time bike riding data like distance, speed, calories burned, elevation, power, cadence, etc.
What's more, you can create personalized goals and work smart and hard to achieve them. Ultimately you develop an excellent hobby for cycling and stay fit physically and mentally. Also, the app makes outdoor biking fun-filled, adventurous, and challenging.
According to the app developer, it's free for everyone. There shouldn't be any ads or trading of your data with third-party data brokers. However, if you like what you see, you can donate to the developer for their effort.
3. Komoot: Route Planner & GPS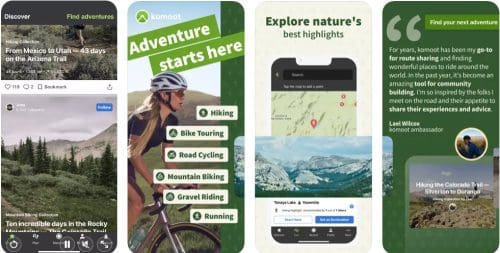 Make your next bike riding, mountain biking, or hiking into an unforgettable adventure with the Komoot app. It enables you to source inspiration by tapping into high-quality shared community recommendations and knowledge. Then you can make your adventures come true with the easy route planner provided for free with the app.
If you're looking for the best mountain biking app, Komoot should be the ideal choice. Some notable functionalities of this app are mentioned here:
Road cycling, mountain biking, and hiking planning
Voice navigation
Get offline maps where the internet is unreachable
Flaunt your achievement within a like-minded community of bikers and bike sports persons
Become a bike sports expert in your locality
Syncs with an array of devices and apps like Garmin, Wahoo, Apple Watch, iPad, iPhone, Android, Android Watch, Element Bolt, etc.
4. Google Maps
If you're looking for a lightweight, free, and zero-learning curve biking app, then you must try Google Maps. The app gives you live GPS maps of up to 220 countries. The live maps contain legends for grocery stores, service stations, repair shops, hotels, and pharmacies. Other notable features of Google Maps are:
Find the best route from point A to point B
Automatic re-routing for road closures, wrong turns, etc.
Important places list
Real-time traffic conditions in select cities
5. Bike Computer – GPS Tracker
As the name suggests, Bike Computer is your reliable companion for mountain biking, off-road biking, concrete bike trails, asphalt bike trails, and so on. Its unique feature is Keep Me Safe.
Provided that you've mounted the mobile phone on the bicycle using a handle mount and have active GPS and network, the feature will send an SOS message to a pre-set target for search and rescue.
Its other noteworthy features are:
Minimalistic interface for focus and stress-free riding
Dark theme suitable for both night and day-time bike riding
Performance analysis and insights to guide you to personal improvements
Works with almost all modern Bluetooth devices for bike training, heart rate monitors, BP monitors, etc.
6. Zwift
Zwift is a bike ride-tracking app for the virtual world. This is the ideal training tracking app if you like biking but don't want to go outside and practice indoor cycling. You can sync the app with any Zwift-supported indoor biking and exercise equipment.
The app places you in a virtual world of biking games. The games are situated on different biking trails so that you can enjoy various adventurous tracks. Its major in-app functionalities are outlined here:
1,000+ training plans and workout games
Live virtual biking events up to 200 per day
Ride your indoor exercise bike on various tracks while observing real-time data
7. Map My Ride by Under Armour
Map My Ride is one of the best biking apps and is also specialized for Garmin users. The app keeps track of your performance by collecting many data via the Garmin watch or any other compatible smartwatch. Then, it shows you the biking performance after each kilometer or mile. It also comes with a personal coaching tip functionality.
Other notable features that'll persuade you to install the app are quoted below:
View the biking route plan and customize the plan when needed
Voice-based announcement of biking performance
GPS-tracking
Tracks calories burnt, distance, pace, elevation, duration, etc.
Heart rate monitoring to adjust training according to warnings or notifications
8. Cyclemaps
Cyclemaps is an iOS-only bike ride-tracking app. It tracks all standard data you expect an app to follow during high-performance biking, mountain biking, or bicycle commuting for parcel delivery or messenger services.
You must check out some of its functionalities because of the following attractions:
Convert unplanned rides into a workout by syncing it with Apple Health
Advanced turn-by-turn navigation from starting point to destination with voice
Save maps of new rides in offline form and use these later when you don't have access to mobile data or Wi-Fi internet
You can create waypoints on its ma,p and hence highly suitable for bike messengers and parcel delivery purposes
Download: Cyclemaps for iOS
9. CycleStreets
Planning your cycling paths in the streets of UK cities and twins could be challenging with an ordinary live map app. You need something unique made just for the UK, and that's CycleStreets.
It enables you to create route plans for cycling from starting point (point A) to the destination point (Point B) in multiple cycling modes. These modes are as mentioned below:
Regular commuter bike riding for work and living purposes
Expert cyclists mode
Leisure mode in a circular route to burn calories and stay fit
Photomap mode enables you to track good practice and infrastructure problems across the UK and submit those to the local authorities
10. Garmin Connect
Made by the manufacturer of Garmin smartwatches, Garmin Connect is the central source for all data related to bicycle racing, leisure biking, or step monitoring.
You can create new biking route plans and share those with your supporters, friends, and followers on social media. That's not all! The app enables you to invite other expert riders to a bike riding challenge.
Its noteworthy in-app functionalities are as below:
My Day page shows every activity, including biking
Get biking analysis and statistics
Its intelligent algorithm monitors most exercise records, including biking, like distance traveled, pace, calories burnt, steps, etc.
Earn badges as rewards for your fitness achievements
Connect with local and global users and find your rank within them
Convenient service and repairs for Garmin smartwatches
Use GPS and Bluetooth for the device to the app and app-to-device communications
Best Biking Apps: Final Words
So far, you've gone through an extensively researched list of the best biking apps for different biking needs.
You can shortlist a few of the above apps after going through the features and functionalities of the apps mentioned in each section.
Then, depending on your budget and biking app feature requirements, you can install a few of the above best bicycle apps.
If the apps pass your test, subscribe to one that's the finalist in your opinion. Don't forget to mention the best app for biking according to your experience by commenting below.