If you want to take care of other things during a phone call, you can enable the loudspeaker functionality. To do that, answer the call and simply tap the loudspeaker icon. Unfortunately, your Android terminal may sometimes fail to activate the loudspeaker or increase its volume.
What's even more confusing is that oftentimes the loudspeaker won't work, but your headphones do. If you're looking for a solution to fix this problem, follow the troubleshooting steps below.
What to Do If Android Loudspeaker Won't Work
Restart the Device and Check for Updates
Restart your terminal two or three times in a row. If this is only a temporary hardware or software glitch, restarting your phone a few times should fix it.
Then check for Android updates. If the Android version you're running is glitched, go to Settings, tap System, and then select System update. Install the latest Android version available for your terminal and check if the loudspeaker problem persists.
Reset Sound Settings
After tapping the loudspeaker icon, press and hold the Volume Down button for five seconds, then immediately press and hold the Volume Up button for 10 seconds. Check if you notice any improvements.
Then check your Sound settings. Go to Settings, select Sounds and vibration, and tap the Volume option. Move the Media slider all the way to the left to mute all sounds. Wait for 30 seconds, and then move the slider to the right. Check if the loudspeaker is working properly now.
Additionally, check your app sound settings to make sure sound is not muted in individual apps.
Disable Bluetooth and Do Not Disturb Mode
If your Android terminal is connected to your external speakers, turning off Bluetooth should fix the problem. Swipe down with two fingers and tap the Bluetooth icon to disable the option. Additionally, go to Settings, and select Connected devices to check if your terminal is connected to other external audio devices.
Then disable Do Not Disturb mode. Swipe down again, and check if the Do Not Disturb option is enabled. If this is the case, disable it and try again.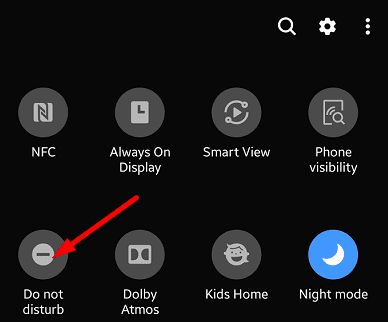 Clean the Speaker and Remove the Case
If you can enable the loudspeaker functionality, but the volume or audio quality is low, remove your case. Some case models may muffle the sound.
Lint, debris, or specks of dust could also cause your loudspeaker to misbehave. Turn off your device and remove the battery (if the battery is not sealed). Use a can of compressed air to clean the speaker. You can also use a soft toothbrush and gently scrub the speaker grills.
Enter Safe Mode and Reset Your Settings
Third-party apps could also interfere with your sound settings. Boot your Android device into Safe Mode to run only the original OS without any interference from third-party apps. If the issue is gone in Safe Mode, uninstall the recently installed apps and check the results.
Navigate to Settings, select System, and tap Reset options. First, reset your app settings, and then reset your connections. If the problem persists, reset your settings.
If the problem doesn't go away, you can perform a factory reset. But don't forget to back up your data first.
Go to a Repair Shop
If the loudspeaker option is still unusable, go to an authorized repair shop and have a specialist look at your device. Let them know what troubleshooting methods you've tried so far. Maybe some of the hardware components are faulty, and you need to repair the device.
Conclusion
If your Android loudspeaker won't work, restart the device and check for updates. Additionally, reset the sound settings, and disable Bluetooth and Do Not Disturb mode. If the issue persists, remove the case, clean your speaker grills, enter Safe Mode, and reset your settings. Check if you notice any improvements. Did these tips help you troubleshoot the problem? Let us know in the comments below.