Newer isn't always better. But app stores like Google Play and Amazon don't offer a way to select a specific version of an app or downgrade. Fortunately, there's a way to downgrade an app if you need to. Read until the end to learn how to downgrade an app on Android.
Google Play is the most credible and popular app store for any Android device. Most app developers would publish their apps on Google Play for easy, fast, and global distribution of mobile apps. However, Google Play only hosts the latest versions of apps. If you need to roll back an app to its older version, it's a dead end. In most cases, experts and mobile technicians will ask you to root your Android smartphone or tablet to downgrade an app on Android.
If you don't want to root, that's cool! You don't need to. Just pick any of the methods to downgrade Android apps from below and you're all set!
Reasons to Downgrade an App on Android
You must always use the latest version of any app. Also, you must download all Android apps from Google Play to get an assurance of code integrity from Google. However, sometimes, you may need to use an older version of certain apps. Find below some of the most common reasons:
You're an app developer and you need to do some research on an old version of your app or a third-party app.
There's a known bug in the latest edition of a specific app. To avoid the bug, you can roll back the app to an older version and stay with that until the developer fixes the bug.
You think that the older version is more intuitive and easy to operate than the new one.
The app developer might have discontinued an in-app feature in the new edition. To get that feature back, you must downgrade the Android app.
You notice that the latest version of an app is causing performance issues on your smartphone and you don't want to buy a new device just yet. Hence, you need to roll back the app to its older version for smooth operation on the existing hardware.
Now that you know why you may want to learn how to downgrade Android apps, find below the methods you can try:
Uninstall Updates of Built-In Apps
Are you just trying to roll back built-in apps to their factory version when the device was shipped to you? Then, try the following steps:
Open the Settings app on your Android tablet or mobile phone.
Tap Apps to access the settings for installed apps.
Touch the See all apps option to extend the list of installed apps.
In the top-right corner of the screen, you should see the kebab menu or vertical three dots menu. Tap that.
Choose the Show system apps option.
Now, the All apps list expands further showing all the installed system and user apps on the Android device.
Then, find the app you want to roll back to the factory version.
Let's try the Google Calendar app.
Touch Google Calendar.
Tap the kebab menu and touch Uninstall updates.
That's it! You've rolled back the Google Calendar app to a version that you got with a new Android device when you bought it a few years, months, or weeks back. However, don't just yet open the rolled-back app yet. Disable auto-update from the Google Play app by following these steps first:
Open Google Play and search for Google Calendar.
On the Google Calendar app page, tap the three dots menu in the top-right corner.
Uncheck the checkbox beside the Enable auto-update option.
Great! Now that you've disabled the auto-update by Google Play, you're absolutely ready to open the downgraded Google Calendar app from your Android device's Home Screen or App Drawer. The device won't update until you do it manually. You may want to note that this method isn't available for apps you install after buying the device.
Download and Install from Unknown Sources
If you need to roll back a user app to its older version, you can't go the Uninstall updates route. In this scenario, what you can do is install an old APK installation package for the app from an online app store or host that has the file. In this method, you must be cautious enough not to download any fake or imposter version of the app you're looking for. For example, hackers publish fake old versions of Google, Google Play Services, Chrome, etc., apps that are in high demand. When you download and install such fake apps, you give hackers access to your device. Thus, if it's not absolutely necessary, don't install APKs that you can't trust.
When it's totally necessary, download APKs at your own risk from fairly trustable sources like APKMirror, APKPure, F-Droid, APK Downloader, Aptoide, APKMonk, and APKBe. Now, that you know the trending sources for APK installation packages of Android apps, follow these steps on your Android device to prepare it for APK installation:
Enable Install Unknown Apps
From the Android Settings app go to Apps.
Scroll down to the bottom of the Apps screen and tap on the Special app access menu.
Inside the Special app access screen, you should see Install unknown apps at the bottom. Tap on it.
When you're on the Inside unknown apps screen, you'll find some supported apps that can help you install unknown apps.
For example, Chrome, Brave, Drive, Files by Google, File Manager, WhatsApp, and so on.
If you've got the APK on a computer or SD card, then activate Install unknown apps for File Manager or Files by Google or any other file explorer for Android.
However, if you plan to download the APK on an Android device using a mobile browser, then activate the Install unknown apps feature for Chrome, Brave, etc.
To enable this feature, tap the app in question.
Then, toggle the Allow from this source button. The radio button should become light blue.
Download and Install Unknown Apps
Go to any of the third-party APK hosts like APKMirror.
Look for the old version of an app you want to install.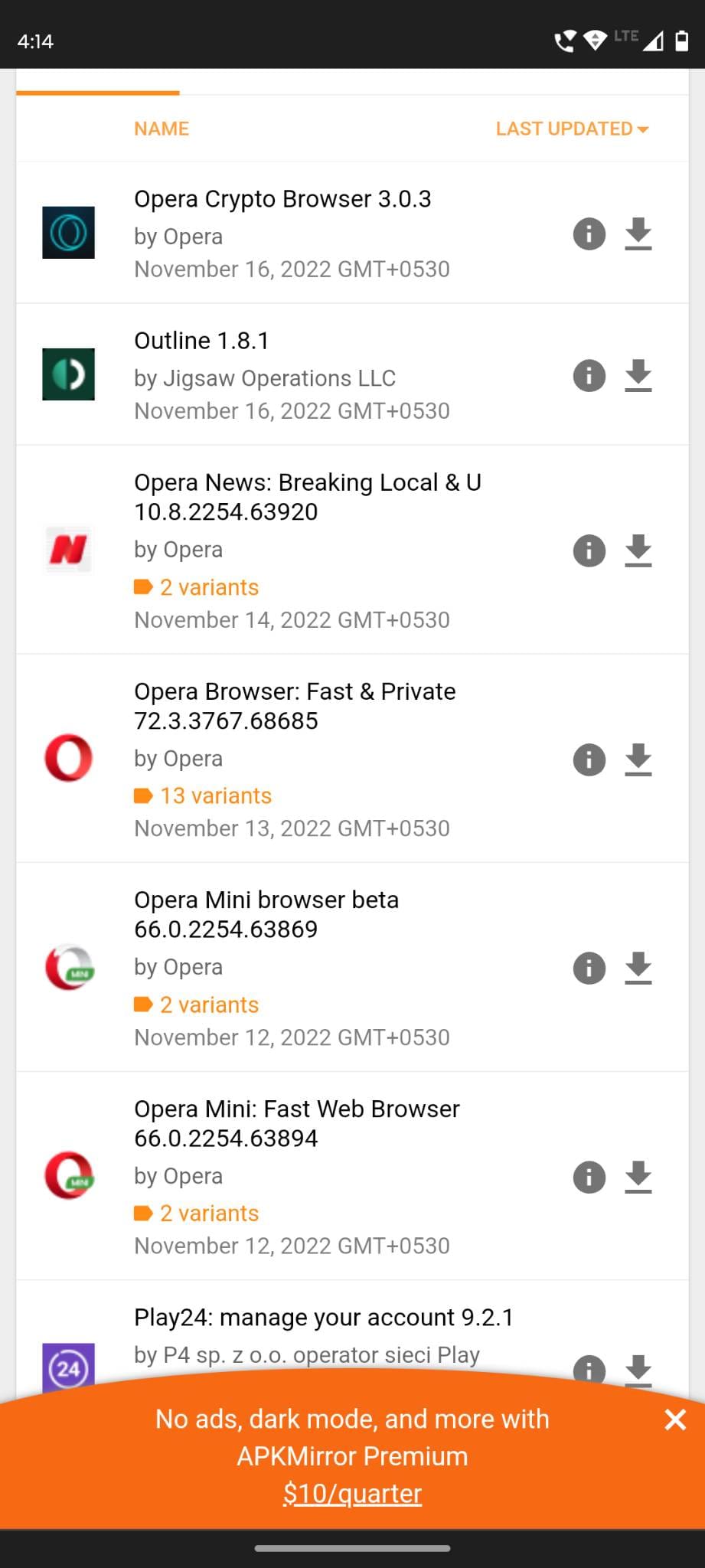 For example, I'm going to download and install Opera Browser 72.3.3767 from November 13, 2022.
Once you find what you're looking for, tap the download icon on the right side of the APK.
You enter the download page for the APK.
Again, choose a suitable version and touch the download icon again.
Finally, tap the Download APK Bundle button.
You should see a Downloading notification in the Notifications area of Android.
Once the download is complete, pull down the Notifications shade and tap on the Download complete notification.
Now you arrive at the Downloads folder.
Head over to Google Play and download the APKMirror Installer (Official) app.
Now, go back to the downloaded Opera APK and tap on it.
On the next screen, tap on Allow access to storage.
Inside All files access, toggle On Allow access to manage all files.
Tap the Back arrow on the top of the screen.
You should see the APKMirror Installer app for Opera APK.
Touch the Watch ad and install app button.
That's it! You now have an older version of the Opera browser. Don't forget to disable auto-update for Opera from Google Play. I already shared the steps earlier in this article.
Downgrade an App on Android Using ADB
Find below the process to uninstall an Android System app or factory-provided app and install a specific old version using its APK installation package:
Also read: Get Google Pixel Now Playing on Any Android
Activate Android Debug Bridge (ADB) on Android Device
Open Settings and scroll down to About phone. Tap on it.
Inside About phone, scroll to the bottom to find the Build number option.
Tap the Build number option a couple of times until you see You are now a developer pop-up.
On some Android devices, you may enter the device password to activate the developer option.
Now go to Settings > System to find the Developer options menu.
Tap Developer options and then touch the USB debugging toggle button to activate ADB.
On the Allow USB debugging pop-up, tap OK.
Also read: Android Not Accepting Correct PIN or Pattern
Download and Extract SDK Platform Tools on a PC
Go to the SDK Platform Tools portal and download the package for Windows, Mac, or Linux.
Now, go to the Downloads folder on your PC and extract the zipped file.
You'll see a new folder named platform-tools.
Double-click the folder and keep it open on your PC.
Uninstall a System or Built-In App
Connect the Android device to your PC using an appropriate USB cable.
On the Select USB mode pop-up, choose File transfer.
This should also enable the USB debugging connection between the Android and PC.
On the Notifications area, you should see USB debugging connected notification.
To confirm whether the debugging is working or not, go to the platform-tools folder on the PC.
Click on the Windows File Explorer address bar, type CMD, and hit Enter.
This should open the Windows Command Prompt tool on the platform-tools directory.
Now, copy and paste the following command and hit Enter:
adb devices


You must be on the platform-tools directory when running this command.
CMD will show a device ID.
Then, run this command to start debugging:
adb shell
You'll see a device code name in the next CMD line.
Now, run the following command to uninstall a system app, like the Calendar app:
pm uninstall --user 0 PackageName


Replace the PackageName placeholder with the actual app package name retrieved from the Google Play website as shown in the picture. So the final command is as below:
pm uninstall --user 0 com.google.android.calendar


In the next CMD line, you should see Success!
Perfect! The Google Calendar app is gone from my Android device. If you follow the steps correctly, you'll see the same result.
Install a System or Built-In App
Now, head over to the APKMirror website from Chrome or Brave and download an old version of the target app. Install it by following the steps mention earlier in the Download and Install Unknown Apps section.
Downgrade An App on Android: Final Words
Though mobile app giants like Google don't want you to get the power to install any version of an app on your Android device, you can still do that by using any of the methods mentioned in this article. Now, you must choose a method depending on your needs.
For example, if you just want to avoid a known bug, uninstalling updates would work fine. However, if you need a specific functionality from an old app version, then install its APK installation package from third-party app marketplaces. Finally, when you need a specific earlier version of a system or user app on your Android, pick the ADB method.
Let me know if you were able to succeed in downgrading an app on Android by commenting below. Share the article from your social media accounts to help spread these neat hacks of Android among your friends, fans, followers, and colleagues.
Next up, how to fix Developer Options is missing from Settings.