Are you a hip hop fan? Do you love listening to hip hop music all day long while keeping yourself up to date with the latest happenings in the hip hop world?
If yes, you must've heard of the World Star Hip Hop app. This iOS app is quite popular among hip hop lovers.
However, this isn't the only app that lets you listen to hip hop song mixes and broadcasts the latest hip hop news.
Check out this curated list of alternatives to the World Star Hip Hop app that you can try on your iPhone or iPad.
What Is World Star Hip Hop App?
Worldstar HipHop Videos and News app is a highly popular app for iOS users. This official Worldstar Hip Hop app guarantees no dull moment as it'll keep you updated all the time.
This single app is the perfect platform for watching exclusive music videos, breaking news, outrageous user footage, sports highlights, funny comedy show, movie trailers, and viral clips.
Apart from the above features, this app also comes with Worldstar Camer. It allows you to shoot new videos or select clips to create your own Worldstar videos. After that, you can preview, organize, and submit your videos to this app.
Alternatives to World Star Hip Hop App for iOS
1. DatPiff- Mixtapes & Music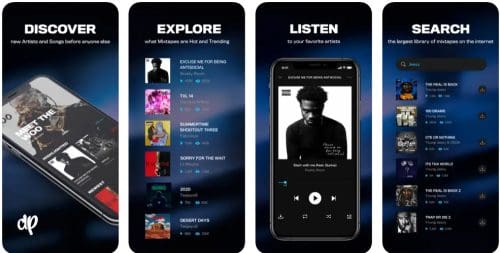 DatPiff has long been the largest collection of mixtape music on the internet. With the DatPiff app, you get access to this vast library of mixtapes and healthy hip hop music. Furthermore, the app is the go-to resource for the latest and greatest of all time rhythm and blues (R&B) music.
It lets you download music tracks for offline playback. Online streaming is always available when you've got Wi-Fi or mobile data internet. Some other notable features of this app are outlined below:
Exclusive music from top R&B and hip hop artists daily
Free for public consumption of mixtapes and hip hop music
Abundant collection of underground R&B and hip hop music
Find new artists
Become a fan of independent artist and their music compositions
You can download the app on your iPhone and iPad for free. There are no in-app ads and purchases either. Moreover, you don't have to subscribe to any plan and pay a fixed fee monthly like other mainstream music streaming apps.
2. Spinrilla- Mixtapes & Music
Spinrilla is yet another top alternative to World Star Hip Hop app. According to the developer of the app, it's the gorilla of hip hop songs and music weighing 800 lbs. Also, the developer claims that it's the first ever mixtape music app to appear on App Store.
The app doesn't just collect and stream hip hop mixtapes from prominent hip hop artists. It also gives a platform for independent hip hop artists to shine and showcase their talent in the music industry.
Some notable in-app functionalities are:
Supports in-car entertainment systems when synced with the mobile app. However, you must follow all the traffic safety rules and drive responsibly when driving.
You no longer need to rely on the smartphone's equalizer to give mixtape playback a hip hop vibe. Simply use the built-in equalizer of Spinrilla for treble enhancements, bass boosting, and so on.
Get a list of trending hip hop every day
You can sync music playlists from one device to another just by using the Spinrilla app.
You can use the app for free with ads and playback interruptions. The best way to enjoy hip hop is to subscribe to affordable plans like $1.99 for Premium and $0.99 for Pro subscription.
3. Lyriqal – Hip Hop News and Music
Lyriqal hip hop music app is also a must-try app if you're hunting for the best World Star Hip Hop alternatives. Besides hip hop music, it also serves the latest and trending hip hop news, local hip hop news, hip hop music videos, and more.
The app features the best hip hop content channels, popular artists, independent artists, independent hip hop content creators on the web, and hip hop influencers.
The app gives you access to many channels. The followings are the main categories of channels from which you can explore the kind of hip hop music and music videos you like:
Interviews of hip hop influencers, artists, rappers, and more
Rap music and music videos
Urban fashion
African American lifestyle and culture
Music reviews
African American celebrity gossip and news
You can download the app for free. Also, listen to hip hop music and watch videos or news coverages without paying or watching ads.
4. HotNewHipHop
HotNewHipHop is one of the best online magazines for hip hop culture and African American artists, cultural influencers, rappers, and content creators. Its iOS version is the HotNewHipHop app.
It covers the latest news of the hip hop spectrum in the US, publishes new songs, streams mixtapes, releases hip hop albums, and produces unique editorial content tailored just for hip hop lovers like you.
Its notable features are as mentioned here:
Trending and viral news on hip hop culture, songs, sports, lifestyle, technology, politics, and sneakers
Top hundred content
Features like reviews, editorials, lists, and interviews
Dedicated sections for videos and artists
5. HipHopNowTV
HipHopNowTV is an iOS app for hip hop lovers. Those looking for reliable and instant news updates on hip hop and the urban entertainment industry will find it to be useful.
Using this app, you can stay informed of the latest hip hop music video releases, live programs, artist interviews, red carpets, and social media updates on urban pop culture and industry.
6. World Hip Hop News
World Hip Hop News is your perfect source for music news. It brings you the latest news on hip hop, rap, and R&B.
Using this app, you can see 12 news articles at a time on your iPhone and 25 articles on your iPad screen. Thus, it saves your time and labor for scrolling.
Here, the news gets loaded quickly and you can save your favorite articles for quick access.
Moreover, it lets you share the articles with your friends.
Thanks to its support for all video and music formats, listening to the latest music and video from your device is a breeze.
7. Hip Hop Radio Stations
Hip Hop Radio Stations is a World Star Hip Hop app alternative where you can listen to the best hip hop radio stations in the world.
Use this app to listen to new hip hop, R&B, and rap running in the background as you work on other apps.
You can play and pause the music even when you're on the lock screen. Just search using tags like radio hip hop, rap, music, US rap, R&B, etc., to find your favorite music tracks.
8. The Hip Hop Agenda
The objective of The Hip Hop Agenda app is to encourage the new generation to connect with their history and culture by broadening their experience.
By exploring the ideas showcased through history, you can appreciate higher music and gather knowledge about these.
This app also works as a platform to connect with like-minded people and share your insights with them.
You'll see that the iOS app celebrates occasions such as birthdays, album releases, and historical moments of hip hop culture.
For that, it has a calendar where you can discover daily historical events by searching with song, artist, date, or album name.
Here, you can watch artist interviews, premiers, and docuseries. Also, it offers news articles on trending music, entertainment, and culture.
9. HIP·HOP·TV
HIP·HOP·TV is a great alternative to the World Star Hip Hop app. Here, you'll get access to hip hop TV shows, music videos, movies, and news.
This app will feature different shows focusing on new artists, rappers, dancers, actors, and DJs.
There is also a program that moves from city to city to show you live performances of new artists. Also, you can see who wins the battle between the fiercest rap battlers.
From this iOS app, you can also watch new music videos by the newest artists. It's the right place to discover and explore new hip hop singers making headlines.
If you're an emerging hip-hop artist, this app is the best chance to get featured on TV nationwide.
10. B93 – 432's Hip Hop and R&B
B93 – 432's Hip Hop and R&B is a news and information app for the hip hop along with R&B. Moreover, you can use this iOS app to get weather and traffic updates in Odessa, Texas.
It allows you to listen to live shows and talk to program hosts. DM them or call them directly from this app to start a conversation.
Moreover, It shows alerts on contests and breaking news instantly. It also supports Apple CarPlay for focused listening while driving.
You can also save viral stories and news to read them later. The facility to share these articles on Facebook and Twitter is also available on this app.
Conclusion
Now that you know the top alternatives to the World Star Hip Hop app, you can try them on your iOS device.
All these apps are feature-rich, and we're sure you'll be able to find the right one from this list.