Vaonis Stellina
For The Citizen Scientist
Unistellar eVscope2
Meade 6" LX65 ACF Telescope with Alt-Az Single-Arm GoTo Mount
Since time immemorial people have looked up at the night sky, gazed at the stars, and wondered at its beauty. With the invention of the telescope, it became possible to peer closer at the stars. With telescopes, we discovered nebulae, galaxies, and planets. We learned about the universe and our solar system. To be able to share the wonders of the night sky with others, combining telescopes with cameras is popular. By taking long exposures you can get views that simply can't be recreated by peering down a telescope eyepiece.
With urbanisation though, light pollution has made it more difficult to see the stars, even if you have an unobstructed view of the sky. Even if you get away from the city and into the countryside, light pollution can affect your view of the stars. Even cameras attached to telescopes are affected, processing is needed to remove the "noise" of light pollution.
By computerising the camera system, the processing of the image can be automated. By also computerising the telescope itself, it's possible to make tracking night sky objects as the earth rotates underneath them simple. You can also use automation to specifically point the telescope at a huge range of night sky objects. All of this computerisation is designed to make astronomy and astrophotography more accessible for newcomers and to simplify the workflow of those with lots of experience.
Still, all this tech and processing doesn't necessarily come cheap with the top-of-the-line models reaching into the tens of thousands of dollars, and observatory-grade systems reaching into the hundreds of thousands of dollars. To help you find some great options, we've drawn up our list of the best smart telescopes in 2022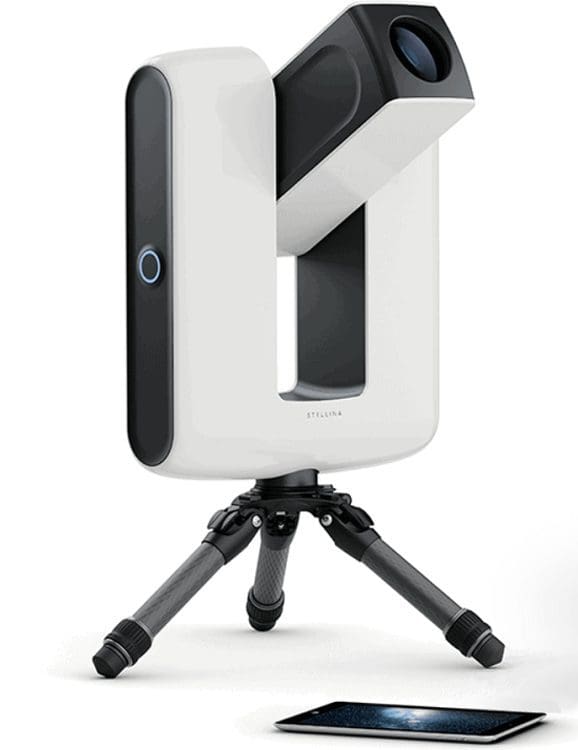 Key Features
Fully automated
Dew heater
6.4MP sensor
Specifications
Aperture: 80mm
Focal length: 400mm
Lenses: 50x optical zoom, up to 100x with digital zoom
The Vaonis Stellina is a portable fully automated smart telescope. Rather than attaching a camera to a telescope after the fact, Stellina has a 6.4MP camera fully integrated into the telescope. It has no eyepiece for direct viewing, however, on connected smartphones, a live stacked image can be seen allowing you to see how your long exposures are progressing.
Pointing, focus, and tracking are automated so you don't need to adjust the telescope manually to allow for the Earth's rotation. The telescope has an external 10000mAh battery that can power it for 5 hours of use. It's also somewhat portable, weighing 11.2kg. One of the few downsides is the relatively small built-in object catalogue which isn't as complete as other competing options.
Pros
5-hour battery life
Auto-focus
Live image stacking
Cons
Relatively small object catalogue
No eyepiece
Relatively low resolution
NexStar Evolution 8 HD Telescope With StarSense
Key Features
Control via keypad or mobile app
40000+ object database
Adjustable slew speeds
Specifications
Aperture: 203mm
Focal length: 2032mm
Lenses: 50x and 156x
The NexStar Evolution 8 HD Telescope With StarSense is a standard optical telescope with a smart positioning, pointing, and tracking system. by connecting your phone to the telescope's Wi-Fi hotspot you can provide your location via your phone's GPS, the telescope then needs to identify its positioning by finding 3 stars, which can be performed automatically via StarSense.
An integrated battery can provide 10 hours of operation. Once aligned you can control the telescope via your phone or the keypad. There is a database of the locations of more than 40000 objects. The movement speed can be adjusted for fine adjustment or large movements. The stand has been designed to double as an accessory tray for spare lenses and filters. It's not particularly portable, being large and heavy. It also doesn't come with any included camera for those interested in astrophotography.
Pros
10 hour battery life
Large primary light collecting mirror
Stand doubles as an accessory tray
Cons
The spotting scope is a bit weak
Heavy at 42lbs
Doesn't come with the necessary cable and adapter to apply firmware updates
App isn't particularly stable
Meade 6″ LX65 ACF Telescope with Alt-Az Single-Arm GoTo Mount
Key Features
The included stand can support a second telescope
AudioStar Controller operated
Tool-less assembly
Specifications
Aperture: 150mm
Focal length: 1524mm
Lenses: 59x
The Meade 6″ LX65 ACF Telescope with Alt-Az Single-Arm GoTo Mount is a standard telescope with a smart pointing system. The AudioStar controller helps to make positioning and aligning the telescope a simple but manual process. Once correctly aligned, the telescope can automatically point at objects in the night sky and track them as the Earth rotates. The controller includes a speaker that can give you some audio information about the object you are viewing from the 30000+ strong catalogue.
A particularly cool feature of the included stand is the second mounting spot for a secondary scope, though it is limited to 7lbs. This can be useful if you're wanting to do some manual viewing during an astrophotography session, though you can only view the same object and you'd have to be careful not to bump the telescope at all. The "tonight's best" feature, automatically takes you through some of the best views currently available given your location and time, ideal if you want to observe but don't have any particular target in mind. Annoyingly, only a single lens is included, it would have been nice to see more than that. Additionally, the 8 C batteries or external 12V power supply are not included.
Pros
30000 object database
Integrated speaker for audio about objects
"tonight's best" feature
Cons
Batteries not included
Only one included lens
Key Features
Automatic alignment
Digital eyepiece
7.7MP sensor
Specifications
Aperture: 114mm
Focal length: 450mm
Lenses: 50x optical zoom up to 400x with digital
The Unistellar eVscope2 is a fully automated telescope that features an integrated 7.7MP camera and a digital eyepiece for those that prefer to look through the telescope rather than on their phone. The app needs to be used to control the telescope and can provide positioning data so that the automatic alignment process can complete in less than a minute. The app features a catalogue of more than 5000 objects and also features various citizen science objectives to let you contribute your observations to scientific studies such as tracking Near-Earth-Objects for orbital analysis.
The 10-hour battery life is enough for a night's observations while the 64GB of onboard storage can store multiple night's worth of data. The 9Kg weight makes the eVscope2 fairly portable, especially with the custom-designed backpack, however, that is a $300 extra. Both the eyepiece and the app allow for live viewing of the stacked images.
Pros
5000+ object catalogue
10-hour battery life
64GB of storage space for 35 hours of observations
Custom built backpack
Cons
Digital eyepiece rather than purely optical may not be to everyone's liking
$300 extra for the custom backpack
That was our roundup of the best smart telescopes in 2022. Have you recently bought a smart telescope? What sold you on it and what has your experience been with it so far? Let us know down below.