HyperX Predator
G.Skill Trident Z5 RGB Series 32GB (2 x 16GB) DDR5 6400 CL32
G.Skill Trident Z Royal
RAM is a critical part of your computer. It stores the data being used by the currently running processes so it can be provided to the CPU as soon as possible. Even PCIe gen 5 SSDs can't supply data fast enough and with low enough latency to keep the CPU fed with data as quickly as it needs.
The absolute bare minimum RAM requirement for a 64-bit Windows 10 is 2GB. But good luck doing anything with that. Even with 4GB of RAM, Windows is hard to use, requiring you to close programs rather than open them in the background. For normal primary usage, 8GB of RAM is acceptable. Still, if you're a gamer, you should aim for 16GB. This will give you plenty of space for games and background programs such as Discord or Chrome.
In some cases, 16GB of RAM isn't enough. A handful of recent games recommend 32GB, and if you're into modding games, you can also need more than 16GB. If you're looking to build and use your computer for a few years, maybe with a GPU upgrade but generally remaining the same. It might be worth it to future-proof your RAM configuration and get 32GB. This is especially true if you're already going all out and aren't on a reasonably tight budget. RAM, especially DDR4 RAM, is priced pretty well at the moment. So if you can stretch from 16 to 32GB of RAM, it could be worth it.
Once you've decided how much RAM you want, you then need to determine what RAM. The main factors that you should consider are:
What your motherboard and CPU support
Number of DIMMs
DDR generation
Frequency
CAS Latency
Not all CPUs or motherboards support high-speed RAM, and smaller motherboards typically don't offer as many RAM slots. This is especially important to check with non-K or X series Intel CPUs. Intel limited the supported RAM speeds to 2933MHz or even 2666MHz on some generations. Even if you buy the fastest RAM available, those CPUs can only ever be used at those slower speeds. You might as well save some money, get a cheaper package, and potentially upgrade the capacity.
Motherboards obviously limit how many RAM sticks, or DIMMs, they can take. Many small form factor boards limit this to 4 or even 2 slots, while full-size boards can often have 8. Check how many RAM sticks you can use before buying a set of four and realizing you can't use half of it. Additionally, check that your motherboard takes DDR4 or DDR5 RAM as they are not physically compatible, despite looking very similar.
DDR4 is the current RAM standard supported by all recent CPUs. DDR5, however, is the newcomer. It is currently only supported by the latest Intel CPUs. However, the next generation of AMD and Intel CPUs will support it. DDR4 is priced very well, allowing you to get well-performing 32GB sets for around $150. DDR5 is more expensive.
This is partly because of the increased complexity as the modules require extra power management features. DDR5 is also expensive because of a parts shortage, which is starting to clear up. The other factor is the so-called "early adopter tax" it's more expensive simply because it's new, and bleeding-edge technology is costly.
The Frequency of RAM denotes how often it can transmit data, so faster is obviously better. It's not that simple, though. Ultra-high-speed RAM kits don't always work easily or reliably and often don't provide scaling performance increases. On AMD platforms, the ideal speed is often 3200MHz, though if you have a Zen3 CPU, 3600MHz is also generally reliable. On Intel CPUs, the performance gains are slightly more consistent the higher you go. There isn't much of a performance difference between DDR4 and DDR5. DDR5 speeds will improve, though, as the technology matures.
CL or CAS Latency describes the number of clock cycles between a read request submitted to the RAM and when the data is available. Lower numbers are better but remember that this is related to clock speed. You can expect higher numbers with faster RAM and still get better performance. A lower CAS latency will generally give a slight performance boost on either CPU platform.
High-end DDR4 RAM can be found with CL16 or so. Current high-end DDR5 tends to have a CL of around 34 or 36. This, too, will improve as DDR5 matures. Again though, it's worth noting that CL is measured in cycles. DDR5 operates at around twice the cycle speed of DDR4, so they're comparable.
It's also essential to make sure that all your RAM is identical. You should never use two different RAM kits from two vendors or mix two other products from a single vendor. Ideally, you shouldn't mix two different kits from a single product line, as the exact memory modules or controllers used can change over their lifespan. You should only use a single kit at a time, or if you need more than is included in a single kit. You should buy multiple kits simultaneously to ensure the parts are the same.
One final key thing to remember is that most of these configurations will need to be manually enabled in the BIOS as they are non-standard with an XMP profile. On many computers, you'll be able to select the XMP profile in the BIOS and continue but on some, you may need to manually enter the configurations. If you don't do this, you can be left with standard performance RAM. So double-check that your RAM is operating at peak performance when you install it.
Now you hopefully know a little more about RAM and its performance. Here are our recommendations for the best RAM for gaming in 2022.
Kingston Fury Beast 32GB (2x16GB) 6000MHz DDR5 CL40
Key Features
Up to 32GB DIMMs
Up to 6000MTs transfer rate
XMP 3.0
Specifications
4800 – 6000MTs
CL38 – CL40
1 & 2x 8, 16, 32GB
The Kingston Fury Beast, 32GB (2x16GB) 6000MHz DDR5 CL40, is a pair of 16GB DDR5 DIMMs. They run at 6000MTs and have a CAS latency of 40. The transfer speed is one of the highest available. However, the CL40 rating is a little slow compared to some rivals. That said, the pricing of this set is solid for current DDR5 prices.
The Fury Beast comes with a low-profile heat spreader that will not interfere with large air coolers or cause the small form to build issues. The heat spreader is a subtle black that should work in any build. It does lack RGB lighting, though, if that was a feature you wanted.
Pros
The low-profile heat spreader
Subtle styling with no frills
Fairly well priced
Cons
No RGB lighting
CL40 is a little slow for DDR5-6000
G.Skill Trident Z5 RGB Series 32GB (2 x 16GB) DDR5 6400 CL32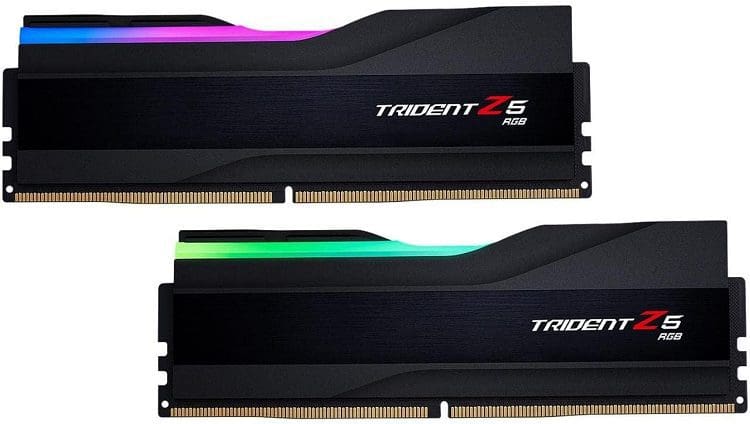 Key Features
RGB lighting
Up to 6600MTs
Available with CL32
Specifications
6000 – 6600MTs
CL32 – CL40
2x 16GB
The G.Skill Trident Z5 RGB Series 32GB (2 x 16GB) DDR5 6400 CL32 is the best DDR5 on the market. It runs just below the highest currently available speeds. Still, it has an ultra-low CAS latency of 32, giving it excellent performance. G.SKILL continues to make it hard to find specific versions of their RAM. Not selling them directly or listing variants in an easy-to-find way on Amazon.
The Z5 RGB comes with an excellent large heat spreader and RGB bar. The heat spreader comes in black or silver to fit your preferred aesthetic. Currently, this set is relatively expensive, even for DDR5 RAM. It also doesn't offer much of a performance gain in games over other good quality RAM, likely on the order of one to two FPS, which might make the price harder to take.
Pros
Excellent RGB lighting
Available in black or silver
Well-known performance RAM brand
Cons
Very minor performance gains in gaming
Fairly expensive
It can be annoying to find the specific version you want.
Key Features
Joint fastest memory available at 5333MHz
Kits up to 128GB
Specifications
2666 – 5333MTs
CL13 – CL20
1, 2, 4 & 8x 8, 16, 32GB
The HyperX Predator DDR4 RAM range features the fastest RAM available, clocked at 5333MHz. However, this comes at an eyewatering price premium of $1245 for a pair of 8GB sticks. Prices are much more reasonable further down the product stack, with the big jump in price coming between the 4266 and 4600MHz 8GB sticks.
This range doesn't include any RGB lighting. A similar branch does, but that currently maxes out at 4000MHz. It's possible to get a 4 pack of 32GB 3200MHz DIMMS or an 8 pack of 8GB 3000MHz DIMMS for a max kit size of 128GB. The RAM timings are solid, and the HyperX brand is recognized as reliable and high-quality. HyperX no longer produces RAM, which has been subsumed by the parent company Kingston. If you can't find the model, you want the Kingston Fury Renegade seems to be essentially the same product with the new branding and a different heat spreader.
Pros
Solid low profile heat sink
Newer variant available from parent company Kingston
Cons
No RGB
RGB versions available but limited to 4000MHz
Eyewatering price for 16GB of RAM
Key Features
Crystalline RGB diffuser
Joint fastest memory available at 5333MHz
256GB kit with 8x32GB sticks
Specifications
2666 – 5333MTs
CL14 – CL22
2, 4 & 8x 8, 16, 32GB
The G.Skill Trident Z Royal features a striking mirrored heat sink with a crystalline RGB diffuser. The styling will divide people, some finding it gorgeous and others flashy. The kits are available at speeds up to 5333MHz as the HyperX Predator RAM, with slightly looser timings.
G.Skill doesn't directly sell its products or publish prices, it can be a little challenging to find a specific variant, and it can be hard to tell if you're getting a good deal. We think the 3200MTs CL16 option is the best currently. Fitting into the AMD DDR4 memory sweet spot and is exceptionally well priced. This may not be the fastest DDR4 RAM. Still, it's the best looking, well priced, and essentially guaranteed to work with everything, unlike some higher overclocked RAM.
Pros
Available in gold and silver
A wide range of options and price points are available
Included microfibre cloth
Cons
Mirrored finish catches fingerprints
The blades can actually be quite sharp
Not necessarily easy to find each specific version
That was our roundup of the best gaming RAM in 2022. Have you recently bought some gaming RAM? What sold you on it, and what has your experience been with it so far? Let us know down below.