Razer Naga Pro
Logitech G903
Evoluent VMCR VerticalMouse
For gamers, having the right mouse is the difference between victory and total humiliation – even just being off by a bit in the DPI settings can mess up your gameplay after all. With a market flooded with both gaming mice and 'gaming' mice, it can be easy to lose sight of what's best for you.
Check out this guide for some inspiration for your next gaming mouse. Who knows – maybe your current mouse is already on the list?
Razer Deathadder V2 – The Classic
Key Features
Best sensor on the market
Suitable for various hand sizes and grip styles
Simple Design
Specifications
Optical 20k DPI Razer Focus sensor
82g
6 buttons

The Razer Deathadder has been a staple mouse choice for years. Not only is it a well-known name in the gaming world, but it has a well-deserved good reputation. If you don't need any particular frills and are after top-tier precision, you can't go wrong with a Deathadder.
Although the mouse is only for right-handed users, it accommodates a variety of hand sizes quite comfortably, and has the usual 6-button setup you've likely seen before, with two decently sized thumb buttons on the side. It's on the cheaper end of the top mice price range, which is another point of appeal here.
Pros
Suitable for gaming and work
Long-lasting
Cons
Not visually appealing
Limited button capabilities
Right-hand only
Logitech G502 (Hero Edition)  – A contender for the throne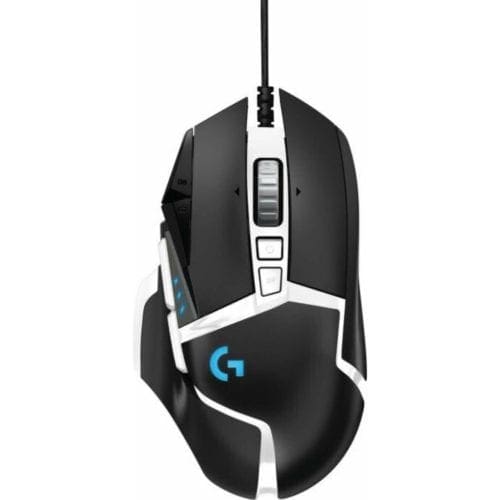 Key Features
Unlockable scroll wheel
11 programmable buttons
RGB Lightsync
Specifications
Adjustable weights (5x 3.6g)
Hero 25k sensor
DPI button with multiple DPI profiles

The Logitech G502 is a fantastic mouse to have for just about any gamer. It has a great number of extra buttons and also a unique to Logitech kind of scroll wheel. With a quick click, the user can unlock it, allowing it to spin freely and scroll up or down almost endlessly with a single flick. With the lock enabled, it moves like any other mouse wheel, one 'click' at a time.
The Hero Edition is a special version of the 502 – both are functionally identical, but the Hero version has some nice added visual detailing, with contrasting white elements on an otherwise black mouse. Intended for right-handed users, the G502 is comfortable to use even over longer periods, and its customisable RGB features are a nice additional touch.
Pros
Gorgeous design (especially the Hero edition)
Top sensor quality
Lots of customisation features
Cons
Potentially unneeded buttons
Unique scroll wheel can take some getting used to
Razer Naga Pro – The MMO hero
Key Features
Replacabe thumb grips
Wireless
Small shape
Specifications
117g
Up to 19 remappable buttons
Up to 20k DPI

The Naga Pro is a dream come true for MMO players. Thanks to its default multi-button thumb grip, it offers MMO players a good selection of special action buttons, easily reachable by thumb. Since that plate can be swapped out for a more standard 2 and 6 button setup as well, it is just as usable for players who need or want fewer buttons.
Thanks to the pretty solid battery life, and the compatibility with the Razer Mouse Dock for charging, you're unlikely to run out of battery while raiding even the hardest dungeon. It's worth noting that this mouse is smaller, which might make it awkward for bigger hands – and like most, it is only suitable for right-handed players. There is a dedicated left-handed version available, if you can get your hands on it – that isn't always the case.
Pros
Tons of remappable buttons
Swappable thumb panels
High quality, high-performance sensor
Cons
Limited battery life
Charging Dock not included (cable only)
Regularly swapping the thumb grips is inconvenient
Logitech G903 – Ambidextrous Fun
Key Features
Hero sensor
6k max DPI
Up to 11 buttons
Specifications
Wireless
140 hour battery life
180 hour battery life without lights

The G903 is a rare breed among gaming mice – not only is it wireless with fantastic battery life, but it's also an ambidextrous model. Meaning, both left- and right-handed users can set the mouse up to fit them. This is perfect for mice on shared computers, or even for players with limited space who have to move where their mouse is sitting frequently.
The epic battery life as well as the efficient Hero sensor that all Logitech gaming mice have makes it a solid choice. Up to 180 hours battery life on one charge is considerable – and the small light accents are a minor sacrifice to make for that much power. That said, the design itself may not appeal to everyone – due it being for left- and right-handed users, it looks a little unusual.
Pros
Left- and right-handed use
Incredible battery life
Reprogrammable keys
Cons
Unusual appearance
Light effects drain battery much faster
Evoluent VMCR VerticalMouse – Unusual ergonomics
Key Features
Vertical grip
Left and right hand versions available
Futuristic look
Specifications
Highly ergonomical
5 programmable buttons
DPI adjustable via dedicated software

Sure, Razer mice may look cooler, but those who have tried out an ergonomic mouse know that appearance isn't everything – and an ergonomically designed mouse can bring a new level of comfort while gaming. It does take getting used to, but the Evoluent VMCR is a pretty great vertical grip mouse.
Everything about it is designed for comfort, but it still has the added buttons that a gamer needs for those long marathon sessions. While it lacks many of the bells and whistles that, for example, a Razer mouse may have, it's focus on ergonomics make it a great choice for those suffering from joint issues, cramps, or similar problems. The fact that it's also affordable makes it a low-risk purchase that could really change up your gaming experience! In addition to the left and right-handed versions, there is also a wired and wireless option each – plenty different options.
Pros
Ideal for ergonomic reasons
Reduces wrist strain and allows more natural movements
Large – lots of space and easy movements
Cons
Requires specific program to adjust DPI
Takes getting used to due to the shape
These are the best gaming mice you can buy in 2021. No matter what you are looking for in terms of a mouse – whether it's tons of custom buttons, ergonomic wrist-relief, or just an affordable gaming staple, you'll find something suitable here. Let us know if you think we missed something that absolutely needs to be included – what's your favourite mouse?