Noblechairs Epic Editions
Secretlab Titan Softweave
Devoko Ergonomic Gaming Chair
As anyone who's ever played a game on a lawn chair in their friend's tiny bedroom knows, comfort is important. Being uncomfortable can not only ruin your fun, but also give you all sorts of pains for days after. Gaming chairs seem like an unnecessary expense at first, however if you consider the added comfort they bring to long gaming sessions, they're actually a must-have.
We've collected some of the best options for gaming chairs out there, in case you don't know what to look for.
Secretlab Titan Softweave – Bigger is Better
Key Features
Wide, flat seatbase
Adjustable lumbar support
Temperature regulation
Specifications
Up to 290lbs
77lbs
165 degree recline

Secretlab is and has been THE go-to for gaming chairs. While they aren't cheap, they offer high-quality chairs with long warranty periods – and plenty of comfort. While the Omega is probably the best-known model, we like the Titan Softweave better. The fabric is nicer than the PU leather if you play in shorts or something else that means skin contact with the chair, but the real cincher is the seatbase.
The Omega has a sculpted 'racer' base which limits how much you can move in the chair. The Titan on the other hand has a flat base, making it nicer for bigger gamers to sit, and giving you more room to move on the chair. Add to that the lumbar support and nice design, and you can well justify the $400+ price tag.
Pros
Comfortable, wide seat
Suitable for bigger frames
Top-quality
Cons
Expensive for a fabric chair
Limited style options
DXRacer Master – Simplicity and Comfort… for a price
Key Features
Simple, plain design
Adjustable headrest
Modular customisation parts available separately
Specifications
155 degree recline
Up to 353lbs

Easily the most expensive chair on the list, the DXRacer Master is probably not what most users are looking for. Unless you have the spare budget, there are definitely more cost-saving high quality options out there. That said, if you can afford to drop the price of a used car on a gaming chair, you'd struggle to do better than this one, especially once you consider the modular parts you can buy to add to it. They include leg rests, mesh backrest options, a rotating arm attachment to rest a phone or laptop on, and more.
Most of the frame is made of metal which, while it adds weight, gives the chair an incredibly sturdy feel. The microfibre leather surfaces feel and look expensive – and for those looking for a less flashy design than most chairs offer, the Master definitely delivers. Other than the price, there is little reason not to go with this one.
Pros
High quality
Modular adjustments to personalise the chair
High capacity
Cons
Expensive
Really expensive
Noblechairs Epic Edition – German Quality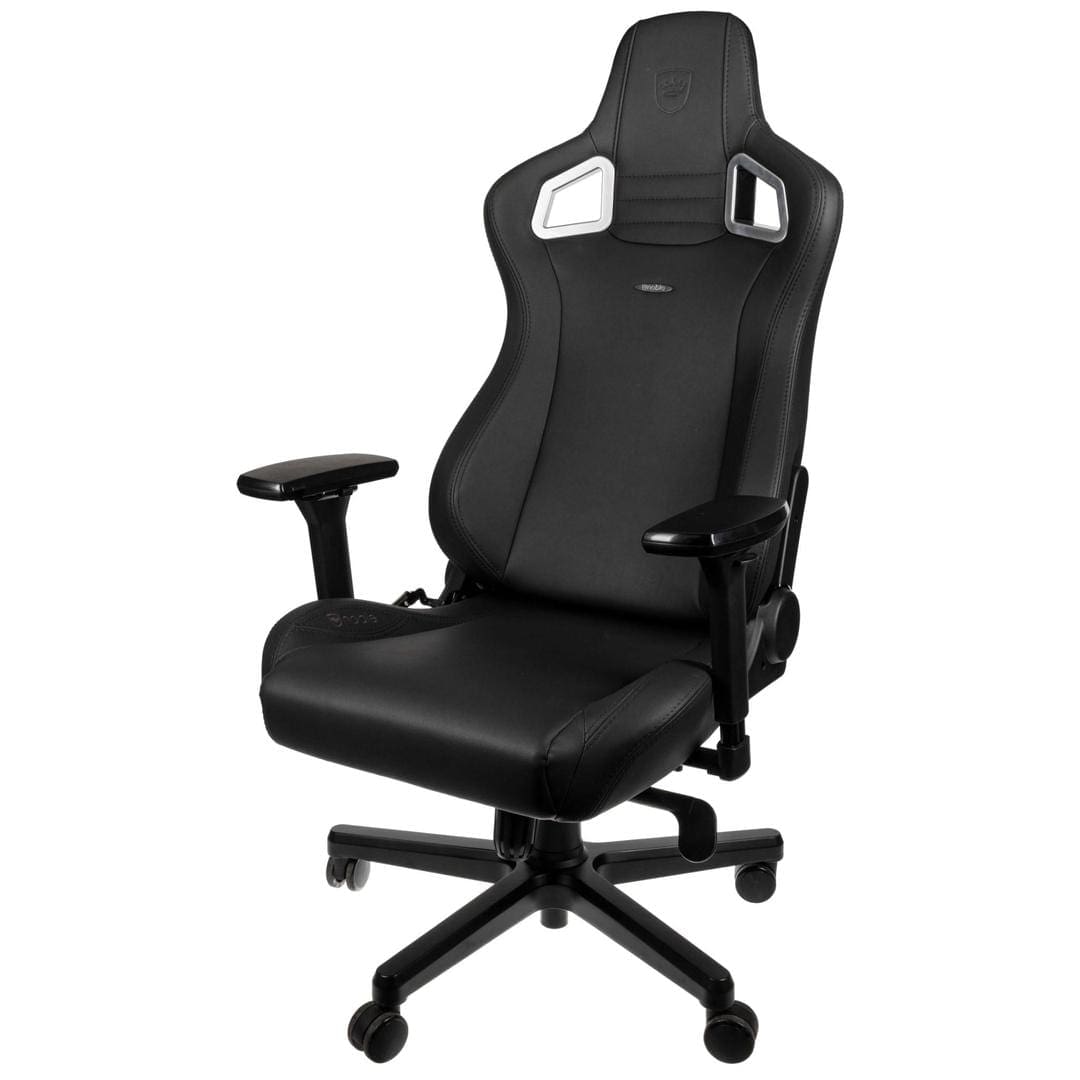 Key Features
Firm backrest
Strong lumbar support
Design options
Specifications
135 degree recline
Up to 264lbs
62lbs

The Noblechairs Epic Black is another somewhat expensive option. It comes in dozens of different design options though, with varying colours, materials, and even backrest designs available. If style is important to you and you're looking for something that stands out, the Noblechair Epic Editions probably have you covered.
We particularly love the Java Edition that comes as a Vinyl/PU leather hybrid in a gorgeous brown with black accents. Whichever one you like though, you can pick different thread colours, materials, and more. Where the German-manufactured chair particularly shines though, isn't so much design as back support. It is very firm, which while it may not feel that comfortable at first, is a great thing to have for your lumbar.
Pros
Great lumbar support
Tons of design options available
Easy to assemble
Cons
Some options very pricy
Limited recline
Firm backrest may take getting used to
Corsair T3 Rush – Mid-Price Range Quality
Key Features
4D armrests
Memory foam lumbar pillow
Specifications
50lbs
Up to 265lbs
180 degree recline

Corsair's latest gaming chair falls squarely in the middle of the price range of most gaming chairs. It's made of breathable fabric, making it an improvement over previous subpar pleather designs. The real appeal of this char is in its back- and armrests though. Not only does it come with an adjustable memory foam lumbar support pillow, but also has 4D armrests – they can be adjusted forwards/backwards, left/right, and by angle.
This gives a customised sitting experience that, for the price, will make a lot of gamers quite happy. The fact that the seat reclines into a flat position also makes it appealing as a nap spot – few chairs recline quite that far!
Pros
Affordable
Breathable fabric
Simple design
Cons
Small – not great for larger gamers
Design options limited to shades of grey/white (no black)
Devoko Ergonomic Gaming Chair – The Budget Option
Key Features
Muted wheels
Good size seat
Affordable
Specifications
Up to 300lbs
160 degree recline

With gaming chairs being quite prohibitively expensive, we wanted to include an affordable option as well. Around the $100 mark, the Devoko chair is one of the better budget options out there. A lot of cheaply made gaming chairs skimp on the parts and end up being flimsy, or have a low weight capacity.
The Devoko is the exception – it's a sturdily-made, well-designed option for the financially responsible gamer. Made of PU leather, it has adjustable head and lumbar pillows, and even comes in different colour variants. As far as cheaper gaming chairs go, the Devoko is a solid option.
Cons
Not as well-featured as others
Lower quality materials
This is our selection of top gaming chairs for 2021. Which one is your favourite, and why? Let us know!