Force1 Velocity H102
Aquacraft Models Mini Alligator Tours Airboat
Altair AA102
There are all sorts of remote-controlled vehicles for whatever type of fun you want to have. If you want to fly, you've got RC drones and planes. If you want to drive you've got RC cars and trucks. If you want to captain a boat, you've got RC boats.
Most RC boats are designed for freshwater and shouldn't be used on saltwater. Besides this, they can skip across most bodies of water, though you may want to avoid flowing water. As you might expect for the budget class, you can't really expect anything too big or fast, and battery life will be limited. Most RC boats offer a self-righting mechanism now, this saves you from having to wade or swim out to flip or recover your boat if it capsizes, although you may not want to rely on it. Many boats also feature a low battery and/or a weak signal alarm so you know to bring it back to shore before being stuck adrift.
To help you find a good model for a good price, we've drawn up a list of the best budget RC boats in 2021.
Key Features
Low battery alarm
Self-righting mechanism
Dual stabilising fins
Specifications
Top Speed: 15mph
Running time: 15 minutes
Range: Unlisted
The Udirc Venom is a super cheap RC boat. It is ideal for small to medium-sized ponds and lakes, although it is not saltwater safe. It has a top speed of 15 miles per hour and can run for 15 minutes. A low battery warning will sound on the remote control to let you know to bring the boat back in to charge.
The range itself is unlisted, but users report it as being at least 100 feet. The boat features a self-righting mechanism in case you flip it, though it is a manual feature. To do so, put the boat in full reverse, and then switch quickly to full forward, the torque from the motor will flip the boat. Thankfully the dual stabilising fins help to keep it stable and prevent it from capsizing. It's generally a good idea to check that no water has seeped into the electronics after it capsizes as the body of the boat is not fully waterproof.
Pros
USB rechargeable
Super cheap
ABS hull
Cons
Not fully waterproof
Not a particularly reliable brand or seller
Not saltwater proof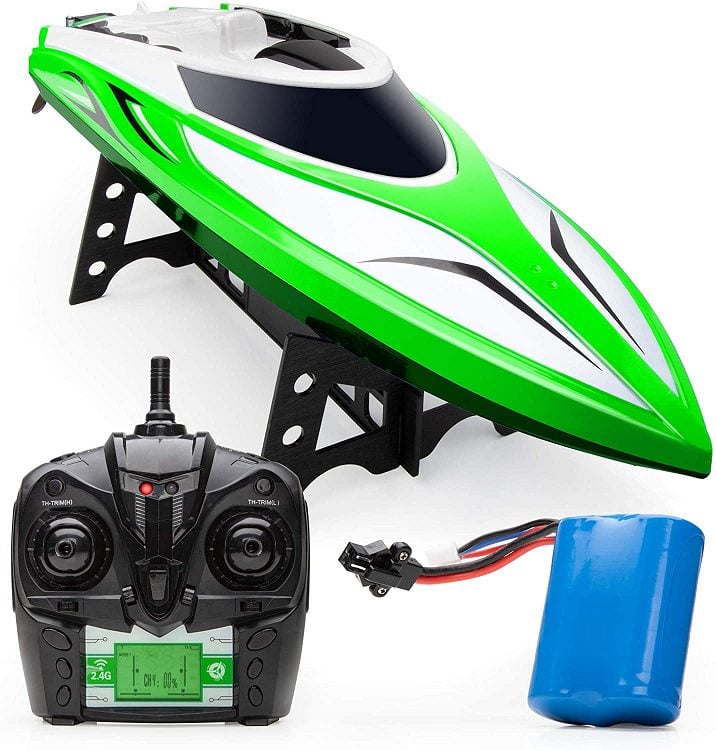 Key Features
Watercooled engine
Self-righting mechanism
Double hatch waterproofing system
Specifications
Top Speed: 20mph
Running time:15 minutes
Range: 120 metres
The Force1 Velocity H102 is a fast and sleek budget RC boat. It can reach a top speed of 20 miles per hour and has a range of 120 metres. The included battery lasts for 15 minutes but can take 3 to 4 hours to recharge fully. When you are running low on battery, or are near the maximum range, an alarm sounds on the remote.
The single-button self-righting mechanism makes recovering from capsizing easy, even for kids. To extend your time on the water we recommend you purchase and pre-charge some spare batteries. Please note that, even with the water cooling feature, the motor needs about 10 minutes to cool down after depleting a full battery before it should be run again.
Pros
Low battery alarm
Range alarm
LCD telemetry screen on the controller
Cons
3-4 hours charging time
No included spare battery
10 minute cool down time between runs
Key Features
Multiple channels so you can race multiple boats
Self-righting mechanism
Water cooled motor
Specifications
Top Speed: 18mph
Running time: 2x 10 minutes
Range: 100 metres
The Altair AA102 is designed as a boat to be raced. Technically the top speed isn't too high, at 18mph but with the transmitters supporting multiple channels, you can race multiple boats at the same time. The range of the boat is 100 metres, while the battery will last for ten minutes, though a spare is included.
If you're near the edge of the range, or if the battery is low, the controller will sound an alarm, so you know to bring it back. A self-righting feature means you don't need to worry about capsizing. The ABS hull makes it tough enough to handle the occasional crash. The brand also offers great customer support, so if you have any issues, they're likely to be resolved quickly.
Pros
Range alarm and low battery alarm
ABS hull
Two included batteries
Cons
Comparatively slow for the price
Short battery life per battery
Aquacraft Models Mini Alligator Tours Airboat
Key Features
Flat bottom
Airboat
Doesn't need to worry about getting tangled on pond debris
Specifications
Top Speed: 10mph
Running time: 14 minutes
Range: 150 metres
The Aquacraft Models Mini Alligator Tours Airboat is an altogether different kind of boat that still offers a bunch of fun. Instead of having a deep hull, it is almost perfectly flat, like a swamp boat this allows it to basically glide over surface debris that would present more of an issue for most boats, especially smaller RC ones. The inclusion of a seat in the design allows you to mount an appropriately scaled figurine and other items if you want, though you may want to secure them so they don't fall off.
The use of an air propeller is accurate to the type of boat but does increase the volume compared to an underwater propeller. The flat bottom means this boat can go where others would beach, it can even drive up onto ice according to user reviews. It comes with one battery that offers 14 minutes of battery life and a top speed of 10 mph, but you will need to provide your own charger, a fact that is not well advertised.
Pros
Shipped fully assembled
Tough ABS hull
Can even drive up onto ice
Cons
Relatively loud
Requires a charger
Relatively slow
That was our round-up of the best budget RC boats in 2021. Have you recently bought a budget RC boat? What sold you on it and what has your experience been with it so far? Let us know down below.