Your Windows 10 computer may occasionally stop working. This problem can manifest in a variety of ways. For example, the system may suddenly lock up, your computer becomes completely unresponsive, and eventually crashes. You may even get various Blue Screen of Death errors. If you want to identify the exact cause of the problem, you can launch the Windows Error Reporting tool and check the event log.
Oftentimes, you'll see a mysterious Event ID 1001 error next to the hardware or software problem that bricked your computer. Let's explore what causes this error and how you can fix it.
What Causes Event ID 1001 Errors?
The Event ID 1001 error is usually caused by hardware failure, application errors, malware, and Blue Screen of Death errors. Some of the most common root causes for these problems include high CPU and RAM usage, overheating issues, app compatibility issues, or running resource-demanding programs on low-end devices. Malware infections or corrupted Windows system files may also cause error 1001.
How Do I Fix and Prevent Event ID 1000 Errors?
Close Background Programs
Make sure to disable unnecessary background apps to reduce the strain they put on your system. Close all the unnecessary apps when running resource-hogging processes to free up more system resources for your main programs.
Go to Task Manager, click on the Processes tab, right-click on the apps you want to close and select the End Task option.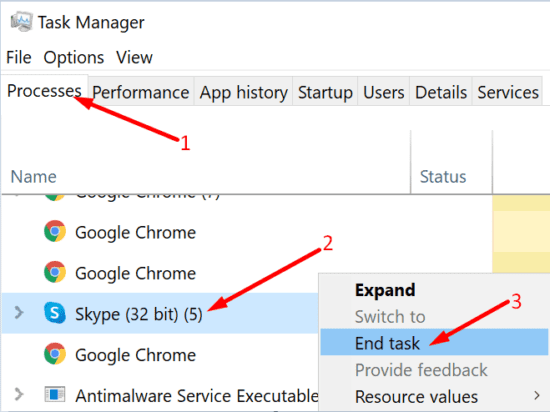 Run Apps in Compatibility Mode
Keep your apps and OS updated to make sure everything runs smoothly on your device. If you're running outdated app versions on the latest Windows 10 OS versions, you're bound to experience various glitches.
When launching your apps, right-click on your app icon and select Run as administrator.
To permanently enable this option, right-click on your app and select Properties. Then click on the Compatibility tab and tick the Run this program in compatibility mode for option and the Run this program as an administrator setting.
Disable Windows Defender Sample Submission
Check if the Event ID 1001 error occurs due to running multiple security solutions on your computer. The OS automatically disables Windows Security when it detects you installed a second antivirus solution. Then, Windows telemetry generates the Event ID 1001 error.
For example, Windows Error Reporting often throws this error after installing McAfee Endpoint Security Threat Prevention or McAfee VirusScan Enterprise.
To prevent this error, turn off Windows Security's cloud-based protection and automatic sample submission features before installing additional antimalware tools.
Reinstall the Problematic Program
Identify the app or program causing the Event ID 1001 error and uninstall it. Then restart your computer and download a fresh copy of the problematic app. If the respective app or program got corrupted, reinstall it should fix the problem.
Check Your System Files
If your system files got corrupted, your computer might fail to run apps and programs properly. Repair faulty system files with the SFC and DISM commands, restart your computer, and check if this solution solved the annoying Event ID 1001 error.
Launch Command Prompt with admin rights and run the sfc /scannow command.
Wait until your machine has finished running the command.
Then run the DISM /Online /Cleanup-Image /RestoreHealth command.
Restart your computer and check the results.
Scan Your System for Malware
Virus or malware infections often break your system's performance and trigger unexpected glitches. Run an in-depth antivirus scan to remove any malware traces. Do that regularly to prevent hackers from turning your machine into a zombie computer.
For example, if you use Windows 10's built-in antivirus tool, launch Windows Security and click on Scan options. Select the Full scan option and let your antivirus scan your hard disk.
Conclusion
Event ID 1001 is an error code that can be triggered by a long list of factors. The troubleshooting solutions you'll use depend on the error details available in the Windows Error Reporting tool. To fix the Event ID 1001 error, run your apps in Compatibility Mode with admin privileges. If the error persists, reinstall the problematic programs and repair your system files.
Did you find other solutions to troubleshoot this error? Let us know in the comments below.