If your AirPods are randomly cutting off from Windows, rest assured, you're not the only one experiencing this issue. This glitch seems to occur more frequently when you're watching a movie or listening to music. If you go to Bluetooth settings, Windows usually says your AirPods are connected. But that's the most confusing part. Windows says your earbuds are connected, but there's no sound coming through them. Let's see how you can solve this problem.
How to Stop AirPods from Disconnecting From Windows
Run the Bluetooth Troubleshooter
Windows has a built-in troubleshooter that can automatically detect and repair Bluetooth-related issues.
On Windows 10, go to Settings, select Update, and Security, and then select Troubleshoot in the left-hand pane. Click on Additional troubleshooters and launch the Bluetooth Troubleshooter.
On Windows 11, go to System and scroll down to Troubleshoot. Then click on Other troubleshooters, and launch the Bluetooth Troubleshooter.
Restart your computer and check if the problem persists.
Disconnect Unnecessary Bluetooth Devices
If other Bluetooth devices are connected to your Windows computer, disconnect all of them except your AirPods. Maybe one of them is interfering with your earbuds. If the issue is gone, reconnect your Bluetooth devices one by one to identify the culprit.
Update Windows
Make sure you're running the latest Windows version on your computer. Go to Settings, select Windows Update and check for updates. Restart your device after installing the latest updates and check the results.
My AirPods Pro used to disconnect all the time from my laptop. But the problem magically disappeared after installing Windows 11. For more information about the upgrade, check out the guides below:
Reset Your Airpods
Try resetting the connection between your AirPods and Windows.
Put your AirPods in the charging case.
Close the lid and wait for one minute.
Then open the lid.
Go to Windows Settings.
Select Bluetooth and Devices.
Click on the three dots and select Remove Device.
Restart your computer.
Then press and hold the Setup button on your case to pair your AirPods with Windows again.
Check if the issue persists.
Update Your AirPods Driver
Make sure to update your AirPods driver to the latest version.
Launch the Device Manager.
Expand the list of Bluetooth devices.
Then right-click on your AirPods and select Properties.
Click on the Driver tab and hit the Update driver button.
Restart your Windows computer and check the results.
Don't Let Windows Turn off Your Airpods to save Power
Prevent Windows from turning off your AirPods to save power when you're running low on battery.
Launch the Device Manager.
Go to Human Interface Devices.
Right-click on your AirPods and select Properties.
Go to the Power Management tab.
Uncheck the checkbox that says, "Allow the computer to turn off this device to save power."
Save the settings, exit Device Manager, and check the results.
Note: On some computers, Windows won't list your AirPods under HID.
Switch to a Different Power Plan
If you're using a power-saving plan, switch to a balanced or high-performance plan and check if you notice any improvements.
Go to Control Panel and select Small icons under View by.
Then click on Power Options.
Set the power plan to Balanced, and check if your AirPods work correctly.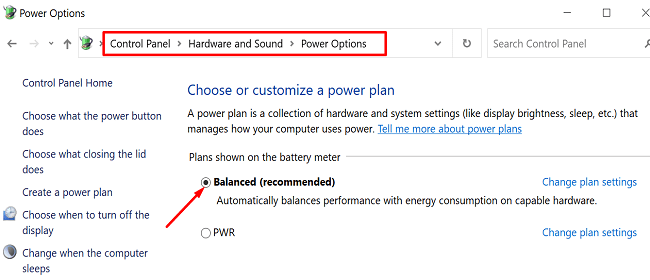 Conclusion
If your AirPods are constantly disconnecting from Windows, run the Bluetooth Troubleshooter and disconnect all the other Bluetooth devices except your earbuds. Make sure to update Windows to the latest version and install the latest AirPods driver.
Additionally, switch to a Balanced power plan and prevent Windows from turning off your AirPods to save power. If the issue persists, reset your AirPods.
Did you manage to solve the problem? Hit the comments below and let us know which of these methods worked for you.