Power outages can happen anytime. But do you know what's worse than an unexpected power outage? The answer is lightning striking power lines. This results in a huge surge in electrical pressure that overloads your circuit and can literally fry your home appliances. If your computer is plugged in when lightning strikes, it won't survive the spike in voltage.
What Happens When Your Computer Gets Struck by Lightning
If lightning strikes your house directly, you can be 100 percent sure your computer won't survive the event. The same applies if lightning strikes the wires coming into your house. On the other hand, if it's a nearby strike, your computer has a slim chance of surviving the voltage spike. Unfortunately, if your machine is sparked, there's a good chance it's dead.
If your power cables come from underground, your computer should be safe from lightning. Most buildings have special lightning rods that immediately ground the strike, saving your equipment.
What Should I Do If My Computer Gets Struck by Lightning?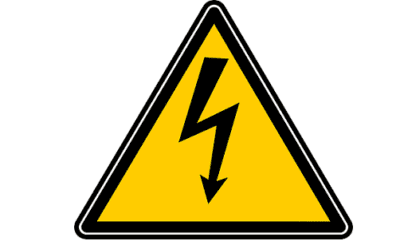 First of all, check if the power cable is still working. If you're lucky, lightning fried only the power cable, and you can quickly replace it with a new one. Plug the cable into a computer you know it's working and check the results.
Then power up your computer and check if it's still working. If your computer is damaged by lightning, most likely, it won't start. Other telltale signs of lightning damage include:
A smell of burnt electronics in the room.
The "Signal not found" or "No Signal" error appears on the screen.
Your computer starts, but the screen remains black.
The device randomly shuts down or makes weird noises.
If your device is unusable, take it to a repair shop and check if it's worth replacing the hardware components fried by lightning. The technician will need to check your hardware components to make sure they're still working properly. If the repair costs too much, buy a new computer.
How to Prevent These Events
Make sure to unplug all your electronic devices when you see a thunderstorm approaching. Having things plugged in during storms is not safe at all.
Secondly, prevention is always better than cure, so make sure to install a surge protector to protect your devices from voltage spikes. But the simplest and safest approach is to unplug your computer.
Conclusion
Make sure to unplug your computer during thunderstorms. Using any electronic devices during a thunderstorm is dangerous. If lightning strikes, and your computer sparks, chances are it's toast, and you need to buy a new machine. But the only way to assess the damage is to actually open your computer's case and test each and every component.
Do you usually unplug your computer during thunderstorms? Let us know in the comments below.