As you install more and more apps on your Android, you may become concerned with the data that some apps may share while running in the background. The more syncing and sending of data that happens in the background, the more rapidly your battery gets depleted. You can choose to turn background data on or off with these steps.
From the Home screen, tap the app slider, then open "Settings".
Select "Data usage".
Tap the "Menu"  icon located at the upper-right corner.
Select "Restrict background data", then tap "OK" to turn background data off. If already disabled, the option will be different where you can select "Allow background data" to turn background data on.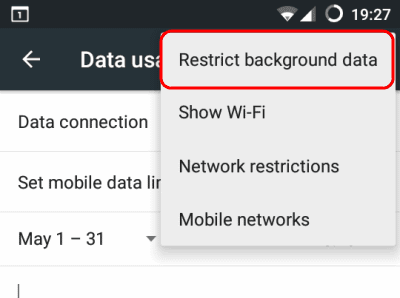 FAQ
I disabled background data, but why are my background apps still exchanging data?
This setting only applies to the wireless data network, not Wi-Fi. You can turn Wi-Fi off while the device is sleeping under "Settings" > "Wi-Fi" > "Menu" > "Advanced" > "Keep Wi-Fi- on during sleep".
This tutorial applies to Android OS Lollipop.