In a previous post, we showed you what you can do if you can't share your screen during Microsoft Teams meetings. In this guide, we'll show you how to fix the issue where you cannot see the screen being shared by someone else.
Oftentimes, Teams users are only able to see the profile picture of the user who's sharing the screen. This issue is even more annoying if you can't see the screen the host is sharing.
Fix Microsoft Teams Shared Screen Not Showing
Log Out, and Restart Your PC and Modem
The quickest way to refresh your device's connection to the Microsoft Teams servers is to sign out and then restart your computer. After you do that, launch Teams again and log back in. Check if the issue persists.
If it does, unplug your modem to reset your network connection. Let your modem unplugged for one minute. Then power your network device back up and check if the shared screen is visible now.
Close All the Other Programs
If there are multiple apps and programs running in the background, close all the programs you don't need during your Teams meeting. Launch the Task Manager, and click on the Processes tab. Then right-click on the program you want to close and select End task.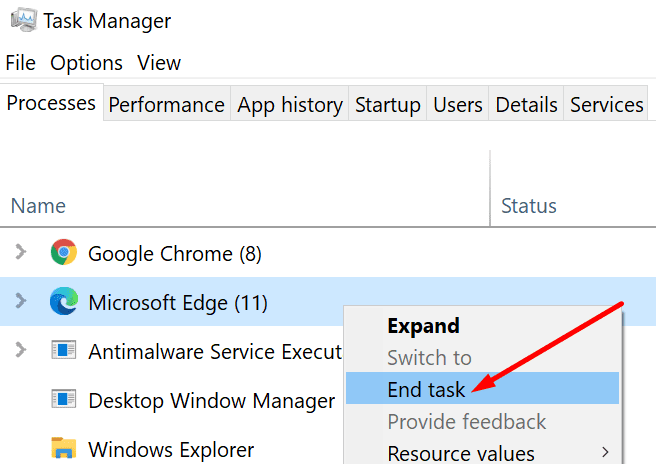 Background programs and processes only eat up your computer's memory and bandwidth. By closing them, you actually free up more resources for Teams to use.
Ask Participants to Turn Video Off
If all the attendees turned on their cameras, Teams will need more bandwidth to process all that video information. As a result, users who don't have a stable connection may experience all sorts of glitches. Bandwidth problems might explain why you can't see the screen that's being shared by another meeting participant.
So, feel free to ask the other attendees to turn off their cameras if they're not actively presenting or talking. Let them know the shared screen is not visible on your end and you're hoping this workaround will do the trick.
Disable New Meeting Experience
Some users confirmed that disabling the "New meeting experience" option worked for them. After you disabled the option, you need to quit Teams and launch it again.
Launch Teams, click on your profile picture, and select Settings.
Then click on the General section.
Scroll down to Turn on new meeting experience. Disable this option.
Relaunch Microsoft Teams.
However, if you want to keep the "New meeting experience" enabled, there's another handy workaround that you can use. Move your mouse cursor to the left of the sender's profile picture (the bottom right corner), and then double-click. The shared screen should load properly now.
Enable Screen Sharing on the Entire Screen
If this problem occurs on a company computer, the person sharing their screen should ask the IT admin to check the screen sharing settings. More specifically, the Org-wide policy for Screen sharing mode needs to have the Entire Screen option enabled.
Disable Your VPN
While this glitch can affect both VPN and non-VPN users, it seems that toggling your VPN either on or off may temporarily solve the problem. So, if your VPN is on, turn it off and check if the shared screen is visible now on your end. If it's not, toggle your VPN back on.
If You're Using Remote Desktop
If you're using a Remote Desktop connection and you're having this issue, tweaking the RDP-Tcp key might be the solution. Some users fixed this problem with screen sharing by setting this Registry key:
[HKEY_LOCAL_MACHINE\SYSTEM\CurrentControlSet\Control\Terminal Server\WinStations\RDP-Tcp\AudioEnumeratorDll=rdpendp.dll.
So, double-click on the AudioEnumeratorDll key, and make sure its value is set to rdpendp.dll.
By the way, if you can't get any audio output from your remote computer during Teams meetings, setting this key should fix the issue.
If nothing worked, uninstall and reinstall the Teams desktop client.