When you receive a funny picture on WhatsApp, your first thought is to forward it to your contacts. But WhatsApp may sometimes fail to forward media files. Either nothing happens when you try to forward media files, or a strange error message pops up on the screen. Let's explore how you can fix this problem.
What to Do If You Can't Forward Images and Videos on WhatsApp
Forward the File to One Chat at a Time
You can forward a message or media file with up to five chats in one go. However, when WhatsApp detects the same message or file has been forwarded multiple times, it may prevent you from sharing it with multiple chats at a time. Try forwarding the problematic media file to only one chat at a time.
More specifically, when a message or file is at least five forwards away from its original sender, the "Forwarded many times" label will appear. This indicates you can forward the respective messages or file only to one chat at a time.
WhatsApp has implemented a security measure to slow down the spread of spam, viral messages, rumors, and fake news.
Get the Latest Android and WhatsApp Updates
Make sure to update your OS and apps to the latest version.
Go to Settings.
Select System.
Tap System Update.
Check for updates and install the latest Android version available for your device.
Then, open the Play Store app.
Search for WhatsApp.
If there's an Update button next to the app, tap it to install the latest WhatsApp version.
Clear the App Cache
Try clearing your app cache and check if you notice any improvements.
Go to Settings.
Select Apps.
Then tap All apps.
Select WhatsApp and tap Storage.
Hit the Clear cache button.
Restart your device, launch WhatsApp and check if you can forward media files now.
Check Your Date and Time Settings
Make sure your phone's date and time are set correctly. Suppose your date and time settings are incorrect. In that case, your device won't be able to connect to WhatsApp's servers to download and forward media files.
Go to Settings.
Select System.
Navigate to Date & time.
Set your date and time to Automatic or Network Provided.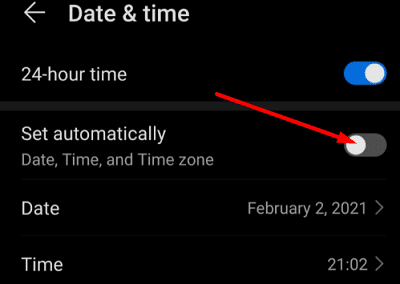 Free up Some Space
Check your storage space and delete unnecessary files. If you're running low on storage space, you won't be able to save new media files from WhatsApp or share images and videos with your contacts.
Don't forget to run the built-in cleaner to automatically remove junk files. Go to Storage, select the Cleanup option, and hit the Clean up button.
Check Your SD Card
If you're using an SD card to store multimedia files, make sure WhatsApp can access and use your card. Additionally, ensure there is enough space on the SD card and Read-only mode is turned off.
If the issue persists, back up your data, turn off your device and take out the SD card. Wait for one minute, put the card back, turn on the device, and check the results. If you're still experiencing multimedia-related issues, you may want to format your SD card.
Screenshot or Compress the Image
Try taking a screenshot of the image you're trying to forward. Then check if you can share the screenshot you just took. Alternatively, save the problematic file under a different format and check if the glitch persists.
If you're trying to forward a large file, install a third-party app that compresses media files. Check if you can share the compressed version of the problematic file. If the issue persists, uninstall and reinstall WhatsApp.
Conclusion
If you can't forward media files on WhatsApp, try forwarding the problematic file to one chat at a time. Then install the latest Android and WhatsApp updates. Clear the app cache, and make sure your phone's date and time are set correctly. Additionally, free up some storage space, and compress the problematic file or save it under a different format.
Did you manage to solve the problem? Hit the comments below and let us know which solution worked for you.