We have all read horror stories regarding kids running up huge bills on their parents' credit cards by going on shopping sprees using digital devices. This has happened across every platform at some point or another: Apple, Microsoft, Google and even Amazon. Now that we have voice-activated assistants helping us to run our households, it can be even easier for these mistakes to happen. Not even Amazon founder and CEO Jeff Bezos is immune: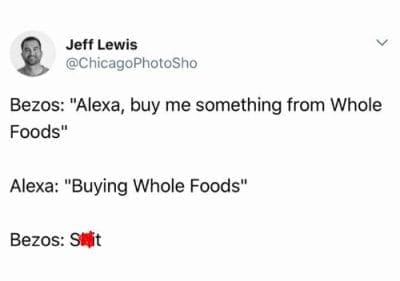 While Jeff's strategic decision to purchase Whole Foods was not an accident, the above joke meme still rings all too familiar for many of us. While most times the companies will reverse the charges, there have been a number of instances where the tech giants refused to cooperate, leaving people with unexpected expenses they definitely never wanted.
How do we keep this from happening? Luckily, smartphones, tablets and other gadgets and their operating systems have quickly evolved to enable us to keep this from happening. Most of the time, the disabling of auto purchases is intuitive, but not always. Thankfully, Amazon has made it fairly quick and painless for you to make sure the children are not asking Alexa for a Ferrari or the newest gaming system – AND all of the games that can possibly come with it. There are two ways you can protect yourself with Alexa: by disabling voice purchasing altogether or setting up a pin number.
When you disable voice purchasing, you can still shop using Alexa voice commands and add whatever items you like to your cart. However, you will not be able to check out and pay for your order from the speaker: you'll have to use the Amazon website or app.
To disable voice purchasing completely, open the Alexa app on your Android or iOS device, or head over to the Alexa page on Amazon. Click on "Settings" in the left-side menu and scroll down to select "Voice Purchasing". Tap the toggle next to "Purchase by Voice" to disable this feature.
If you would rather leave the voice purchasing option enabled and simply use a pin number, go back to Voice Purchasing in the Settings area of the Amazon app or website. You will see a small text field next to where it says "Require Confirmation Code". Choose a 4-digit pin and save it. Keep in mind that you will have to speak your pin aloud anytime you wish to use this option, so be careful not to order things in public where others can overhear the security code you have chosen.
Voice purchasing is something I utilize often. It makes my shopping easy, but I am lucky to not have kids at home who could potentially misuse it. Have you ever faced unwanted charges like we have discussed here? Let me know in the comments what happened and if you were able to resolve the issue with the company behind the unauthorized sale.