Do you wonder, "why are my Instagram stories blurry?" Check out this article to find the reasons and solutions for Instagram blurry stories issue.
Who doesn't love to flaunt their life on Instagram stories? But all your excitement about sharing a new story won't last if the story you've posted is blurry. That's right. Blurry Instagram stories is a problem experienced frequently by users. It could happen to people from all global locations and using any device.
If you're facing the same issue, look no further. Here, I'll tell you how to fix this issue for good. Before moving into that section, let's find out the reasons behind this frustrating issue.
Reasons Why My Instagram Stories Are Blurry
You might see your stories on Instagram as blurry due to many reasons. This could be a problem on Instagram, and hence, you've got nothing to do about it until Instagram resolves this issue from its end. But, in most cases, the problem lies on your side.
Often people fail to upload high-quality images and, as a result, get blurry Instagram stories. Sometimes the internet connection is unstable, which causes you to view the story as blurry, though others might be seeing it properly.
When you upload an image on Instagram stories, the platform itself could compress it and provides a blurry image as the output. Outdate Instagram apps can also cause this problem. Whatever the reason, you can try the following methods to resolve Instagram blurry stories.
Why Are My Instagram Stories Blurry: Best Solutions
1. Check If Instagram Is Down
In certain cases, the malfunctioning Instagram server is the reason why Instagram stories are blurry. Though it doesn't happen too often, still it's better to confirm it before you start applying the methods to fix this issue from your end. Visit Instagram's Twitter handle to see if there is any official announcement on this problem or if some users have complained about it.
If you get any hint that other users are also facing the same problem, you need to wait for Instagram to fix this from their end.
2. Clear App Cache
App cache allows quick loading of frequently visited elements of the app to save you from downloading them every time you open it. As every app stores the cache memory in the local device, this could be responsible for different bugs and issues. Hence, it's always suggested to clear your app cache if you're encountering blurry Instagram stories.
Sadly, the clear app cache feature is only available on Android devices. iPhone and iPad won't be able to apply this method as this feature is unavailable to them. To clear the Instagram cache on Android, you can try the following steps:
Long-press the Instagram icon from your app drawer.
Select App info or (i) option.
Choose Storage & cache.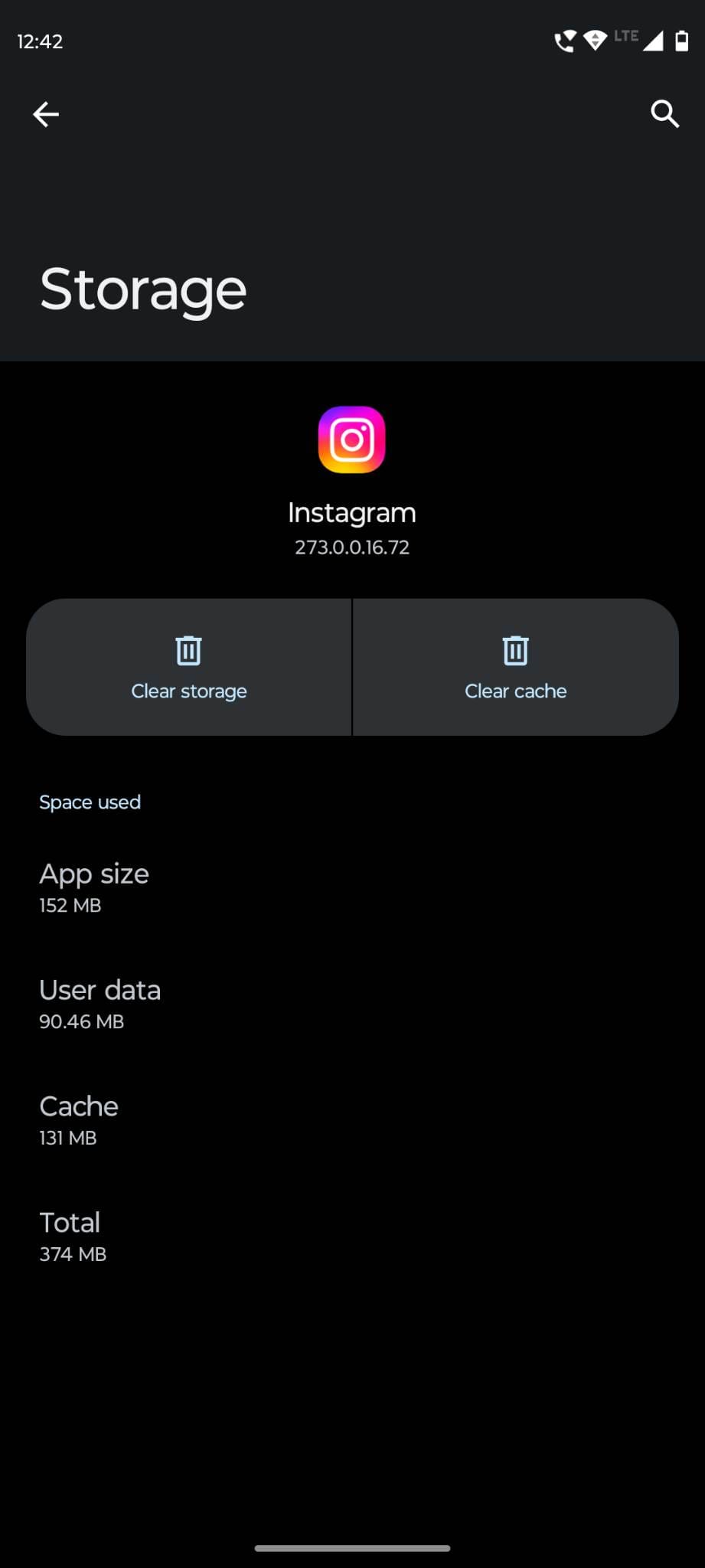 Select the Clear cache button.
Users of older Android versions could tap on Clear data directly after selecting the App info option.
Tap on Clear cache and select OK to confirm.
3. Test With Another Photo
Are you sure the problem doesn't lies with the particular image you've uploaded? To confirm, you can always upload another image you've recently taken on your smartphone. If the new story is also blurry, something must be wrong with your camera hardware, camera quality, or the camera app settings.
4. Try Uploading the Same Image Without the Media
Many users add music, stickers, and other additional media to their images before posting on Instagram stories. But, every item you add contributes to the large size of the story. Since Instagram needs to maintain a certain size limit for uploaded stories, it compresses the stories where you add GIFs, stickers, etc.
If your blurry Instagram story contains such media, these music tracks and stickers could be the reason. So, in this case, you should upload a plain image without additional media and see if the problem is fixed.
5. Check Your Camera
You can take a fresh picture with your phone and see if it looks blurry on your phone or not. If it does, you might have a problematic camera or camera settings. You can clean the camera lens to get rid of any debris on it. Also, while taking photos, make sure the object is in focus and your hand isn't shaking.
You also need to make some changes to your camera settings app. The settings vary from device to device, so it's not possible to provide you with a general guide. However, make sure to enable HD, ultra-HD, or the highest quality for the photos.
6. Fix Your Image Format
To adjust your image into Instagram stories format, the app might automatically crop it, resulting in a pixelated or stretched image. Instead of letting it perform this action, you should crop the image according to the recommended format, which is 1080×1920 pixels. Also, make sure it has an aspect ratio of 9:16.
In case of images higher than 1080×1920 resolution, Instagram will resize them. But for images with lower resolution, the app will scale it up, resulting in quality loss. Moreover, try to keep your image file size under 1 MB.
7. Use Instagram Camera to Take Photos
Many users don't know that the Instagram app comes with a built-in camera function. You can always switch from the default camera app of your phone to the Instagram camera app. It'll make sure that you get the image in the perfect format, and it won't need any compression or quality reduction for upload.
Before you choose to opt for the Instagram camera, remember it won't let you use the image processing features of your phone camera or have a high-quality original.
8. Disable Data Saving Features
With the Data Saver feature turned on, Instagram will use less data while uploading your stories. As a result, you might get blurry Instagram stories. To disable this, you need to perform these steps:
Launch Instagram on your Android phone.
Tap on your display image in the bottom menu bar.
Select the hamburger menu and tap on Settings.
Tap on Account and choose Cellular data use.
Check for the Use less data section if the Data Saver option is turned on.
If yes, tap on the toggle button to disable the option.
Also, select High resolution media and tap on Cellular + Wi-Fi.
9. Make Sure Instagram Uploads a High-Quality Version
Do you know that Instagram allows you to adjust settings so that you can upload a larger, better-quality photo and video? Yes, you can try enabling this feature on your Instagram app and see if the problem gets resolved the next time you upload a story.
This setting applies to cellular connections. However, remember that this setting will make videos take longer time to process and upload. To enable, follow these steps on Android:
Open Instagram and tap on your display image in the bottom-right corner.
Tap on the hamburger menu before choosing Settings.
Choose Account and select Cellular data use.
Under the Media upload quality section, tap on Upload at highest quality toggle button.
10. Try Posting That Photo on Another Social Platform
It could be possible that the photo you've uploaded as your Instagram story is actually blurry. To find out if the source material of that image has some issues, you should try uploading it to other platforms like Facebook and WhatsApp.
If it's still blurry, the problem lies with the image itself. However, if other platforms can successfully upload the image clearly, the problem is with the Instagram app and its settings. Apart from this, you can send the image to your friends and ask them whether the image looks okay on their screens.
11. Get a High-Quality Version of the Photo
If you've restored a backup of your data from Google Photos or Apple iCloud galleries and then uploaded one of the restored images, it might look blurry. Make sure to download the image in its original resolution to enjoy high quality.
12. Watch Out for Unreliable Internet Connection
Another unusual reason why your Instagram stories are blurry could be the poor internet connection. You may have uploaded the image properly, but it's showing blurry on your app as the internet speed is not good. Sometimes, the unstable connection can also cause blurry upload. In both cases, you can try using another internet connection to check your Instagram story.
13. Update the Instagram App
It's not a specific solution to the blurry Instagram stories problem. However, if you are facing this or any other Instagram issues, it's a good idea to check whether the app is outdated or not. Those who don't usually update their apps regularly often face problems as the old app doesn't support the latest features and services.
If the problem is caused by any app bug, installing the update can fix it. Visit the Instagram app page in the App Store or Play Store. Click on the Update button if available t get the latest app version on your device.
14. Reinstall Instagram
If none of the above methods are able to fix blurry Instagram stories, your last resort is to reinstall your Instagram app. Sometimes, app installation doesn't take place properly and causes issues like blurry stories. In such cases, a fresh reinstallation of Instagram can fix the problem for you.
Especially if you use Instagram on iPhone or iPad, this step will also help you remove all the old app data from your device. All you have to do is to uninstall the current Instagram app from your Android, iPhone, or iPad. Then, go to Play Store or App Store and install Instagram again.
Conclusion
Why are my Instagram stories blurry is a common concern of Instagram users. Since Instagram is a platform based on photos and videos, having blurry stories is an unacceptable situation for its users.
If you're also facing the same problem, check out this comprehensive list of solutions. By trying all of these fixes, you should be able to get rid of blurry Instagram stories. If you think I've missed any method, you can point that down in the comments.
Don't forget to share this article with your friends or family members who use Instagram. You can also share it on social media with your followers. Lastly, check out how to unlike a picture on Instagram.