Oculus Quest 2 Elite Strap with Battery
VR Lens Lab Lens Inserts
VeeR Oculus Quest 2 Accessories Bundle
The Oculus Quest 2 is already a pretty impressive device all on its own – being the most powerful cable-free VR headset out there, it's still one of the most popular options on the market a couple of years after its initial release. Naturally, it didn't take long for people to start making after-market accessories for it. Some of them are purely cosmetic such as the stickers some people put on the outside of the plain Quest 2 shell – and others significantly improve performance and the playing experience, such as an after-market strap.
We had a look at what's available and compiled a list of the most useful accessories to get for your Quest 2. So if you want to make the most of your VR experience, have a look at what we chose – no matter whether you use your headset just to watch films or you like to rock out in long Beat Saber sessions!
Anker Charging Dock for Oculus Quest 2
Key Features
Replacement batteries & cover for controllers
Cool design
Magnetic charger ports for convenience
Specifications
38cm x 8.5cm x 7cm
Wireless charging dock
2-2.5 hours for a full charge
The Anker Charging Dock helps take care of a rather annoying issue the Quest 2 has – its limited battery life. Of course, you can counteract this by connecting it to a battery pack, but that isn't always feasible – or fashionable, and adds extra weight. The Anker Charging Dock charges both your device and the handheld controllers, as it provides replacement battery covers and rechargeable batteries that make it possible to charge them along with the headset. In other words, never again will you have to go fishing for a new disposable battery because halfway through a game, your left hand turned off!
Another useful thing about this dock is that it's a good place to keep your headset when you're not using it – while it doesn't offer the kind of protection that a carry case does, it is a pretty nice-looking place to keep your device. The charger itself weighs less than a kilo, so you can also take it with you when you travel without too much hassle. The charging ports themselves are magnetic – so when you set your headset and controllers into their designated spots, the chargers snap to the relevant ports automatically, to make sure you don't have to wriggle any cables around, or that the device accidentally doesn't charge as it should. The only minor gripe about it is that the dock isn't designed to be used with battery packs – you'll have to unplug them and charge them separately. Also, some after-market straps can cause issues with the way the device fits in the dock – but the original and Elite straps fit just fine.
Pros
Sleek-looking way to keep your device charged
No more replacement batteries for the controllers
Light enough to be portable along with the device
Cons
Can cause issues with some aftermarket straps
Battery packs will need to be disconnected and removed every time
VeeR Oculus Quest 2 Accessories Bundle
Key Features
Set of must-have Oculus Quest 2 accessories
High-quality silicone materials
Very affordable
Specifications
VR cover shell, silicone face cover, controller grips, lens protector, keycaps
Anti-throw strap controller grips
Completely washable silicone parts (except the lens cover)
This accessory set is both one of the cheapest out there and one of the most valuable ones you can buy for your Quest 2. The VR cover shell helps reduce potential damage through bumps, while being thin enough to not affect how it fits into most carry cases. The controller grips are particularly helpful if you're prone to playing games that require a lot of fast movements such as Beat Saber or Thrill of the Fight. The thumb grip keycaps you can slot onto the controller joysticks aren't really necessary – but for those who don't find the default joysticks comfortable to use, they can make a bit of a difference as they add a little height to it and have a different surface to touch.
The anti-light-leakage face protector cover puts an end to the annoying foam pad that so many users don't like – not only does the silicone not absorb sweat and is super easy to clean, it also makes for a more comfortable fit for most users while blocking out more light than the default option does. One of the most important items in the set is the lens protector – it's designed to prevent scratches, dust accumulation, and of course, the dreaded sunlight leakage that can ruin your lenses so easily. If you don't have one yet, you'll definitely want to get yourself a lens protector at the very least!
Pros
An extremely cheap set of essential accessories
Lens cover and silicone face cover are must-haves
The pieces are useful either all together or individually, depending on what you need
Cons
There are better (bigger) lens covers on the market
The silicone material could cause skin issues in those with allergies
Oculus Quest 2 Elite Strap with Battery
Key Features
Replacement strap with battery pack for longer battery life
Oculus-brand accessory
Available without the battery pack for a cheaper price
Specifications
Easily adjustable fit and improved comfort over the default
Easy to install
4676 mAh battery
The official Elite strap is easily one of the best Quest 2 straps you can get your hands on. It's expectably on the pricy side since it's an Oculus-branded accessory, but it is worth the cost, particularly if you can pick it up on sale. It promises to extend the battery life of your device to double the default – and it pretty much keeps that promise. There are straps with bigger batteries out there that, predictably offer longer battery life, however, all things considered, the added weight/bulk on most of them makes it a bad trade-off.
The Elite Strap battery pack isn't shaped like a traditional pack, meaning it curves along with the head for a more comfortable fit. In general, both this and the normal Elite strap massively improve the fit of the headset and make it easier to adjust the strap lengths for different users on the same device. For some, the added weight of the battery pack can also help offset the sensation that the headset slides down their face – a fairly common issue on the vanilla headset. It does need to be set that some carry cases won't be able to accommodate the increased bulk, though that's not true for all of them.
Pros
Vastly improved fit and comfort with the strap
Easier to adjust for multiple users
Nearly doubles use time on one charge
Cons
Expensive
There are bigger capacity batteries available
Affects how well it fits into different carry cases
AMVR Touch Controller Grip Cover
Key Features
Silicone slip-ons
Solid and reliable hand strap
Prevent accidental drops and throws without wrist straps
Specifications
Adjustable length hand strap
Compatible with different VR headset models such as Quest 1 and Rift S
Adjustable size settings for different palm sizes
If you don't already have some, adding controller grip covers is a great way to make your Oculus Quest 2 experience safer and more fun. AMVR makes a range of controller accessories, from simple grips to table tennis paddle handles and more. These simple grip covers are an affordable way to make sure you won't drop your controllers, let them slip and bang them into your PC, or worse, your partner walking past.
Overall, these grip covers offer a surprising amount of adjustment options with three different sizes for different palm sizes, and an adjustable hand strap that is used to make sure the controllers stay stuck to you, even if you were to let go. The strap works – you'll have to manually loosen it to set the controllers down if you tighten it properly. That's a big plus – you won't need to worry about ever losing your hold on them, and thanks to the textured silicone surface, sweaty palms won't matter anymore either – and you can always wipe it down easily as well. The trade-off is that it's more annoying to change the batteries of your controllers – and you won't be able to use wireless chargers like the Anker dock either since the ports on the covers would be covered by the silicone.
Pros
Much improved bulk
Anti-slip handle
Secure fit of controllers to hands
Cons
Can make it trickier to replace batteries
Won't fit with any of the available wireless charger solutions (such as the Anker dock)
Adds extra bulk and weight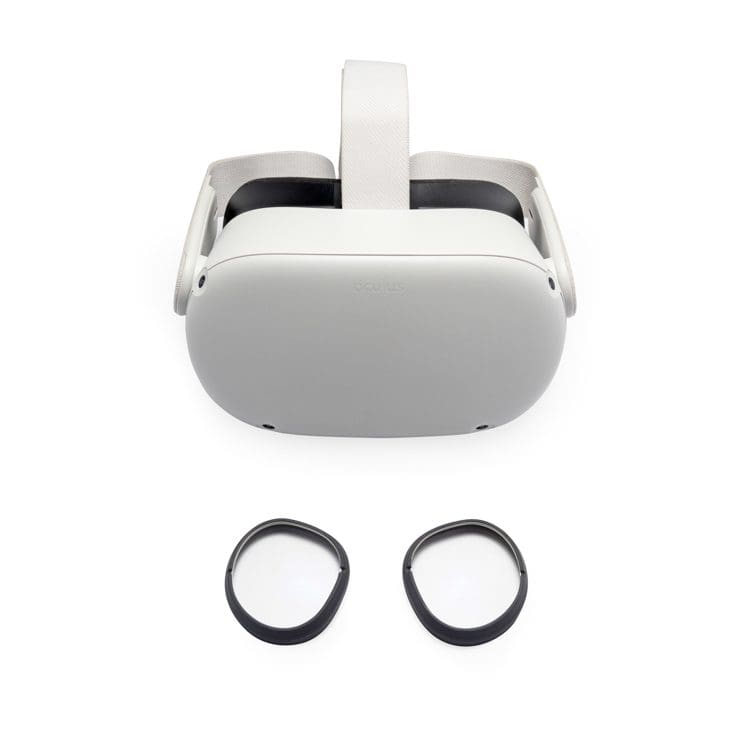 Key Features
Custom-made prescription lens inserts
No need for glasses in the headset anymore
Convenient snap-on mount
Specifications
Made according to your prescription
Blue light protection
Available without the prescription as plain protectors
Although the Quest 2 accommodates those who wear glasses with a spacer you can insert, it's not an ideal solution, and those with larger or wider frames still struggle – not to mention the glasses can get pushed up the nose, and then get smudged.
Snap-on VR lenses are an easy solution – you can get them custom-made from a few different online services, where you give your specific prescription, and the lenses are shipped to you. VR Lens lab lenses are one of the most popular options out there and offer some convenient features such as an adjustable field of view, and eye relaxation options when you order. While they aren't cheap, they're a great investment that means you'll be able to play without glasses – and on top of that, your headset lenses are also better protected. If you don't have a prescription but still want to protect your lenses with snap-ons, there are cheaper plano options available as well – and since they snap on and off very quickly and easily, you can add or remove them for different users as well.
Pros
No more annoying glasses in the headset
Additional eye protection features
Protects lenses from getting scratched
Cons
If your prescription changes, you'll have to replace your lenses
Telling them apart from another user's prescription lenses can be annoying
They can be on the pricy side for certain prescriptions or requirements
That was our roundup of the best Oculus Quest 2 accessories in 2022. Have you recently bought an Oculus Quest 2 accessory? What sold you on it and what has your experience been with it so far? Let us know down below.