Bitwarden is an excellent password manager that you can use to securely store and manage login details and other pieces of sensitive information. The free version of the tool packs many extra features covering a wide range of user needs. Unfortunately, Bitwarden may sometimes stop working unexpectedly. When that happens, the tool fails to log you in, and an error message pops on the screen saying that "An unexpected error has occurred."
How to Do When Bitwarden Says an Unexpected Error Has Occurred
⇒ Note: Check Bitwarden's service status page to see if the password manager is affected by any known issues that could trigger the error you're experiencing.
Update Your Browser
Many users solved this problem by updating their browsers to the latest version. If you're using a Chromium-based browser, go to Help, select About, and check for updates. Restart your web browser and check the results.
Clear Your Cache and Disable Your Extensions
Your browser cache and extensions might also be interfering with your password manager. Click on your browser menu, navigate to History and then select Clear browsing data. Delete your cache and cookies and refresh the browser.
If the error persists, go to Extensions and manually turn off all your exceptions except Bitwarden. Check if disabling the extensions solved the problem.
If it didn't, switch to a different browser and check the results. If you can log in to your account, reinstall the problematic browser and try again.
Check Your Connection
If your network connection is unstable, Bitwarden may have trouble connecting to its servers. Restart your router or temporarily switch to a different connection such as a mobile hotspot connection. Check if you notice any improvements.
Disable Background Apps
The apps and programs running in the background might also be interfering with Bitwarden. Launch the Task Manager, click on the Processes tab and close all the unnecessary programs running in the background.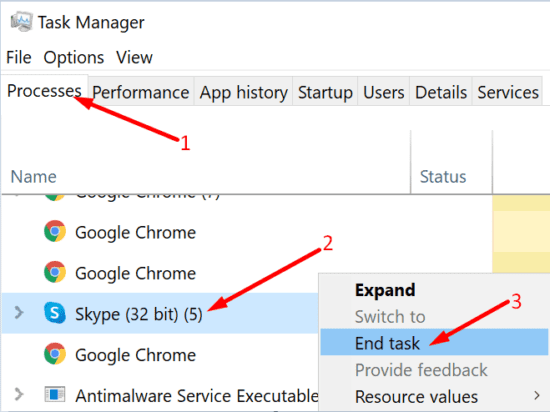 Disable your antivirus and firewall and check the results.
Conclusion
If Bitwarden says that an unexpected error has occurred while logging you in, clear your browser cache, update your browser, disable your extensions and restart your computer. Then close background apps and use a different connection. Did these solutions help you fix the problem? Share your feedback in the comments below.