Zoom is the go-to remote work and collaboration software for millions of users worldwide thanks to its versatility. You can use Zoom for educational purposes, live music, corporate video conferences, and more.
In order to make the most of your Zoom experience, you need to use the right settings for each activity type. And this is exactly what this guide is about.
Best Zoom Settings for Teachers and Students
If you're a teacher or a student and you rely on Zoom to deliver or attend online classes, here are the best settings to use on the platform.
Click on the Settings icon
Click on the General tab and enable the following options:

Automatically copy the invitation URL once the meeting starts — if you're late to the meeting, you can simply paste the invitation URL and quickly join the other participants instead of wasting precious time searching for the invitation in your inbox.
Always show meeting controls — you'll be able to quickly adjust the settings during the conference.
Ask me to confirm when I leave a meeting — to avoid accidentally clicking on the Leave button.
Remind me 5 minutes before my upcoming meetings — make sure you join the meeting when it starts, not later.
Integrate Zoom with Outlook — use this option if your school uses Outlook as the main email platform to keep teachers and students connected.

Go to the Video section and enable the following options:

Video preview to test the background and make sure it looks nice and neat
Always display participant names — this is a very useful feature, especially if this is the first time you're teaching to a particular class

Go to Audio, check your microphone and speaker volume, and make sure the following settings are enabled:

Mute my microphone when joining a meeting to prevent other meeting participants from accidentally hearing discussions you don't want them to hear
Enable the use of the Space key to mute and unmute yourself
Sync the headset buttons
You can also set the Suppress background noise option to high to make sure voice audio quality is top-notch

Next, go to Share Screen and enable the following options:

Enter full screen when a participant shares screen
Host only — teachers are the only ones who can share content, and control when students can share their screens with the group
Silence system notifications when sharing screen

Select the Chat section and turn off the options listed below:

Change my status to Away when I'm inactive for 5 minutes — this will let your students know you're not in front of your computer and they won't get any answers any time soon.
Keep your unread messages on top and Start at the first unread — you'll quickly get an idea how many unread messages there are.
Enable push notifications only for private messages and mentions — you don't want your computer to get flooded with notifications for each and every Zoom message.
Useful Zoom Tips for Teachers
Lock your Zoom session: This allows teachers to lock their virtual classroom once the bell rang. Simply click on the participants who are late and then select the Lock Meeting button.
Control screen sharing: Students like to joke and they may want to use the screen share feature to share something that's not class-related.
Set up the Waiting Room: Use this feature to control who can attend your virtual classes.
Disable the in-class chat: You don't want your students to privately message their peers, you want them focused on the lesson.
Use these Zoom tools to build engagement with your class: polling, non-verbal feedback, whiteboard, and annotation.
Discuss online etiquette and let your students know what you expect of them.
Best Zoom Settings for music, live music, singing, and music lessons
Zoom automatically focuses on the person speaking, quieting down the other meeting participants in order to save bandwidth. The platform also prioritizes voice over music. Keep that in mind and don't forget to mute your mic when someone else is singing or playing an instrument.
If you're a musician and you want to share your passion for music or play live music via Zoom, here are some of the best practices for your Zoom session.
Log in to your Zoom account at zoom.us, go to Settings, and enable the option Allow users to select original sound in their client settings.
Launch the Zoom app, go to Audio and disable the Automatically adjust microphone volume option.
Click on the Advanced option in your Zoom app, and enable this option: Show in–meeting option to Enable Original Sound from microphone. Ask the other meeting participants to do the same.
To optimize Zoom for music, set the noise cancellation settings to low and echo cancellation to auto.
Best Zoom Settings for video recording and sharing
One of the most important Zoom video settings is the virtual background, especially if you attend virtual meetings from the comfort of your home. You can set one of the images available in the gallery as your background image, or upload your own images.
When joining a meeting, it's best to disable your camera. To do that, go to Settings → Video → Turn off my video when joining a meeting.
If there are tens of participants attending the meeting, you want to keep your screen clutter-free. Go to Settings → Video → Meetings, and tick the Hide nonvideo participants to hide the users who aren't using video.
If the video conference is recorded, you may want to enable the beauty filter to make sure you look your best. Even if you did not get much sleep the night before, the filter will make you look fresh and well-rested.
Go to Video settings →  My Video → check the Touch Up My Appearance option. Don't forget to enable HD as well to enhance video quality.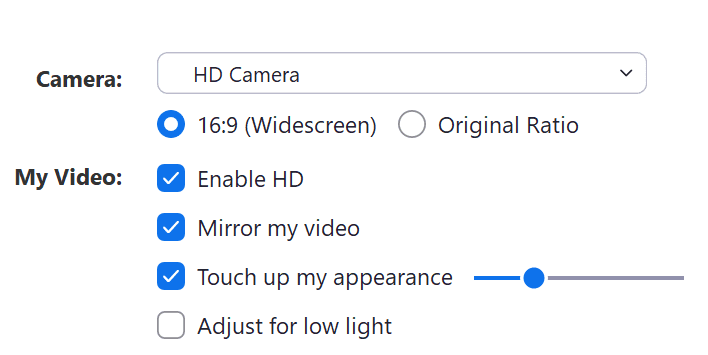 If the Zoom video will get edited in a video editing software, make sure to enable the option Optimize for 3rd party video editor.
Also, don't forget to disable desktop notifications if you'll share your screen to avoid embarrassment just in case you get the type of notifications you would not want other people to see.
Speaking of recording the conference, there are two options you can choose from: save the video on your computer (free and paid subscribers) or in the cloud (paid subscribers). You can select whichever you want from Settings → Recording.
Whether you are a teacher, a student, or a musician, if you want to make the most of your Zoom experience, enable the settings we talked about in this guide and you'll definitely love the end result.
Enjoy using Zoom.