Anyone into 3D printing will be aware that it ends up producing a fair amount of waste. Failed prints, support materials, and other discarded parts, such as rafts, result in many used plastic that isn't wanted. As 3D printing filaments are thermo-plastics, melting them down and re-extruding them into a new filament is possible.
This process isn't the easiest or most reliable, however, so is not favoured by many. For PLA specifically, it's also possible to compost your waste prints as the material is biodegradable.
Composting PLA
As biodegradable, PLA can be broken down over time by bacteria and fungi if left undisturbed. You can do this at home, by placing it with other compostable waste. This process can take up to six months, however, and still leave trace materials behind.
Depending on the options in your local area, it may be preferable to send it to a dedicated composting site that handles PLA. With a professional setup, at the right temperature, and with the perfect ratio of plastic to biomass, PLA can break down in as little as one month.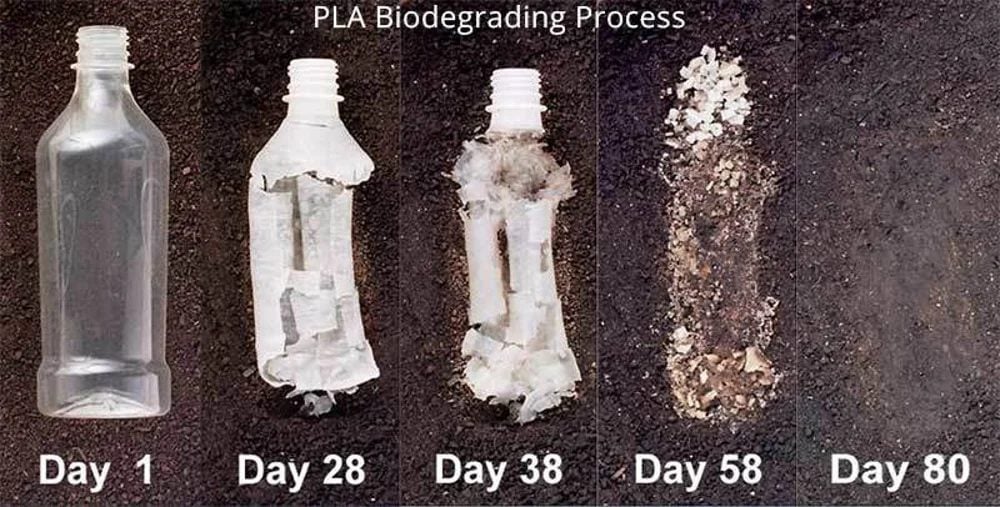 Recycling PLA
Composting isn't your only choice though, as you can also recycle PLA. Unfortunately, even though it can be recycled, many facilities don't take PLA. Make sure that you check the recycling capabilities of your local plants before sending your waste PLA there. If you don't, it will just end up in the landfill anyway.
An alternative, though, is to attempt to recycle your used PLA yourself. This does require an initial investment to get the necessary equipment. Still, you can then recycle any waste material into an entirely new spool of filament. The process requires you to sort, shred, melt, and extrude the waste material into a new filament.
Unfortunately, aside from the initial cost issue, this also tends to produce poor-quality filament. You have to carefully dial in your settings to ensure that the resulting filament is as uniform as possible. If you're not careful or just unlucky, you can end up with a spool of recycled filament that will reliably result in failed prints.
However, when done well, you can make filaments with unique colors by blending others, or you can create multicolored filaments.
You can recycle PLA in a number of ways, either by making use of its ability to biodegrade, by handing it off to compatible recycling facilities, or by extruding it into new filament yourself. Doing so helps to drive down the environmental impact of 3D printing. It can result in savings as well if you're reusing filament.
Conclusion
Have you made something out of recycled filament? Let us know what you made down below.