Sometimes you forget your password for Windows 7 and need to reset it in order to sign into your device.
The good news is doing this is fairly convenient. A feature exists that makes it easy and there are also a number of Command Prompt tricks that can assist you in resetting your forgotten password.
Command Prompt
The easiest way is to reset your password in Windows 7 is with the aid of Command Prompt. If your Windows 7 PC has other administrative accounts, you can easily log on in Windows 7 through them.
Once logged in you can easily reset the password that you have forgotten. This can be done with the help of Command Prompt and the following steps:
1. Click the start button.
2. Go to the search box and type 'cmd'. You will get your result.
3. Right-click the result and select Run as Administration from the given options. This will open up the Administrative Command Prompt.
4. Once it is opened, run the command to reset the password that has been lost/ forgotten.
5. Replace your account name by username and substitute new_password for the new one.
Command Prompt in Safe Mode
Another method that is being effectively used to reset password is by using Command Prompt in the safe mode. Many versions of Windows family including Windows 7 have a built-in Administration account that is hidden and by default, that account does not have any password.
If you forget the password of the account that you regularly use, you can access this built-in Administrator account in safe mode. From there you may reset the password that you have forgotten with the Command Prompt with the following steps:
1. When you are starting the Windows, press and hold the F8 key till the Advanced Boot Options screen appears.
2. Release the key.
3. With the help of the arrow key, select Safe Mode with Command Prompt and then press enter.
4. On the login screen, you will see the built-in Administrator account that is usually hidden.
5. Once you are logged in, the Command Prompt will be automatically launched by the system.
6. Run the desired command and you will successfully reset the password of Windows 7 in a blink of a second.
It is important to note here that this method will not work if the Administrator account has been disabled.
Utilman.exe Trick
Another method of resetting the password of Windows 7 is through the Utilman.exe Trick. To use this trick simply follow the following steps:
1. Use the Windows 7 installation disk to boot your computer. As soon as the Install Windows screen appears, SHIFT + F10 should be pressed. This will open the Command Prompt.
2. Type in the commands given below.
3. Substitute C: with the disk drive where the Windows 7 system was installed.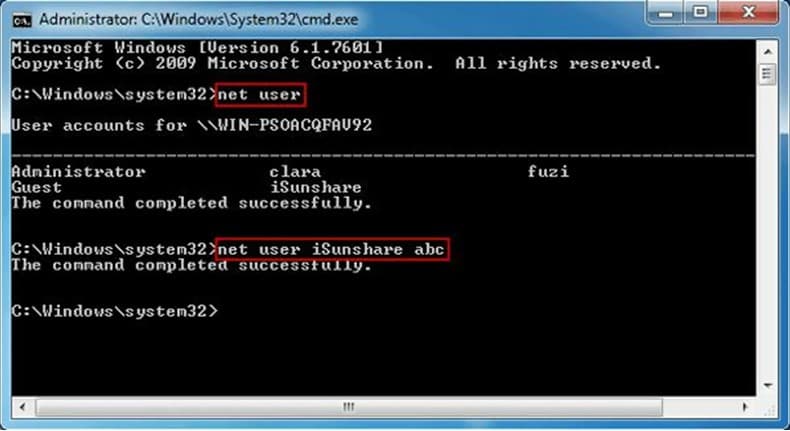 a. C:
   b. cd (in small letters) windows\system32,
   c. then use,
   d. ren (small letters) Utilman.exe Utilman.exe.bak
   e. and lastly,
  f. copy (small letters) cmd.exe Utilman.exe
4. Replace C: with the drive where you saved your Windows 7 system. Restart the PC. Reset your password.
Consider Using Windows 7 after EoL:
There are advantages and drawbacks regardless if you opt to stay on Windows 7 or migrate to a new system. Consider your options and decide for yourself what would be the best option for your needs or the needs of your company.
Pros
– Cheaper
– No More Learning
– Most Apps Work
– No Migration

Cons
– No More Support
– Some Apps won't Work
– Diminishing Security
– Diminishing Utility over Time

Consider Buying Windows 10
You can buy a USB drive with Microsoft Windows 10 Home Edition and join millions of users worldwide on a platform that is considered the industry standard.