If you're using an app on your phone, and you come across a post in a foreign language that you want to translate, you could copy the text and then switch into the Google Translate app. Google translate offers a quicker way to do this though, through its "Tap to Translate" feature.
Tap to Translate uses a widget that overlays other apps. To allow you to quickly and easily translate text without having to leave the app.
Tip: The main limitation of Tap to Translate, is that it can only translate text. You can't use it to translate an image.
Enabling Tap to Translate
To enable Tap to Translate, open the Google Translate app, then tap the burger menu icon in the top-left corner.
To open the Google Translate settings, tap "Settings".
Next, tap "Tap to Translate" at the top of the settings list.
On the Tap to Translate page, there will be a quick introduction as to how to use the functionality. Tap the slider labelled "Enable" to enable the Tap to Translate feature.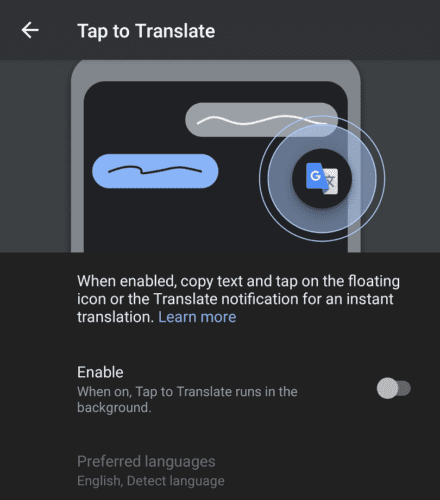 The first time you enable it, Tap to Translate will ask you to "Permit drawing over other apps". This permission is required for the overlay to work over the top of other apps. Simply click "Permit", then tap the slider to grant the permission.
Before you use the functionality, you should ensure that your language preferences are configured correctly. To do so, tap "Preferred languages". In the preferred languages page, you'll have two options, "Your primary language" and "Language that you translate most often". Tap on each of them to select the languages you prefer from the lists available.
Tip: "Your preferred language" is the language that text will be translated into, whereas "Language that you translate most often" is the source language. If you're going to be primarily translating one language you should set that language specifically. If you're going to be translating from a range of languages, however, then you're better off selecting "Detect language" as the source language.
Using Tap to Translate
To use Tap to translate, simply copy the text you want to translate to your clipboard, then tap the Tap to Translate overlay icon.
Tip: If you don't like the position of the icon you can drag it to a better location on the screen.
Tap to Translate will automatically paste and translate the contents of your clipboard when you tap the overlay icon. The translation will be shown in a partial screen overlay.