If you use an iPhone as your work phone, you want to receive all the work-related notifications as soon as they're available. Even a short delay of only five minutes may push your employer or collaborators to give you a quick call.
Well, if your iPhone fails to deliver Microsoft Teams notifications, use this guide to fix the problem.
Fix Microsoft Teams iOS App Notifications Not Working
Check Your iPhone Settings
Enable Notifications
If you accidentally disabled the notifications for Microsoft Teams, don't be surprised if your iPhone does not deliver them. Go to Settings → Notifications. Scroll down to the Teams app and enable notifications and alerts.
Disable Do Not Disturb Mode
Make sure this mode is not active. Go to Settings → , tap Do Not Disturb and turn off this option if it's on.
Check Your Microsoft Teams Settings
Enable Notifications on the Teams App
Tap the Teams app and go to Settings.
Then select Notifications and enable the option if it's off.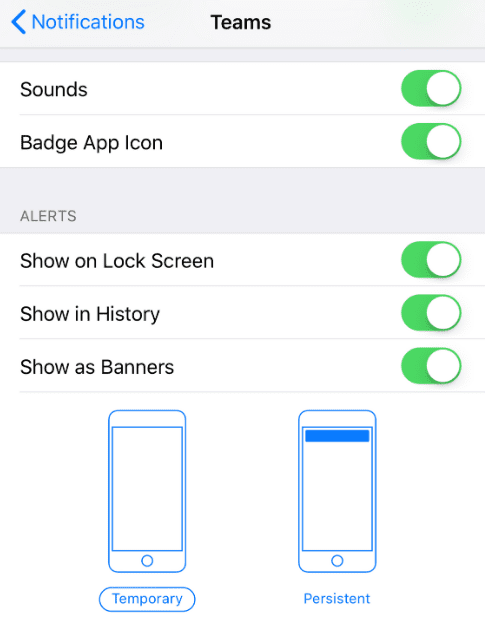 Display Notifications as Permanent Banners
Select how you want your iPhone to display Teams notifications. If they're displayed as temporary banners, they'll go away automatically. If you check your iPhone a few minutes after receiving the notifications, you won't see any.
Set your iPhone display to display Teams notifications as permanent banners. In this manner, the notifications will remain visible until you take action. So, you won't miss any of them.
Launch Teams, go to Settings and select Notifications.
Under Alerts, toggle on Show as banners.
Check if You Filtered Out Certain Notifications
Microsoft Teams lets you filter what kind of notifications you want to receive. If you're getting some notifications, but not all of them, maybe you simply filtered them out.
Launch Teams and tap on the app menu.
Go to Notifications and check the notification settings for the following categories: General activity, Channels, and Meetings.
Then navigate to the Block notifications section and check if you blocked notifications during quiet time or during meetings.
Are You Active on Your Computer?
If Microsoft Teams is active on your computer, the service automatically suppresses notifications on your iOS device. This setting is active by default. It does not matter if you're using the desktop app or the web version of Teams. As long as you remain active on your computer, you won't receive any Teams notifications on your mobile device. Microsoft Teams considers you inactive on your desktop app after three minutes of inactivity.
The company adopted this strategy to reduce distractions and focus on the tasks at hand. However, you can opt to get Teams notifications on your iPhone even when you're active on your computer.
Launch Teams on your iPhone and tap the app menu.
Go to Notifications and locate Block notifications.
Select When active on desktop.
Enable notifications when active on desktop.
We hope that the notification problem has successfully been resolved after checking your notification settings. Found other solutions to fix this issue? Do let us know in the comments below.