To-do lists are excellent productivity tools. They're straightforward and easy to keep track of. You basically create a list of all the tasks that you or your team need to complete, set the deadline, add some important notes, and you're done. Once you've completed a task, you can simply strike it through.
Creating to-do lists in Microsoft Teams is not that straightforward and simple, especially if you're a new user. In this guide, we'll show you two different ways you can create to-do lists within Teams.
How to Create To-Do Lists in Microsoft Teams
Use Tasks
Tasks is a task management app you can use to create and manage both individual and team tasks. You can use Tasks on desktop, web, and mobile. The app lets you filter your tasks so that you can better prioritize your work.
Here's what you can do with Tasks:
Publish tasks and track progress with real-time reports.
Assign tasks to specific users.
Divide tasks by individual tasks (My tasks) tasks.
Work on common team tasks (Shared plans).
To install Tasks, click on Apps. Then type 'Tasks' into the search bar. Hit the Add button to install the app.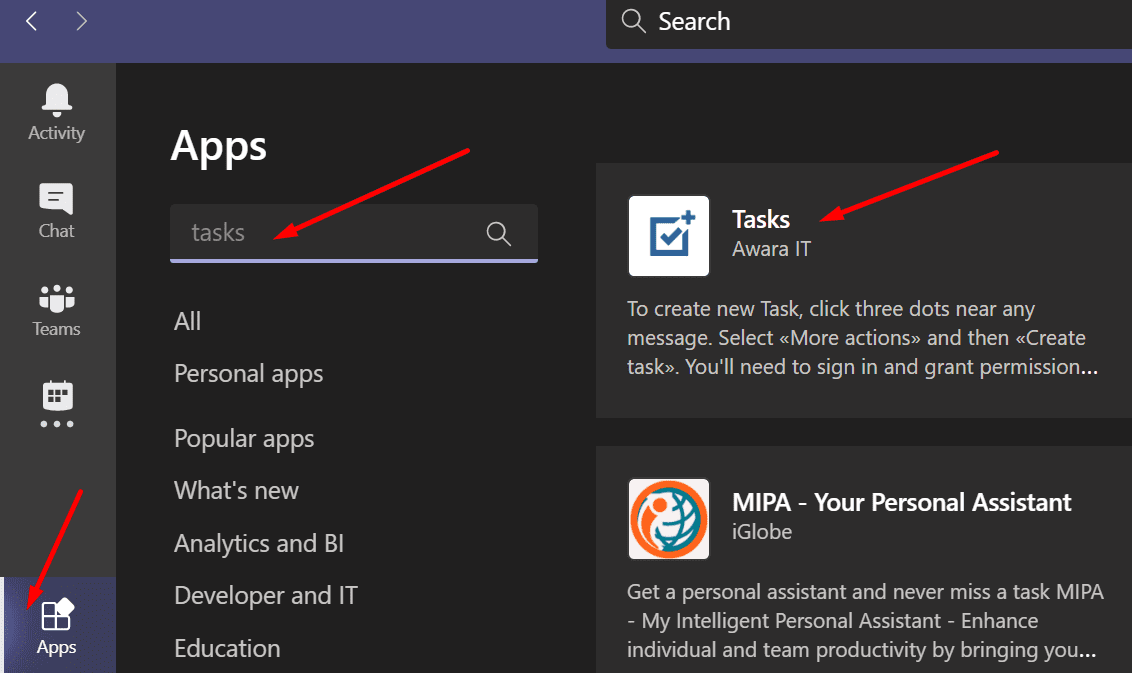 You'll then be asked to sign in. Use your Microsoft account credentials. Then, you'll need to let Tasks access a series of information about your account.
You can now create your tasks. Add the title of the task, the due date, some quick notes, rate its importance, and set a reminder.
Or you can turn Teams message into Tasks. Simply hover over the message you want to turn into a task and click on the three dots. Then select More options and click on Create task.
After you created your task, you can switch to Outlook or To-Do to check it out.
Todoist
Todoist is a to-do app that's really easy to use. If you want to keep things as simple as possible, this is the right task app for your needs.
Click on the Apps button, search for Todoist, and install the app. Then sign in and you're ready to create your to-do list.
You can quickly turn chat messages into tasks with Todoist:
All you need to do is hover over your message, and click the three dots.
Then scroll down to More actions.
Select Add task to Todoist.
The new task will be visible on your to-do list.
The secret to success lies in carefully planning and completing your tasks. A simple and clear to-do list is crucial to successfully navigate busy workdays.