When you double-click on a file in your user directories, you expect it to be intelligently opened by the relevant program. Linux Mint, just like Windows, configures a set of default applications that are used to open certain types of documents. These defaults are generally fine, if you install a new app, however, and would prefer to use that, then you need to change which app the system uses by default.
Thankfully, managing the applications used to open a range of common types of files is simple in Mint. You may not get the fine-grain control that Windows 10 offers, allowing for configuration for a huge range of file types, but that makes the system easier to manage and less intimidating.
To manage your default applications in Linux Mint, press the Super key, then type "Preferred Applications" and hit enter.
Tip: The "Super" key is the name that many Linux distributions use to refer to the Windows key or the Apple "Command" key, while avoiding any risk of trademark issues.
The preferred application window has a list of different types of files and the associated default app for opening those types of files. You can configure which app is used as the file browser, to open HTML and other web files, to open email-related files, to open documents, to open plain text files, to play music and video files, to view images, to open code files, to view PDF documents, to run terminal commands, and to act as a calculator.
Each of these options has a default app next to it. You can select an alternative app by clicking the dropdown box, which will generally contain the suitable alternative apps for you to choose between.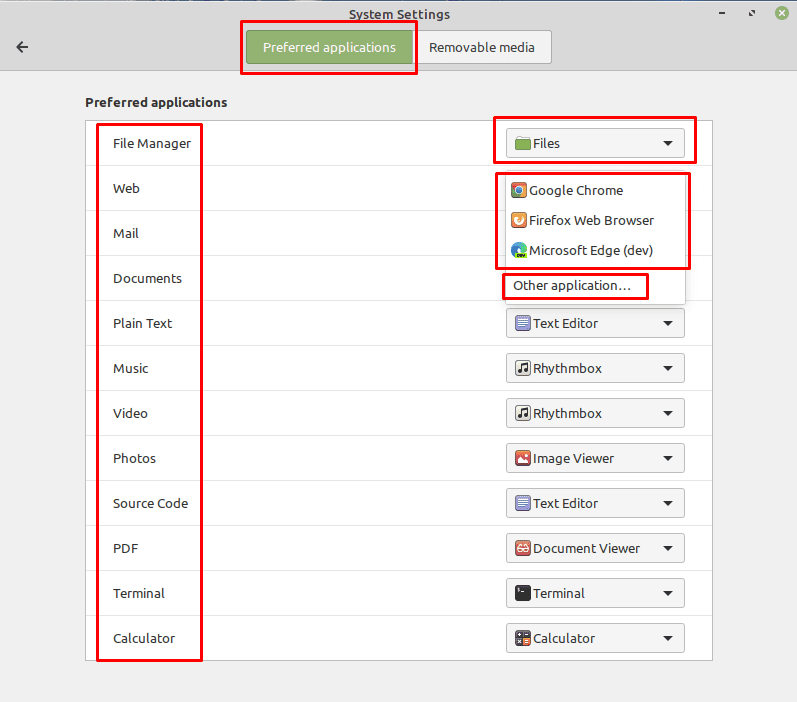 If the app that you want to use isn't in the dropdown list, you can click "Other application" at the bottom of the dropdown options to select from the full list of installed applications.