Managing your computer's power usage is generally a good idea. Specifically for laptop users, managing your power usage means you can reduce wasted battery power, giving you more useful uptime when on the go. For both desktop and laptop users, reducing power usage means that you have to pay less for your electricity bill. You may not feel like this is much of an issue for work computers left in offices, as you're not the one paying for power, but reducing the power wasted anywhere helps to reduce the amount of energy that needs to be produced by burning fossil fuels.
To configure the power management options in Linux Mint, press the Super key, then type "Power Management" and hit enter.
Tip: The "Super" key is the name that many Linux distributions use to refer to the Windows key or the Apple "Command" key, while avoiding any risk of trademark issues.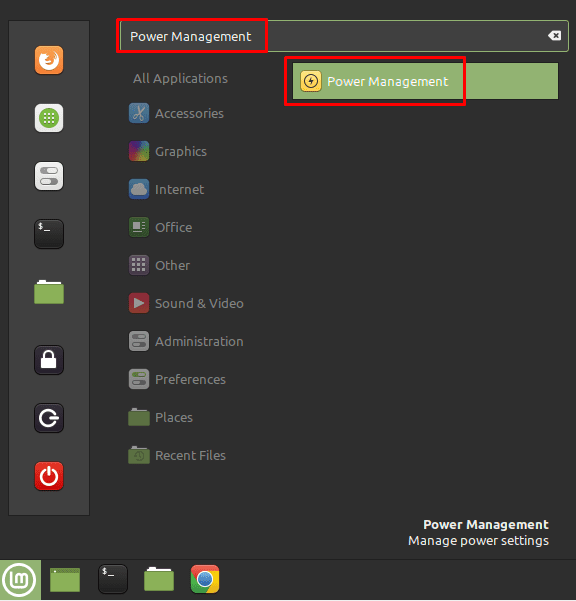 Press the Super key, then type "Power Management" and hit enter.The first power option, labelled "Turn of the screen when inactive for", allows you to configure when your monitor should be turned off. The monitor backlight is one of the large power requirements of a computer, so this can help to conserve power when your computer has been left untouched. This setting defaults to thirty minutes, but you can choose to change it to five, ten, fifteen, or forty-five minutes, or one, two, or three hours. You can also choose to disable the feature entirely if you need the screen to remain on even without the system being used.
The second power option, labelled "Suspend when inactive for", is very similar, but instead of turning off the monitor, it suspends the computer saving even more power. This option is disabled by default.
The last option is more of a convenience setting that allows you to configure what happens when the power button is pressed on the computer. By default, Linux Mint will ask you what you want to do, however, you can also set it to lock, suspend, or shut down the computer, or to do nothing if you prefer.
No matter what the situation, there's at least one benefit to reducing power consumption where possible. Realistically, modern computer monitors can switch on within a couple of seconds, and computers with SSDs don't take much longer to boot up; so, configuring the screen to be automatically turned off after a short period of inactivity and for your computer to suspend automatically when left for a reasonable period of time, really won't inconvenience you much.