Are you running out of iCloud storage but don't want to upgrade to iCloud+ or you're already in the top tier of the iCloud+ subscription? You can free up space in your Apple iCloud account by deleting app data by learning here how to delete apps from iCloud.
The Apple iCloud account comes with a 5 GB free quota. After that, you must subscribe to any of the paid plans that offer 50 GB to 2 TB of cloud storage. Your Apple devices use this cloud storage to save a recent backup of the device and system settings on the cloud.
Some Apple apps like Photos, Videos, Numbers, Keynote, iMovie, Apple Music, Apple Books, and so on. That's not all! When you activate iCloud backup on your iOS devices like an iPhone or iPad, iCloud creates app data backups for all the compatible Apple apps and third-party apps on your iCloud account.
Thus, your iCloud can get easily cluttered and crowded if you download and use too many apps. When the device needs to back up important things on the cloud, it won't be able to do so due to a shortage of iCloud storage. You can avoid this serious lapse in iPhone, iPad, iPod, MacBook, or iMac backup by learning below the best methods to delete apps from iCloud.
Also read: How to Get Free iCloud Email
How to Delete Apps From iCloud: iPad
There are many ways to delete apps and their data from iCloud. Find below some of the effortless methods here:
Erase iCloud Backup Data of Apps From iCloud Settings
On your iPad, touch the cogwheel or Settings icon on the Home Screen or Dock to run the Settings app.
Inside Settings, tap on your Apple ID or avatar image.
Now, select the iCloud option on the right-side Settings menu.
Touch the Show All button below the Apps Using iCloud section.
Scroll up or down to take a look at the Apple and third-party apps using your iCloud storage quota for data backup.
Use the toggle buttons on the right side of the apps to disable data backup to iCloud in the future.
Then, you need to delete the currently saved data of these apps on iCloud by following the next method.
Also read: How to Show or Hide iCloud Music in iTunes
Remove iCloud Backup Data of Apps From iCloud Backup
Open the Settings app and go to the Apple ID settings page.
Tap on the iCloud button on the right.
Touch the iCloud Backup option under the Device Backups section on the right-side menu.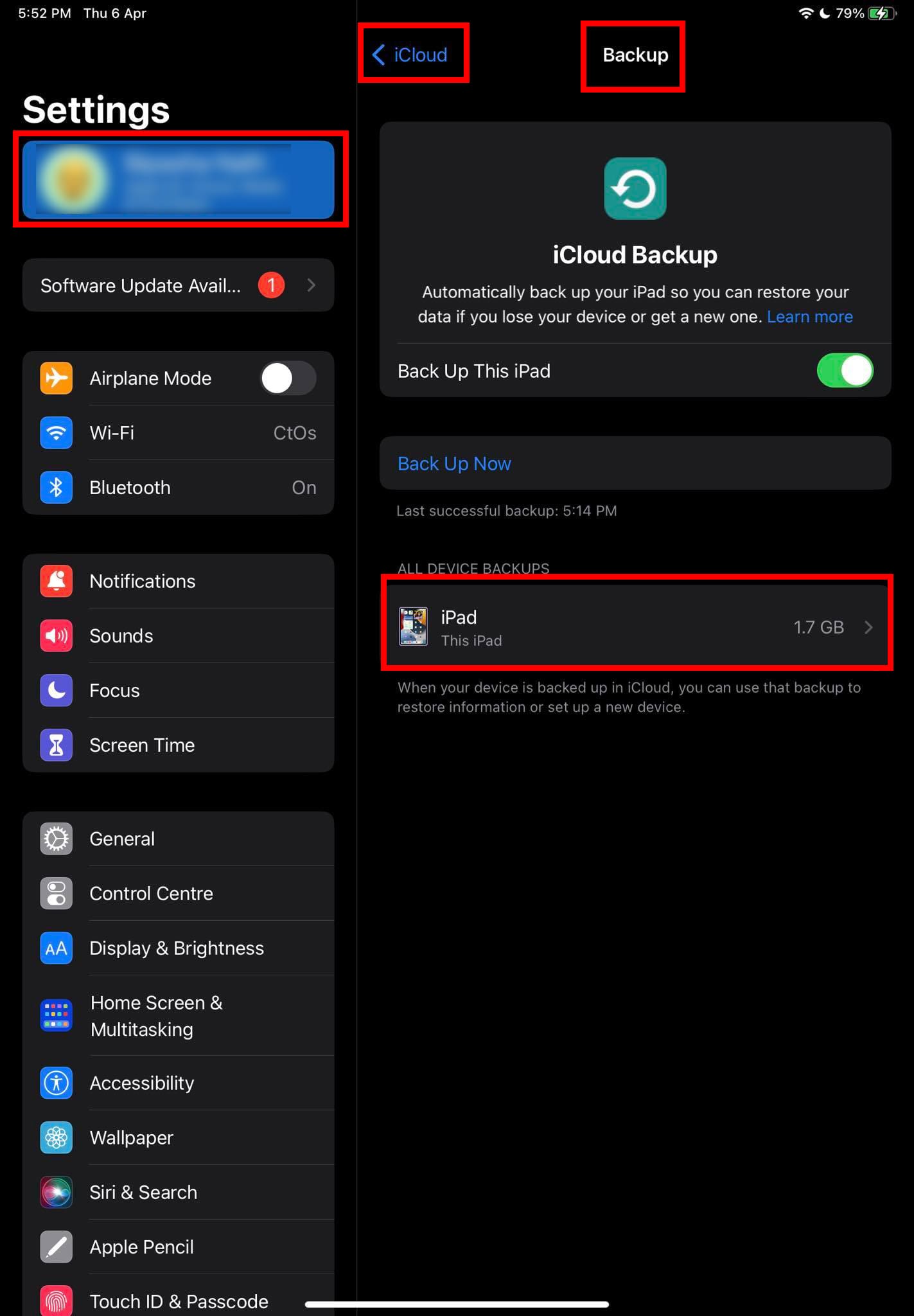 You should find your iPad inside the All Device Backups header. Tap on it.
Now you must see an itemized list of iCloud backup instances for all Apple apps, system apps, and third-party apps.
Tap the Show All Apps button.
Now, you see an expanded list of all apps on your iPad.
Tap the toggle button to deactivate the backup.
A pop-up will ask you to choose from Cancel or Delete.
Tap Delete and iCloud will delete the backed-up data until today.
Delete App Files and Documents From iCloud Drive
If you wish to delete unnecessary files and downloaded content from iCloud from some apps, here's what you can do:
Open the Settings app and touch the emoji of your Apple ID.
Tap iCloud on the right-side screen.
Touch iCloud Drive inside the Apps Using iCloud section.
Inside the iCloud Drive window, tap Manage Storage.
Tap Delete Documents & Data to erase files and documents saved on iCloud Drive.
Touch the Downloads option.
Here, you'll find content downloaded and backed up to the iCloud Drive storage.
Again, tap Delete Documents & Data inside Downloads to delete these data.
Also read: How to Get Emojis on Chromebook
How to Delete Apps From iCloud: iPhone
Most of the methods you saw on an iPad to delete app data from iCloud are also available on your iPhone. Let's explore the easiest method below:
Erase App Data From iCloud on the Latest iPhone
Tap on the Settings app icon and touch your Apple ID initials when the Settings app opens.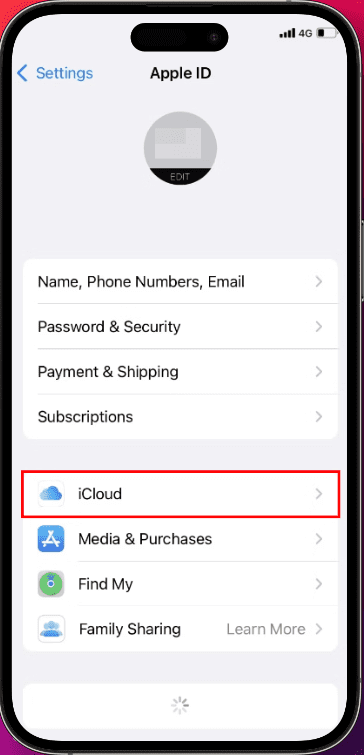 Touch the iCloud option beneath the Subscriptions button.
You should now see a storage indicator bar for the iCloud account.
Below this, there's a Manage Storage button. Click on it.
You're now inside the iCloud Storage window.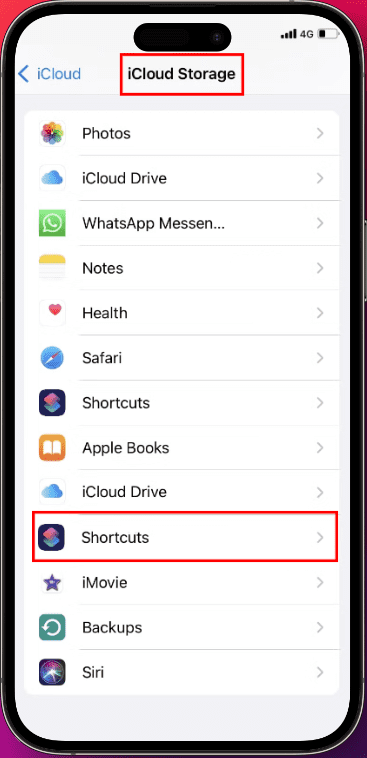 Scroll the list down to find the app and its data you want to remove from iCloud storage.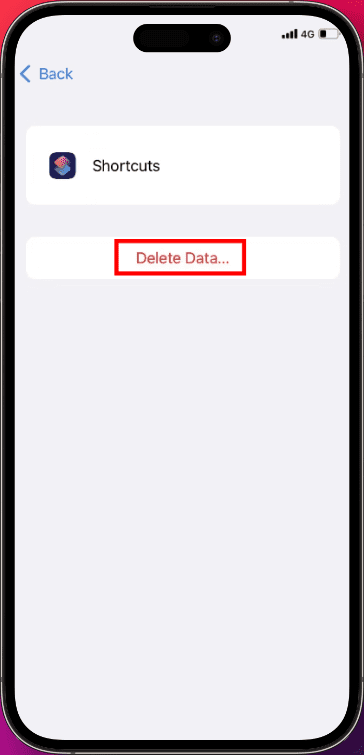 When located, touch the app.
Tap Delete Data and confirm the action by touching the Delete option on the warning message.
That's it! You successfully deleted an app and its data on iCloud to free up space.
Also read: How to Wipe Data from iPhone or iPad with Broken Screen
Find The Steps to Delete Apps on a Legacy iPhone
From the Home screen, open Settings.
Choose iCloud.
Select Storage.

Select Manage Storage.

Select your device.

Scroll down and select Show All Apps.
Turn the app on or off as desired.

Tap Turn Off & Delete when prompted, and you're done.

Delete Apps From iCloud Using Mac
Find below the quick steps to erase iCloud backup files of app data, files, documents, and so on using a Mac:
On your Mac Home Screen, click the Apple icon on the top-left corner of the screen. This is known as the Mac toolbar.
Now, select System Settings (on Ventura) or System Preferences (on Monterey) from the context menu that opens.
On the System Preferences window, you should be able to locate the Apple ID option. Click on it.
When inside the Apple ID screen, click the iCloud icon on the left-side panel.
On the right-side panel, you should see some apps that are currently synced with the Apple iCloud storage.
If you wish to delete backup data for any app on this list, uncheck the checkmark beside the app name.
Now, to keep a copy of the app and its data on your Mac, click Keep on My Mac.
If you don't want to use the app anymore, select Delete from My Mac.
How to Delete Apps From iCloud: Windows
If you don't want to use your Apple devices with you but need to clean up some space on the iCloud storage, here's what you can do from your Windows 11 or 10 PC:
Open Microsoft Store from the Start menu and search for the iCloud app.
Now, click the Get button on the iCloud card on Microsoft Store to download the app.
Once the download is done, the system will install it automatically.
Once installed, click the Open button to run the app.
Sign in using your Apple ID and Password.
You may also need to approve this sign-in to iCloud on Windows 11 PC using an Apple device like Mac, iPhone, or iPad.
Once the app is open and fully synced with your Apple ID, click the Storage button on the right side of the iCloud storage status bar.
On the Manage Storage window, select an app on the left-side navigation pane.
If you're sure of deleting App data, click Delete Documents and Data on the right-side panel.
Conclusion
Now you know multiple methods to delete apps from iCloud to keep your iCloud account free from unnecessary apps, data, and files. Depending on where you want to delete iCloud data, you can use any of the above methods. There are distinct ways to remove app data from iCloud on iPhone, iPad, Windows PC, and Mac devices. If you know another method to delete apps from iCloud, don't forget to mention that in the comment box. Do share this article on your social media handles to help your friends clean up app data from iCloud.
Next up, how do I wipe my iPhone before trading in or selling?