Many people are convinced that Signal is going to take over WhatsApp in the next three years. Until then, Signal devs still have a lot of work to do. The platform is affected by many glitches and bugs, but that's not stopping users from switching over. We already showed you what to do if Signal won't send messages or find your contacts. In this guide, we'll talk about the issue where Signal fails to send pictures or videos, and how you can fix the problem.
What to Do if Signal Won't Send Photos or Videos
Check for Updates
Update your Signal app version and install the latest Android release on your terminal. Launch the Google Play Store app, search for Signal, and tap the Update button.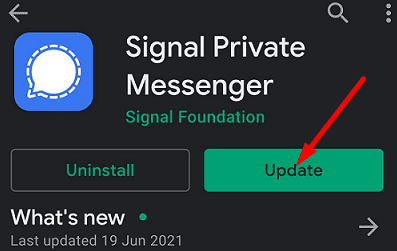 Then, go to Settings, tap System, go to System Updates and check for updates.
After installing the latest app and OS versions, restart your device and try to send the problematic images or videos again.
Check the Permissions
Make sure Signal can access and use your gallery.
Go to Settings, tap Apps, and go to All Apps.
Then select Signal, and tap Permissions.
Allow the app to access your storage location and gallery.
Restart Signal, and check the results.
Screenshot the Problematic Image
If the image you're trying to send has been corrupted or has wrong permissions, try taking a screenshot of it. Then check if you can send the screenshot via Signal. Many users confirmed this quick workaround solved the problem for them.
Signal's Image Size Limit
As a quick reminder, Signal supports a maximum image size of 6 MB. To get around this limitation, you can send your photos as files. The app has a file limit of 100MB. This will also help you bypass the app's image compression system. However, if you're sending media files to non-Signal users via MMS, the limit is 300 KB.
Compress Your Videos
If you're trying to send a large video via Signal, you should first compress it. Try different compression options and check the results. Additionally, try to record at 720 if the video quality is not that important for you. Alternatively, you can also split the file. Signal has a built-in video editor that you can use to send a minute or two at a time.
Signal Video Size Limitations
As a quick reminder, Signal won't send videos that are larger than 200MB. However, the video size limit may vary between 30MB to 200MB depending on the type of video you're trying to send. There's a 25 MB limit for GIFs.
As a matter of fact, that's a very useful approach. Who would want someone sending files that big without a warning? After all, 200 MB is like four to five minutes of video at 1080p. If you need to share large video files, use a file transfer platform instead.
On a side note, Signal lets users send larger files compared to WhatsApp. The maximum file size that WhatsApp supports for all media files is 16 MB on all platforms.
Conclusion
If Signal won't send photos and videos, update the app and install the latest Android OS version on your terminal. Then check the app permissions, and make sure Signal can access your gallery. Additionally, check the file size limitations which are 6MB for photos, and between 30-200MB for videos. Did you find other ways to fix this issue? Share your ideas in the comments below.