I had a problem with Microsoft Excel 365 for Windows where every time I opened the app it would start in a very small window. It was aggravating! For an person with bad eyesight, it sometimes made it difficult to even find where the window opened.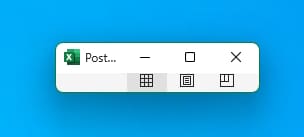 Fortunately, I was able to solve this problem. Try and follow these steps carefully and you should be able to make Excel open maximized.
Close all open Excel windows.
Open Excel as you normally would. It will open in a small window as expected.
Resize the window by dragging the double arrow. Do not maximize the window.
Click on the Excel title bar and drag it to another location (This seems to save the state of the window in Windows).
Now, hold down the Shift key and right-click the Excel icon in the Windows taskbar. A menu will appear.
Select Maximize.

Once maximized, close out of Excel and reopen it. If all these steps were performed correctly, Excel should now open any other files maximized, or the size you leave the window in when you exit the program going forward.