Blackberry KEYone
Blackberry Key2
Blackberry Passport
While many think that a smartphone with a keyboard is old school and prefer the newer touchscreen phones, others love the style and will go out of their way to get a phone with a physical Qwerty keyboard. Those who are digitally challenged or desire more accuracy, enjoy the ease of a real keyboard for texting and dialling. Some find the keyboard easier to use while others want to change over to a simpler phone. There are other individuals who may struggle with the confusion of the touchscreen and find an actual keyboard comforting to have. No matter what the reason is, smartphones with physical keyboards are great for those who like the tactile feel of the keys and enjoy the simplicity of a smartphone with a keyboard.
The Best Smart Phone with Keyboard
1

Blackberry Key2 (Premium Pick)
Blackberry continues to be the smartphone company that produces great keyboard smartphones. The Key2 is a new phone that has a sleek design with an easy-to-grip case and aluminum frame. It has a Snapdragon 636 processor that is great for business but can also do some gaming as well. The phone has 4GB of RAM and 64GB of storage which can be increased by adding a microSD card. With dual rear cameras and a 4.5-inch HD display, its pictures and videos are impressive. The keyboard of the Key2 is a regular QWERTY design and is easy to type with. The keys can be used as secondary keys as well so you can add app shortcuts, activate commands, and flip between apps easily. Interestingly, the keyboard also is a touchpad. You can swipe down or up and the screen will move accordingly. This phone also has a fingerprint sensor as part of the spacebar. It uses Android 8.1 and has Blackberry's well-known security features. The battery is also solid and can last up to 2 days before needing a recharge.
What the Reviews are Saying
Key2 users really like this phone. They are buying Blackberry not only for security but for the keyboard as well. Users compliment the screen clarity, speed, and battery life just to name a few features.  The keyboard is comfortable and responds well to aggressive and everyday typing. Oddly, the negative reviews were almost all in regard to the carrier rather than the phone itself. People realized after purchase that certain versions of the Key2 didn't work with particular carriers. This point is stated right in the description of the phones most times, so it pays to read the smaller print to save on the hassle of returns.
Key Features
Keyboard
Dual rear camera with flash
4K video
4.5" touchscreen
Specifications
4GB RAM
Snapdragon 636
64GB ROM
Android 8.1 Oreo
Pros
– Great keyboard response
– Quality camera
– Gorilla Glass
– Fast file sharing
Cons
– Not all versions work with all carriers
– Batteries aren't always top-notch
2

Blackberry Priv
The Blackberry Priv is another great smartphone with a keyboard. This keyboard is a slide-out giving the added benefit of larger screen size since the keyboard is hidden. It comes with a 5.4" display with the keyboard coming out from the bottom of the phone. You also have the option of using a touch keyboard as well as needed. It has an older Snapdragon 808 processor, Android 6.1, and 3GB of RAM. It's not as fast as smartphones like the Key2 but it handles everyday work fine. You are able to add storage with MicroSD card if you would like. The camera in this phone is good landing at an 18MP rear type with optical image stabilization. The display is bright at 1440×2560 and great for looking at pictures or watching videos. The keyboard slides out easily and clicks into place. It responds well and is simple to use.
What the Reviews are Saying
People who purchased the Priv like it and think it's a quality smartphone. The phone is solid and does exactly what it says it will. It's a secure business phone at a good price. While the screen is a great treat for many, the phone's ability to do business as needed is the top priority. The battery life is good if the buyer upgrades the software from 5.1 to 6.1. Battery life improves once this has been done. The main concern with this phone is about the purchase rather than the phone itself. People commented that perhaps some were refurbished rather than new so be wary of who you are buying from and read the small print.
Key Features
Slide out keyboard
18MP camera with flash
Nano SIM card
5.4" AMOLED touchscreen
Specifications
3GB RAM
Snapdragon 808
32GB ROM
Android 5.11
Pros
– Good keyboard
– HD screen is great
– Good battery life
– Portable size
Cons
– Need to update to Android 6.1
– Battery drain if not updated
3

Blackberry KEYone (Best Overall)
Once again Blackberry offers another quality smartphone with a QWERTY keyboard. This phone's OS is by Android. This means you are not only getting a physical keyboard but access to the Google Play Store for all the apps you might need. The KEYone allows for up to 52 programmable shortcuts for access to your apps plus a fingerprint sensor for added security. Along with the Android side of things, you also get to use Blackberry Hub which puts everything you need in one spot for easy access. It's fast charging but has TurboCharge to do it even faster should you be in a rush. The back camera is a 12MP and the front is a solid 8MP with an 86-degree lens to get good photos both in regular and low light. This smartphone has a strong external case with a 4.5" touch screen that has Gorilla Glass 4 for those who tend to be hard on their screens. Its 3505Mah battery is powerful and quick charging along with a Snapdragon 625 processor.
What Reviews Are Saying
Reviewers really like this phone and think the keyboard is up to Blackberry standards with a quick and springy response. There is also significant praise for the battery. Not only does it have great staying power but charges fast as well. On the downside, people were not happy with BB customer service. When there were glitches it was hard to get answers and repairs. These phones also do not work on every network and can be an international version so make sure of what you are purchasing so it not only works but is covered by a proper warranty.
Key Features
Slide out bottom keyboard
12 &8MP camera
Fast charging
4.5" touchscreen
Specifications
4GB RAM
Snapdragon 625
3505 Battery
Android 7.1 Nougat
Pros
– 26 hours of use
– Gorilla Glass 4
– QWERTY keyboard
– Android/Blackberry
Cons
– Use on limited networks
– Battery drain if not updated
4

LG Enact
The LG Enact is an Android-based product that makes typing easy for a reasonable cost. This smartphone first came out in 2013 and uses the Android OS 4.1.2 (Jelly Bean) with 4G LTE access. It's a good phone for those who are first-time smartphone users or for people who don't want anything overly complicated.  It has a 4" display with a 1.2GHz dual-core processor. It has 8GB of storage with a 5MP camera as well as a microSD slot so you can add up to 64GB of extra memory. This one is specially designated for Verizon, but you should be able to find it for other carriers with a bit of searching.
What Reviews Are Saying
These phones are liked for their simplicity and keyboard. Reviewers bought them for their children and older parents who may not be smartphone savvy. While people like these phones, they are becoming very difficult to use as they are 4G LTE which many companies are starting to phase out. Reviewers warn of difficulties with getting it to work with the carrier.
Key Features
Slide out keyboard
11 hours of talk time
Quick Translator
4" WVGA screen
Specifications
8GB RAM
1.2GHz dual core
5MP camera
Android 4.1.
Pros
– 26 hours of use
– Gorilla Glass  screen
– QWERTY keyboard
– Easy for new users
Cons
– Old style
– Older software
5

Blackberry Passport (Best Value)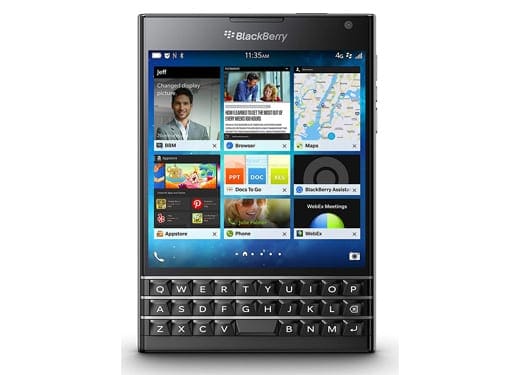 Once again Blackberry has a top phone with a QWERTY keyboard. Its style is different from most of its phones as the screen is wider than usual with a touchscreen. It's actually designed like a passport hence the name. The keyboard types well for great accuracy and also responds to gestures allowing you to scroll, flick or slide to move the cursor. Its power consumption is good with a 3450 mAh battery. It uses BB's 10 OS with a 2.2GHz processor. It has 3GB RAM and 32GB with expandable memory from a microSD up to 128GB.
What Reviews Are Saying
Blackberry users really like this phone. While it doesn't have the apps that Apple and Samsung have, it's a great phone for work and if you want extra security. People who purchase Blackberry aren't usually buying it for its gaming abilities so a smaller screen, in this case, is not overly detrimental. The passport is known as a solid business phone. The negative comments about this phone tend to stem from battery issues. Some found it didn't hold a charge as long as promised or charging didn't work after a few months of use. Generally, a well-liked keyboard smartphone overall.
Key Features
Responsive keyboard
Wider screen
Long battery life
Touchscreen
Specifications
3GB RAM
2.2GHz dual core
13MP camera
Blackberry 10 OS
Pros
– Expandable memory
– Gorilla Glass 3
– QWERTY keyboard
– Good processor
Cons
– Old style
– Older software
6

Motorola Droid A855
This older Motorola is a good phone for those not looking to spend a lot but want a solid phone with a keyboard. Many are refurbished but are 100% functional. It has high res 3.7" screen with auto-rotate and a 5MP camera with flash. It uses an older OS but functions well. It's great for email, text, calls, calendars, and more. It has 3G and Wi-Fi networking, Bluetooth, and streaming ability. Its memory can be expanded with a microSD card to take over 16GB. It has a headphone jack and holds a charge for up to 6.4 hours of talking.
What Reviews Are Saying
People who purchase this phone realize they are buying an older model but that it works well and has a great keyboard. Many complimented its suitability for younger kids and elderly parents who didn't need all the high-end features but wanted a good keyboard and functional phone. People who struggled with it usually had issues with either the battery or a glitchy screen but the company that supplies them had great customer service and was helpful. Once again, watch the network and if it's locked to a specific carrier before you purchase.
Key Features
Solid keyboard
Easy to use
Good for music
GPS
Specifications
3G & Wi-fi
3.7" screen
5MP camera
Android 2.0
Pros
– Expandable memory
– Simple to use
– QWERTY keyboard
– Clear screen
Cons
– Older hardware
– Early processor
7

AT&T Pantech Link II
The Pantech Link II is designed like the early Blackberries. It's user-friendly in the fact that the casing is curved for easy handling and has a full keyboard for simple messaging and calls. This smartphone has GPS navigation, a 2MP camera (1600×1200 pixels) with the ability to record video, Bluetooth v2.1, an MP3 music player, 3G access, and a slot for additional memory with a microSD card.
What Reviews Are Saying
Consistent with other phones that are older in style, reviewers understand that these simpler phones will not have all the capabilities that newer ones have. This one is a little pricier for what it offers but people are content with its functionality and ability to text, email, and talk on it. Its keyboard is good, if a little small, but generally people find the size of the whole phone comfortable for simple use. It also has a smaller screen than many smartphones which some users found limiting.
Key Features
Solid keyboard
Simplistic
Adequate memory
GPS
Specifications
3G & Wi-fi
Bluetooth v2.1 A2DP
2MP camera
Pros
– Expandable memory
– Simple to use
– QWERTY keyboard
Cons
– Small screen
– Not for all carriers
8

Blackberry Torch 9810
This smartphone with a keyboard is another solid offering from Blackberry. It's a newer phone that is working on 4G rather than 3G with a 3.2" touchscreen and QWERTY keyboard. Its OS is Blackberry 7.  Although this phone is not a brand new offering, it does have a quality processor of 1.2GHz, GPS, and Wi-Fi. It comes with a 5MP camera that can also take HD 720 video. Bluetooth is usable for music and 8GB of memory with the ability to expand the memory with a microSD card. It allows up to 6.5 hours for talking and almost 300 hours of standby. A good battery for both high and low use.
What Reviews Are Saying
People who purchased the phone felt it was generally good money spent. Blackberry seems to perform well no matter what age the phone is. They were pleased with the speaker, its ability to link to Wi-Fi, and the quickness of accessing the internet. Some buyers weren't as enthusiastic as they found the 4G a misrepresentation. It specifies 4G enabled but seems to hook up to 3G.
Key Features
Workable keyboard
Good business phone
Adequate amount of memory
GPS locating
Specifications
4G enabled & Wi-fi
1.2GHz
5MP camera – HD 720 video
8GB
Pros
– Good talk and stand by time
– Good hot spot
– Built-in QWERTY keyboard
Cons
– Smaller screen
– Not for all carriers
– Older OS
Smart Phone with Keyboard Buying Guide
Features to Look for in a Smartphone with Keyboard
While so many think a keyboard on a smartphone is old school, it really is a feature that is beneficial for many. While the smartphone choices are now limited in a touchscreen world there are some that not only great phones but good keyboards for typing.
One of the first things you need to be aware of is the age of the phone you are looking at. So many of the ones available are older. That doesn't mean they can do what you need them to. They often have good processors, screens, cameras, and most importantly QWERTY keyboards. However, they may be 3 or 4G which may be problematic as many carriers are moving to 5G and will phase out the 3 and 4.
Along with being aware of the network, you also need to watch whether the phone is national or international. Many of the phones with keyboards are listed as international. This can limit carrier use and may also affect that warranty you are given if any. Many are clearly defined in their description but it's important to read all features before buying.
When you decide you want a smartphone with a keyboard, make sure it's one that can stand up to what you need it for. Some of the older phones work well if you are just texting and making calls but if you want one for constant use and more of a business focus it would be better to make sure the keyboard featured is sturdy and well connected. Newer phones that have a fully integrated QWERTY keyboard are the best way to go for heavy-duty use.
Differences in Smartphones with Keyboards
There are large differences in various smartphones with keyboards. Cheaper phones work but do not have the keyboard durability of phones such as Blackberry. Newer phones will often offer faster processors, strong keyboards, and good screens. Again, you need to address what you need for your own purposes. You will need to assess what your main goal is. If you are looking for a smartphone for your child who is new to phones an older one isn't a bad idea. It will teach them the keyboard while being slow enough to negate a lot of game playing if that's your goal. These older and slower phones are also helpful for elderly parents who aren't overly interested in tech. It's easy for them to type but don't need to worry about all the gadgets that go with higher-end phones.
If you're looking for fast and trustworthy, then you need to find smartphones that offer fast processors, good screens, and strong keyboards. The differences between the older phones versus the new ones are substantial when it comes to the internal workings. The software is faster, and the hardware is must sturdier for constant use. While many of the features of these smartphones are similar in intention, they aren't similar in speed and new technology.
FAQS When Choosing a Smartphone with Keyboard
Why would I want a keyboard on my smartphone?
A keyboard is a more accurate way to type and if you consider yourself all thumbs on a touchscreen it allows you to type faster and more clearly. Keyboards create muscle memory so the more you use them the faster you will get at typing be it text or email. Keyboards also help those who are new to smartphones be it a younger person or perhaps an elderly person who is just learning. A keyboard simplifies the connection to communication and is a great benefit when you are trying to find your way around an unfamiliar phone.
Why are some companies so predominant when it comes to keyboards?
The flagship company of keyboards tends to be Blackberry. They are a long-time producer of smartphones with keyboards. Their phones have always been more business-focused meaning they wanted their smartphones to be accurate and accessible for business functions such as calls, emails, or text. They also had high-security requirements which backed up their business focus and function. Other phones such as Samsung and LG had some success with keyboards, but their focus and clientele were different than Blackberry, so they went more for the touchscreens and ability to game and use social media. Both have their pros and cons, but Blackberry found the QWERTY keyboard something that kept their business customers coming back.