Bowflex VeloCore 22 IC
Peloton Bike+
MYX II Plus
Exercise has long been an important part of many people's lives. One of the many issues that Covid19 and its related lockdowns have caused people is a difficulty in maintaining or improving fitness levels. With gyms closed it's been harder to work out. While you can do some exercise outside, that's not possible for everything, and even for exercise for which it is possible, you may not want to do it all year round. Inclement weather and seasonal changes can make the outdoors unpleasant.
Thankfully, it's possible to exercise at home. For some things, you don't need much or any equipment, but there are limits to this. Exercise bikes are a great tool to help keep you fit at home. Many can fold away to minimise the space they take up. The best bikes offer a solid build quality, a good warranty, and a decent range of resistance levels. Extra features such as an included tablet screen and fitness content are great too, though we'd like to see more flexibility from many manufacturers in the content department as these screens are often locked to their own app and can even require a subscription for the bike to work.
To help you find the best home bike for you, we've drawn up a list of the best home bikes in 2022.o
Key Features
The bike can lean while you ride it
Comes with a pair of dumbbells and a heartrate monitor
Can watch other content on the screen
Specifications
Resistance levels: 100
Max user weight: 147kg
Screen size: 16- or 22-inches
The Bowflex VeloCore 22 IC offers a unique feature with the ability to lean from side to side as you cycle. This can add some extra difficulty to your workout, pushing your core muscles to keep you upright. Though it is supposed to be more immersive as you lean as you would on a real bike, without actually going around corners this can feel immersion-breaking rather than making. If you're not a fan, or just don't want to make use of it at the time, the bike can be locked in the upright position.
It's ready for riders whatever your shoe preference with dual-sided pedals, one with a toe cage and the other with an SPD clip for cycling shoes. The large 22- or smaller 16-inch screen can be tilt adjusted for shorter and taller users. The screen, unfortunately, doesn't swivel to the side for other forms of exercise content. It's also extremely expensive, somewhat of a given, with the tilt mechanism, but the price doesn't even include assembly on delivery. A subscription isn't required, but without one, you can't access first or third-party apps. Third-party app-wise, you can access streaming services as well as third-party training apps, though these aren't feature complete.
Pros
The screen can tilt
The bike can be locked vertically if you don't want to lean
Leaning is a great extra core workout
Cons
The screen can't swivel
Price doesn't include assembly
Extremely expensive
Key Features
Adjustable levelling feet
Screen can swivel 180 degrees
Optional configurable weights package
Specifications
Resistance levels: manual fine control
Max user weight: 158kg
Screen size: 21.5 inch
The MYX II Plus is a fitness platform that brings in a high-quality home bike. Specifically, the bike is a custom branded Star Trac Studio 5 Bike which on its own costs $2000, which is more than is asked for the MYX II Plus package which adds a 21.5-inch swivel monitor, a configurable weight set, heart rate monitor, and a floor mat. It is important to recognise that the bike is sold this cheaply because MYX expects to be able to recoup the cost over time through its subscription service, but this also means you're getting a high-quality bike.
The bike is extremely configurable supporting riders between 4 foot 11, and 6 foot 8, it also offers double-sided pedals with a toe cage and an SPD clip. Subscription content differs from many other offerings in that it's delivered in a one-to-one style, there is no competitive aspect. This may be a negative for some but may also be closer to a session with a personal trainer for others. Resistance is controlled manually through a dial that adjusts the pressure of the brake on the flywheel, it cannot be adjusted automatically as part of a class.
Pros
Content is designed in a one to one style
The bike itself is worth $2000
Comes with a heart rate tracker
Cons
No automatic resistance changes
No competitive group classes or leaderboards
Key Features
Trainer can automatically control the resistance
Incline and decline as well as normal resistance
iFit content platform
Specifications
Resistance levels: 24, as well as incline support between 10% decline and 20% incline
Max user weight: 159kg
Screen size: 22-inch
The NordicTrack S22i is sturdy and built to last, and comes with a great warranty, though it is also particularly heavy and awkward to move. It features a large 22-inch touch screen used to display the training content from the iFit subscription. Content is both live and pre-recorded and offers the ability to just select a route on Google maps and then ride that. The digitally controlled resistance means that your resistance can be automatically adjusted to the terrain or by the trainer as you go.
It doesn't just offer 24 resistance levels but also a range of incline and decline settings too. It uses standard bike pedals so works with ay shoe, though you may have to swap out the pedals to get clip-in cycling shoe support. While it is expensive, it does come with a free year's subscription to the iFit app, though to counter that, delivery isn't included in the price. With a subscription, it is also possible to access some streaming services through the tablet, though you don't have full control.
Pros
Great warranty
Price includes one year of iFit subscription
Can also access some streaming services
Cons
Doesn't work with clip in cycling shoes
Delivery is not included in the price
Particularly heavy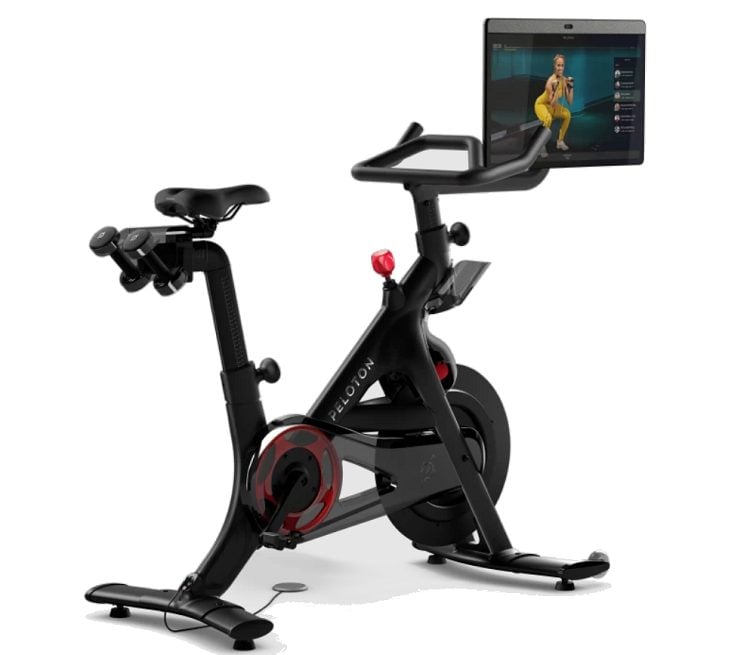 Key Features
The display can be mirrored to a TV
Peloton classes are competitive group content
Live classes include trainer feedback and shoutouts
Specifications
Resistance levels: Manual fine control
Max user weight: 135kg
Screen size: 23.8 inch
The Peloton Bike is the best-known home bike thanks to the quality of the bike itself and the quality of the subscription content. The Peloton Bike+ builds on bike secs incrementally, with a slightly larger and screen, automatic resistance control, and the ability to swivel the display for ease of use when taking part in non-bike-related exercise content. Unfortunately, the screen is locked to Peloton content, so you can't decide to watch Netflix if you're not feeling a guided training session. A nice feature is that the screen can be mirrored to a compatible TV if you want to use a different screen.
Content is available on-demand and regularly, live. Live classes feature competitive leader boards, pitting you against the other riders as a way to push you. Live classes also occasionally feature shoutouts to specific users as another form of encouragement through recognition. The bike and everything related to it is expensive. For example, the bike pedals require the use of SPD clip cycling shoes, which can be found at a high price on the Peloton website. To save some money, you may want to purchase extras from third parties. Delivery and assembly is included in the price though.
Pros
Top-quality live and on-demand content
Screen can swivel
Manual or automatic resistance control
Cons
Can't stream any other content
Requires SPD clip cycling shoes
All Peloton branded equipment is also expensive
That was our roundup of the best high-end home bikes in 2022. Have you recently bought a high-end home bike? What sold you on it and what has your experience been with it so far? Let us know down below.