To access and use all the features that Microsoft Office has to offer, you need to activate your Office copy. If you fail to do so, the Office Activation Wizard will open every time you launch your Office apps.
This guide focuses on the Microsoft Office error 0x4004F00C, which reads as follows: "This copy of Microsoft Office is not activated. You have three days left to activate. (Error Code: 0x4004F00C)". Let's see how you can get rid of this error message.
How to Fix Microsoft Office Activation Error 0x4004f00c
Run the Office Activation Troubleshooter
MS Office may have encountered an unexpected glitch when you first tried to activate your copy. Such issues can occur quite frequently, but you can use the Microsoft Support and Recovery Assistant to fix them.
Go to Microsoft's Support page and scroll down to Step 4: Troubleshoot Office activation.
Select your Office version and then download the Support and Recovery Assistant version suitable for your Office version.
Run the executable file, and install the tool.
When asked which app you are having problems with, select Office.
Select either "I've installed a subscription version of Office, but I can't activate it" or "I am unable to sign in to activate or use Office apps."
Follow the on-screen instructions to repair your Office copy. Wait until the troubleshooter has repaired Office and check the results.
Repair Office
If your Office files did not install properly or got corrupted, you should be able to fix this problem by running the built-in repair tool.
Go to Control Panel, select Programs, go to Programs and Features, and click Office.
Then hit the Change button and run the Quick Repair tool.
Check if the issue persists, and if it does, run the Online Repair tool as well.
Check for Multiple Office Copies
If you installed multiple Office copies on your machine, don't be surprised if you're experiencing activation conflicts. This is because the system doesn't know which Office installation it should activate.
Go to Control Panel, select Programs, and Features, and check if there are multiple Office versions installed.
Uninstall the version you're not using and restart your computer.
Then launch Office and try to activate the remaining version.
Run Office as Admin
Running Office with admin rights fixes the permissions issues that might cause the activation error you're experiencing. Type the name of any Office app in the Windows search bar, right-click on the app, and select Run as administrator.
Additionally, check if there's a newer Office version available for your computer.
Launch any Office app you want and open a new document.
Click on File, and select Account.
Then go to Product Information, and select Update Options.
Hit the Update Now button, install the updates and check if the error is gone.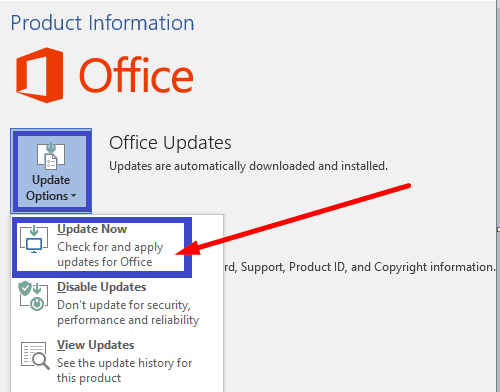 Disable Your VPN, Firewall, and Proxy
If you're using a VPN, disable the program and check if you can activate your Office copy. Temporarily turn off your firewall and antivirus and try to activate Office again.
If you're on Windows 10, type "disable firewall" in the Windows search bar and select Windows Defender Firewall. Then click on Turn Windows Defender Firewall on and off and disable the tool.
To disable your antivirus, go to Virus and threat protection, select Manage settings, and switch off the Real-time protection toggle.
If you're using a Proxy server, go to Settings, select Network & Internet, and click on Proxy (left pane). In the new Automatic proxy setup window, disable Automatically detect settings and Use setup script. Check the results.
Check Your Date and Time Settings
Exit all your Office apps and right-click on the date (lower right corner). Select Adjust date/ time. Under Current Date and time, toggle on Set time automatically and Set time zone automatically.
Delete Your Office Credentials
Some users solved this issue by removing their Office credentials from the Credential Manager.
Exit your Office apps, launch the Credential Manager and click on Windows credentials.
Locate and select your Office credentials.
Hit the Remove button. Launch any Office app and check if error 0x4004f00c is still there.
If error code 0x4004f00c is still bugging you, uninstall and reinstall Office.
Conclusion
To fix Microsoft Office activation error 0x4004f00c, make sure you did not install multiple Office copies on your computer. Then run Office with admin rights, ensure your date and time settings are correct, and remove your Office credentials from the Credential Manager. If the error persists, repair Office and run the Office Activation Troubleshooter. Hit the comments below and let us know if error 0x4004f00c is still bugging you.