Some Google Chrome users may experience a problem where they receive an "Unable to connect to the proxy server – ERR_PROXY_CONNECTION_FAILED" message whenever they attempt to visit a website. You can usually solve this issue with these steps.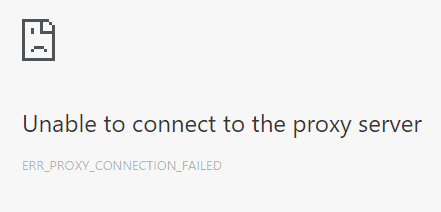 Close all Chrome windows you may have open.
Go to "Start" > "All Apps" and right-click "Google Chrome".
Select "Run as administrator" or "More" > "Run as administrator".
Select the "Menu"  icon at the upper-right corner, then choose "Settings".
Scroll down to the "System" section, and choose "Open proxy settings".
Select "OK", then "OK" again. Check to see if you can visit websites without the proxy server error appearing.
If you still experience problems, follow steps 1 through 7 to see if the settings have changed back to what they were before. If they switch back on their own, you may have an application installed or running that changes them. In this case, here are some options.
Start your computer in Safe Mode, then repeat the steps above.
Have a look under "Control Panel" > "Programs" > Programs and Features" and see if there are any applications you recently installed that may have caused this problem, and uninstall them.
Run a scan for malware using MalwareBytes and/or Spybot to clean any unwanted viruses or malware that may be taking over this setting.