Chromebooks are sturdy, reliable, and capable devices that can do a lot of things. But sometimes, your laptop may not work as intended. For example, your mouse cursor may freeze or even disappear unexpectedly. If you're experiencing mouse or touchpad issues on your Chromebook, follow the steps below to fix them.
Fix: Mouse or Touchpad Won't' Work on ChromeOS
Check If Your Mouse Is the Culprit
First things first, let's find out if your mouse is the culprit. Replace the batteries, and check if the issue persists. Press the Esc key several times and check if you notice any improvements.
Connect your mouse to a different computer, and check if you're experiencing similar problems. If your mouse works as intended, this indicates the problem you're experiencing is on your Chromebook's end. If your mouse still doesn't work on a different device, get a new one.
Disconnect All Peripherals and Restart Your Laptop
Unplug all the external devices connected to your Chromebook. But before restarting your laptop, go to Settings, select About ChromeOS and check for updates. Install the latest ChromeOS version and then restart your device.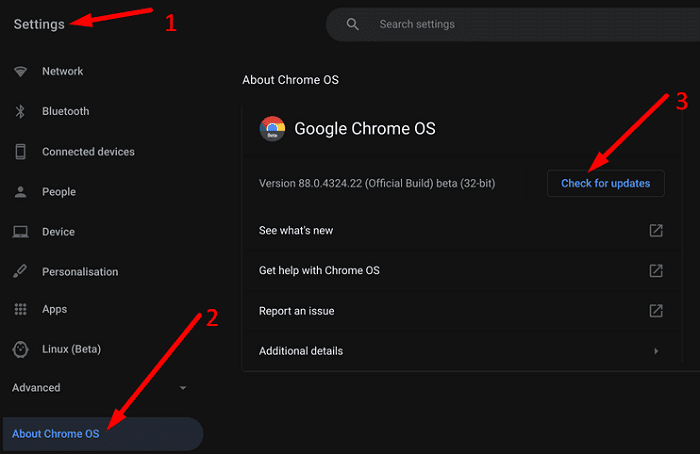 Reset Chromebook Hardware
Try resetting your Chromebook hardware and check if your mouse or touchpad issues are gone.
Disconnect all the external devices connected to your computer.
Turn off your laptop, and wait for 30 seconds.
Then press and hold the Refresh and Power keys.
Wait until your Chromebook boots up, and then release the Refresh key.
Check if the built-in touchpad works as intended. Then plug your mouse back in and check the results.
Use a Different User Profile
Browse as a guest or add a new user account and check if the issue persists. If your current user profile got corrupted, you might experience all sorts of problems, including mouse and touchpad-related glitches.
Sign out of your Chromebook. Then go to the bottom of the screen, and select Browse as Guest or Add Person.

Conclusion
If your mouse or touchpad stopped working on ChromeOS, check if your mouse is indeed the culprit. Connect it to a different machine and check if you're' experiencing the same problems. Additionally, disconnect all peripherals and reset your Chromebook hardware. Try using a different user profile or browse as a guest.
Did you manage to solve the problem? Which of the solutions above did the trick for you? Comment down below.